The Bearcats started out Mountain League with their first win of the season against the Righetti Warriors, 21-14. They are now tied for first in league, 1-0, tied with St. Joseph, Mission College Prep, and Arroyo Grande. The overall record is now 1-3. 
During the first half of the game Paso scored two touchdown passes, with both PAT points being good. Seniors James Cogan (#12) and Tristan Salgado (#11) helped to carry the team to victory with Salgado catching the second touchdown with one second left in the half at 31 yards away.
It's a great feeling to win on Homecoming under any circumstances, but that game was especially important for us since it was our first of the season. The way I see it is that we've got a taste of that feeling and we want more, and we're looking forward to Lompoc for that reason.
— Salgado said.
With fans young and old gathered in the stands a party in the USA occurred for the homecoming game. As halftime started, Beginning dance, Intermediate dance, Advanced dance, Color guard, and Cheer performed together traveling where the Bearcat had previously gone during the week. Going to Niagara Falls, Nashville Tennessee, the Grand Canyon, and Hawaii, ending with the announcement of the Homecoming court. The court was made up of freshmen Tori Holbrook, Quinn Statson, and Cash Shaffer, sophmores Kai Stoltzfus and Kingston Anguiano, juniors Reese Jaureguy and Brandon Clements, and seniors Clowie Tidwell, Madi Hall, Noah Ketchum, and Hayden McKanna, with Benny Rodriguez and Bianca Rangel were named Hoco king and queen as the clock struck zero.
Being announced at the game was very fun and unexpected. It was great to take the win that night and my favorite part was feeling the high energy of the spectators during the game,
— Rangel said.
The second half of the game commenced with the Cats defense continuing to hold against the Warriors, with neither team scoring in the third quarter.
Fourth quarter approached with Paso in the lead, 14-7 however with 7:11 on the clock the Warriors scored tying the game up 14-14. A push for another touchdown for the Bearcats was the tough but the third and final touchdown for Paso was scored by senior Ashton Murphy (#5) with 3:24 left bringing the score to 21-14 in favor of the home team.
The Warriors pushed against the Bearcat defense with less than two minutes on the clock, becoming stopped at the first and goal line. Paso was able to hold the line for four downs, with help from fans in the stands, and the ball turned over giving the Bearcats the first win of the season.
Traveling for their first away game PRHS will play against the Lompoc Braves Sept. 22, who have an overall record of 2-2 and a league record of 0-1.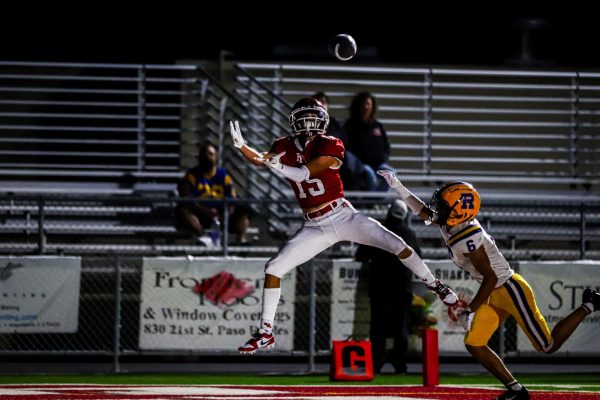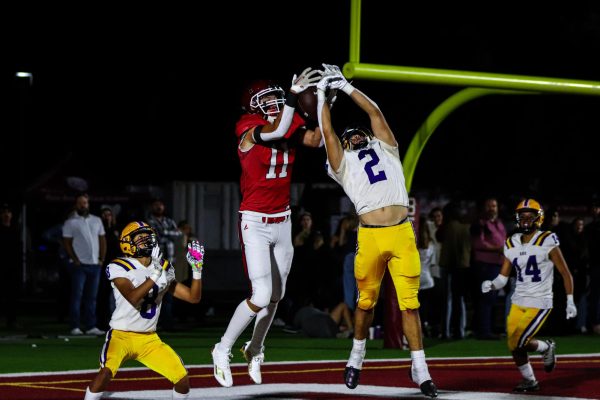 Featured image by: Serenity Wulfing