In their first home game of the '23 season on September 7, varsity girls volleyball faced off against the Santa Ynez Pirates, winning 3-0.
This game was advertised as a "stack the stands" event, and Bearcat supporters were encouraged to wear all black on social media to support the girls. 
One such Bearcat, Bennett Reed, senior, said: "It was really hype, the girls really get some good rallies."
The game began at around 6:40 pm in the Gil Asa Gym with a starting lineup consisting of #9 Ava Friedling (junior), #10 Olivia Heinbach (junior), #13 McKenzie Cobb (senior), #14 Hailey Williams (junior), #16 Kiley Bowman  (freshman), and #27 Priscilla Utter (junior).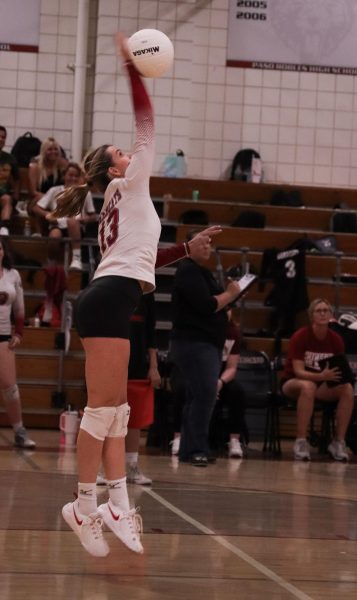 The game started off strong for the Bearcats, with powerful serves from Cobb and some huge kills from Bowman, but the Pirates didn't go down easy. The first set was a hard-won battle, with ultimately Paso prevailing 25-22. 
As the second set started, the Bearcats continued to fight diligently, winning 25-14 before closing the third and final set 25-20 to the yells of the student section, all clothed in ink black and fervent in the wake of the Bearcat victory. 
"We really gamed as a team," Friedling, who is co-captain along with Utter and senior Elie Chavez, said. "(That) really allowed us to do lots of cool stuff to win the game.
When asked about the game MVP, she pointed out senior Skylar McEntire, #6, because of her "several blocks, kills, and apart placement of the ball."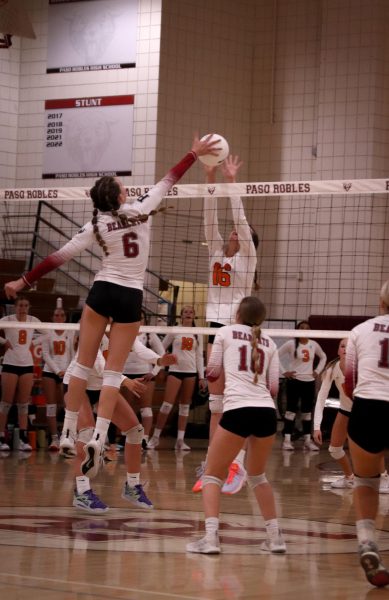 The Santa Ynez win marks the Bearcat's second win of the season, and second league win, putting them 1-1 in the Mountain league following a loss at the hands of the San Luis Obispo Tigers on Sept. 05.
Their next home game is against the Arroyo Grande Eagles on 9/14 in the Gil Asa Gym at 6 p.m., who have a 1-0 league record.