Men's Volleyball
The Men's Volleyball Team has set themselves up for triumph this season so far with a league record of 5-4. Defeating Templeton in a close match and winning 3-2 in the fifth set, beating Santa Maria 3-1, and sweeping Nipomo and Atascadero 3-0, the team has high hopes for CIF and the remainder of their league season. 
"I feel like our team is pretty solid, we have a couple things we get hung up on but overall we do well in our sets," senior team captain and setter for the men's team, TJ Rothbauer said. "I think we're going to tie for first place with Nipomo in league. I think we have a big chance at winning our first CIF game. It'll be a tough road ahead, but our team is improving a lot, and we want to win."
With only three seniors on the team, the pressure is high on the underclassmen to step up and compete. Senior Troy Ross who averages 15-17 kills and around eight blocks a game stated, "Our passing as a team is getting better, our front row is developing, and we have a reliable center. We work with what we have–considering we have such a young team–but we try our best and put the work in." 
Swim and Dive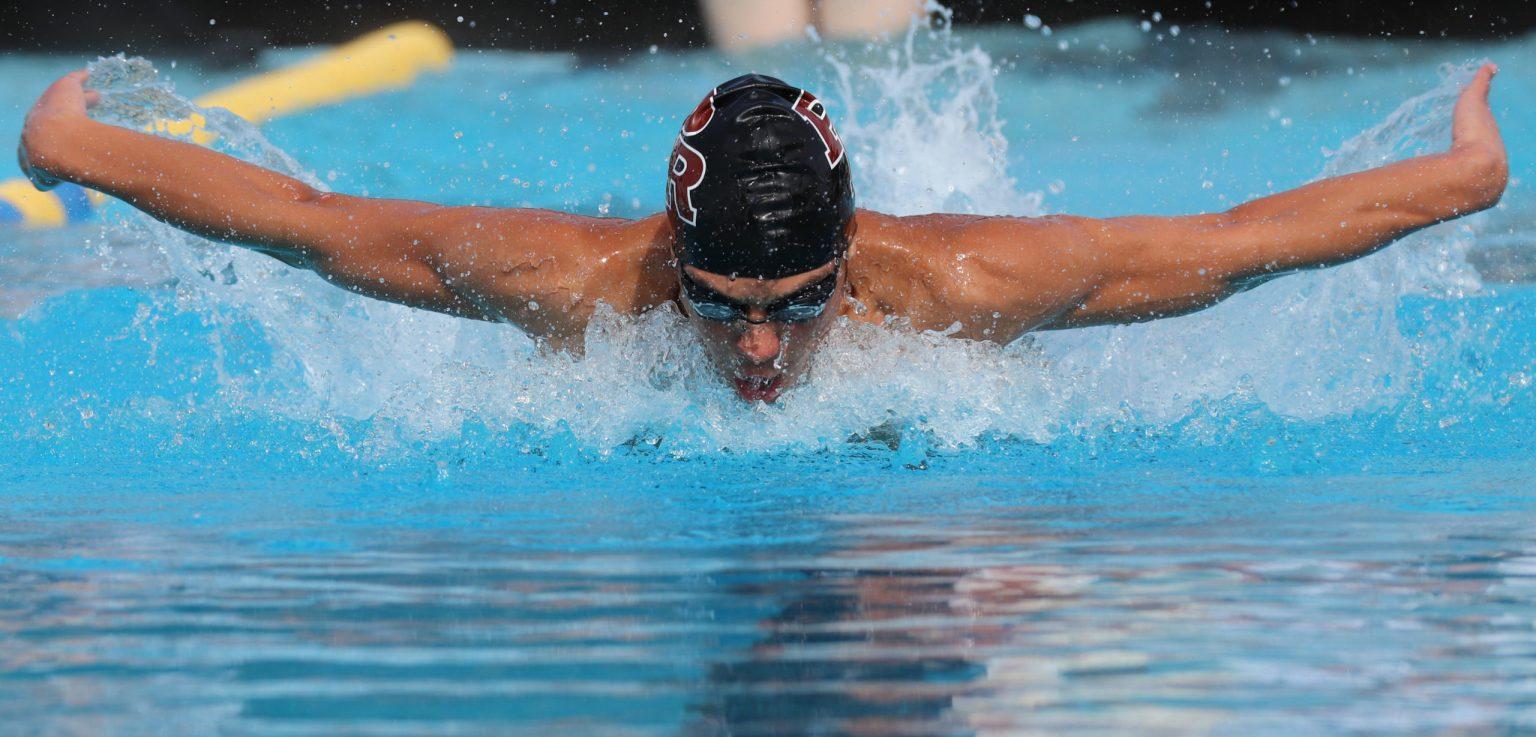 The Men and Women's Swim and Dive team plunged into a successful season start, defeating teams such as Atascadero, Morro Bay, and Santa Ynez.
With many consideration times of individual and relay events, currently the Men's 4×50 Relay (freshman Garret Haggmark, junior Conner Rocha, junior Justin Haggmark, and senior Reily Lowry) are suspected to meet the automatic qualifying time for CIF (1:33.40) where they currently hold a 1:34.46. Justin Haggmark makes CIF with an automatic time of 4:52 in the 500m Freestyle.
"With the strict seven to eight practices a week that our team has to show up to, I feel our team is doing well and we're seeing a lot of improvement," said team captain Jackson Parr, who swims the 100m Butterfly, 200 IM, and the 100 Freestyle. "We have a lot of fast swimmers this year, but by not having any male divers to score us points, there have been a couple meets where we've lost. Other than that, I'd say that our swim team is strong, and we'll do great in CIF."
The Women's Team, on the other hand, are expecting to have many CIF qualifiers and place well in their league meets. Team Captain and school record holder for the Women's 100m Butterfly, Holly Disimone spoke proudly of the team saying their "biggest accomplishment so far is making it into the season with as good of a mindset we all have. It was difficult for any of us to know what the season was going to look like after covid, and I'd say the team is handling it amazingly."
Currently there are two female divers on the Women's team, junior Ashlynn Bean and sophomore Chloe Railsback. Due to the lack of male divers, the Men's Swim Team have to make up the points they lose at league meets. 
Softball
Dominating on the diamond, the Varsity Softball Team is undefeated in Mountain League with five wins and zero losses. The Bearcats are on a six game winning streak and are currently 11-4 overall.  With new Head Coach, Jannane Ruck, the softball team is determined to win CIF and make Bearcat history.
"Our team's goal is to win CIF and League. We started off brand new with a new coach this year and not really knowing what to expect, but our team has been improving every day at practice," said senior star pitcher Jaiden Ralston, who signed for Iowa State. "Our biggest accomplishment as a team is being undefeated in league and my favorite thing about this year is being able to create new memories and accomplish new goals before I start my college career."
Baseball
With a swing and a miss, the 2022 Varsity Baseball Team has gone 7-5 so far this season, beating teams such as Templeton, Santa Maria (10-0), Cabrillo (9-2), and Dos Palos (10-3). Kyle Bonham, senior left fielder, hopes that with a varsity lineup of 16 seniors and four juniors, "our team will make a deep CIF run and win League." 
In Paso's most nail-biting three game series of the year, the team triumphed over Templeton winning 4-3, where they batted in all four runs in the last inning. They then doubled up with another win 4-2 in their second game, and lost 16-8 for their last game on March 18, 2022. 
Senior pitchers Carson Turnquist and Tanner O'Farrell suffered game-changing injuries during the earlier parts of the season that enabled them to compete in some of the big games.
"My injury impacted the team in a good way, to be honest. Not that I'm not playing, but obviously one of the good things about me being on the mound is that it always feels like we have a good chance at winning or staying in the game as long as possible," said Carson Turnquist, who committed to the University of Oklahoma. "Without that, my team has found ways to scrap some W's without having to use some of the big pieces of our team. Moving forward, I feel like as we start bringing our pieces together, things will click, and we'll be an even more dangerous team to face later on in the season."

– Carson Turnquist
TECHNICALLY SPEAKING
Technically Speaking is a special feature reserved for an athlete that can showcase prestige in their technical ability in the sport that they play. This season we selected an athlete that has perfected their technique in pitching 4 different pitches: fastball, changeup, curveball, and knuckleball with an over the top, side arm, or his specialty, a submarine delivery.  Here is senior Varsity pitcher, Tony Garcia.
Taking a deep breath and looking over his shoulder to the player leading off on first, senior Tony Garcia winds up and throws a curveball to the batter. "STRIKE!" The Umpire yells. Another player down. Garcia has been a key player in the Bearcat Varsity teams 5 wins so far this season, with 14 strikeouts.
"I've been a pitcher since I first started playing baseball and I have always had a knack for it even if I didn't throw the hardest," Garcia said. He has been playing for thirteen years, putting in countless hours of practice on the mound, hitting, and learning the ins and outs of the game
This season Garcia has pitched 27.1 innings– leading the team in innings pitched. He has a win loss record of 2-2, with a 2.54 Earned Run Average. (ERA)., meaning there is an average of only 2.54 runs earned against a pitcher every nine innings pitched.
"Having Tony as a pitcher gives us a good chance at getting outs and getting our infield ground balls which he is extremely good at," senior catcher Connor Neall said.
"Tony was my first ever friend, and I played on my first baseball team with him. I have caught Tony on and off for about 10 years." Neall starts as the Varsity catcher, making it necessary for him to have good chemistry with his pitchers. Neall and Garcia have been friends since preschool, and have played baseball together their whole lives. The two play major roles on the Bearcat's defense, with their every move determining each play and each out.
After high school, Garcia intends to get his real estate license, and hopes to do real estate investment and selling. As for the future of the season, Garcia says his "expectations are still high. We have struggled thus far, but I'm confident we will end the season strong."
Track and Field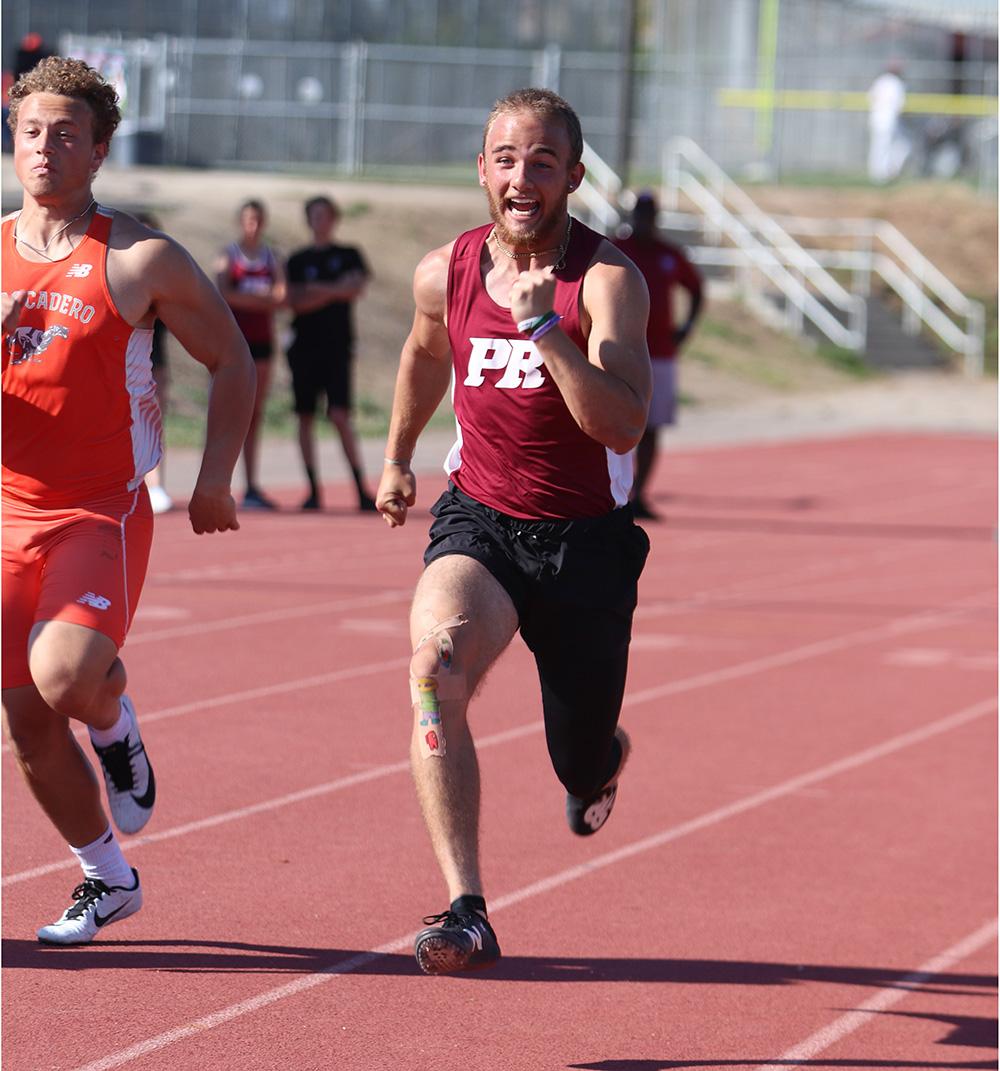 Racing to finish their 2022 season strong, the Men and Women's Track charged ahead of much of their competition as they prepared in February and March for their CIF Championships come May.
At the Central Coast Spring Classic– including  Arroyo Grande, Nipomo, Atascadero, San Luis Obispo, and other SLO County teams – junior Lucy Pritchard placed 1st in the 100m Dash with a time of 12.89 seconds and placed 1st in Long Jump where she won 16-8.25. Sophomore Jack Tobin for the varsity men's team placed first in the Pole Vault event winning 11-6 and sophomore Peyton Bedrosian placed 1stas well for the women's team, launching 11-0. 
"Our track team is doing pretty good this season so far. We've had a good number of meets and all of them we have been placing whether it's sprints, pole vaulting, jumps, shot-put, or distance," senior track runner Jordan Weyrich said. "We will definitely have a majority of the Bearcat team going to CIF to compete this year and a few going to state, which is exciting."

 
Men's Golf
The Men's Varsity Golf Team proves their stroke game is strong as they currently hold a 7-4 record in league where they defeated their long league rivals, St. Joseph High School. Practicing at the Paso Robles Golf Club, the golf team dedicates themselves to making CIF as a team.
"Our team has come a long way from where we've started. Everyone is finding their groove and it's really awesome to see people grow in the sport," said Team Captain, Kobe Miller. "What makes things different about this year is we really didn't have much of a fun year because the season was cut short due to COVID last year. Being able to travel this year without masks and being a senior has brought me a lot of responsibility and changed the way I view the game as a leader." 
Men's Tennis
The Men's Varsity Tennis Team backhands their competition so far this season by going 10-11 overall in Mountain League. The tennis team, who currently sit in fourth place behind Mission Prep, Arroyo Grande, and SLO, strive to win and hold their place in order to compete in CIF. In League finals, all players can compete individually or in a doubles team against the different schools in the Mountain League Tournament. One of the three seniors on the team, David Cardiel battles individually in the singles tournament with hopes of placing 5th in league and making it as far as he can into the tournament.
"We've seen a lot of improvement from the beginning of the season to now. Whenever I play matches I can pick up the weaknesses of my opponents easier. When I go into a tennis match I'm thinking, 'Alright, it's time for some fun' and depending on the team I'm more aware and focused and I try to be consistent and make the opponent work hard," said senior Angel Pallais.