Girls water polo makes history as they come to an end 8-7 in CIF Semi Finals
CIF Semifinals, Feb. 23, 2017
[envira-gallery id="19686″]
[dropcap size=small]V[/dropcap]arsity's historic run in the 2017 season ended with a 8-7 loss to the Redlands East Valley Wildcats on Wednesday, Feb. 21. Looking to tie the game in the final seconds of the fourth quarter, senior captain Mariana Smeltzer fired a shot from half pool that struck the crossbar inches too high, ending a end-of-game rally that struggled to get ahead of Redlands for the entire game.
The game was clearly tougher than the first CIF battles, where Bearcat offense was savvy and dispatched Webb 8-4 and Savanna 17-8.
Yet in the Redlands semifinal match,  the Wildcats were up 6-3 by the end of the second quarter. Strong third quarter play, the best Bearcat play of the match, led to a score of 7-5 Wildcats. In the fourth the Bearcats were able to score two more, leading to the final timeout with one second remaining. Smeltzer, in her final high school game, got the shot off and missed by inches. Sm 2, Miranda 2 Tatiana 1 Mackenzie 1.
Strong defense was delivered all game by Pasky and junior goalie Lauren Root, who had over a dozen blocks.
This is the first time in the history of Boys and Girls Water Polo that a team has made it through first round of CIF.  
Season
For the first time in PRHS history, the Varsity girls water polo team is ranked third in PAC-7 league. Going 5-3, the girls were ready for CIF. From beginning to near-end, co-captain Miranda Pasky is very proud of how far her team has come.
"The season started out really strong, with only a few rough patches here and there, but after we worked together to perfect some of the issues, I feel we have become even stronger and as long as everyone keeps up the hard work we have a lot of potential to go really far in CIF." Pasky said.

Pasky particularly shares in the anticipation of what's next for the team: with CIF on the horizon, the team now sharpens their skills to a fine point to maximize the possibility of placing higher than the team has ever placed before.
"If we can pull off this win we will be setting the bar for future Bearcat teams" Pasky said. "As a team we have been working on keeping our stamina up, and cleaning up the little mistakes. Individually, I have been working on being compact and balanced during my shot, and building my leg strength up even more."
As a senior looking back, Pasky claims that water polo has left a lasting impact on her life, shaping her into the person she is today.
"When I first joined water polo I was very shy, and many of the girls taught me how to be ok with myself and be more confident." Pasky recalls. "Through this program I have felt so lucky to meet all of the amazing people who became my teammates and my best friends."  Eventually, Pasky plans to carry her experience with her into her college years.
As a team, the lady Bearcats have endured many bumps in the road, prominent struggles being  passing, concussions, and illnesses. "However, after we got better, we all came back with a drive to work hard and get back to our full potential." Pasky said. Major team triumphs, according to Pasky, have been playing teams that have been in higher division and either winning, or losing by one. "We also beat Atascadero multiple times; that's always something to be proud of." Pasky remarked.
While the team strives toward their historic goal, they work hard not only in the physical sense but in a communal manner, becoming closer as teammates, a second family to many of the girls on the team.
"Our coach is always asking us how we play water polo, and we collectively answer with 'seven on seven'." Pasky stated. "This just shows that we are all in this together and will do anything for each other." The team often takes the opportunity to bond over meals during tournaments.
Moving forward, no matter what the result, the lady Bearcats have already made history: it all comes down to what they do next.
JV Season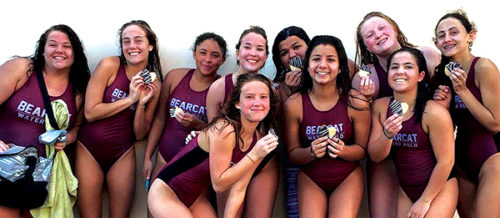 JV Girls Water Polo has had an astounding season this year, going 9-11 overall as of January 2017.  The lady Bearcats won 4th in league PAC-8 in their division, and 3-2, a whopping improvement for the girls since previous year.  Last season, they were ranked fifth in league and 1-4.
"I'm really proud of my team..the team is all super excited about how good we're doing this year."  said sophomore Julia Sage, who also added that the team really "clicks" this season.
JV polo beat many teams they did not last year, including its toughest opponents: Righetti, Atascadero, and SLO.
"Everyone gets along very well, we work well as a team." said freshman Morgan Harrington, one of two team captains along with freshmen Gabrielle Clayton.  
Coach Duane Mcroy has had a huge impact on the team's victory this season according to Sage.  "Coach Mcroy is so down to earth and he doesn't just care about us in the sport, he makes an effort to help us with our classes too." said Sage, who has been on the team for two years.  "He's patient with us and will always help us out.''
 "Coach Mcroy is so down to earth and he doesn't just care about us in the sport, he makes an effort to help us with our classes too." said Sage, who has been on the team for two years.  "He's patient with us and will always help us out.''
With hard work from both the girls and their coach, the team has had a fantastic season.  
Return to SPORTS
Return to WATER POLO