Winter Sports Seasons
Recap
Bearcat wrestlers had an outstanding season this year, placing first in CIF and first in Mountain League. "The team is doing really good, we all have really come together since the beginning of the season and perfected things that needed to be fixed," senior Ian Rodriguez said. Rodriguez weighed in at 138lbs, and went 3-1 in league and 15-6 overall. Proving to be a dominant force this season, Dominic Marquez has stepped up to the mat this season. As just a sophomore weighing in at 115lbs, he went 4-0 in league, and 25-9 overall. The team went on to compete in state against top programs throughout California. "State this year was really hard," Senior Riley Lowry said, "We had a rough journey. Most of us had to wrestle the top kids in our weight class." Junior Leo Kemp performed the best in state, winning two matches and losing two. Overall the program did really well and making it to state is a massive accomplishment, our wrestlers are hoping to keep this momentum going into next winter season.
To the court! The boys team faced a challenging season going 1-23 under new head coach Chris Lopez. In league the Bearcats are in 7th place with an 0-10 record. Their one win this season was against Foothill HS, 59-28, a great victory for the Bearcats. Early in the season, shooting guard Omar Acevedo was injured with a broken toe, but he has still been on the bench cheering for his team doing everything he can. Halfway through the season, the boys got reinforcements: four Senior baseball players, shooting their shot at one last season of basketball. Elliot Hawe, Conner Neall, Tony Garcia, and Bryson Hoier have worked hard to fit in, and help lead this basketball team through the end of the season. Describing the feeling of playing his last season of highschool basketball, senior Elliot Hawe said, "It's crazy, it feels like yesterday it was my first game of freshman year, and now it's over." Glad he played his senior season, Hawe has played well at center. At 6-foot-4, Hawe has developed a strong finish at the rim and the ability to rebound over his opponents. The basketball team mostly filled with juniors will continue to improve during the offseason and come out strong next winter.
To the court! The Lady Bearcats had a decent league season with a 2-8 record placing 5th in mountain league, and a 14-13 record overall. "Our biggest win this season was against Righetti," sophomore power forward Nevaeh Dyer said. The Bearcats pulled away with a close win, with a final score of 51-47. Dyer has made big improvements this season, as a power forward she can shoot like a shooting guard and can finish through traffic like a center. Dominating the court Dyer has been a big influence on the Lady Bearcats positive win record. "Our next goal is to go far in CIF," Dyer said. The girls lost in the first round of CIF to Porterville, but Porterville went on to win central section CIF. "I think we let the nerves of a CIF game get in our way," Senior Jenelle Lowen said, "One of the things I loved about that game is that we never gave up." After a strong year for the Lady Bearcats, they are looking to improve during the offseason and have a strong season again next year.
Going from the court to the field, we have boys soccer. The boys have had a great playoff run making it to the semi-finals of CIF and beating their greatest opponent Arroyo Grande in the first round of CIF. Their overall record was 11-14-2 and 1-9 in league. The boys are 6th in league going on an 8 game losing streak as of January 30, 2022. The leading scorer for the Bearcats, Senior Ricky Navarro has scored 6 goals in 17 games this season. At Goalie, Sophomore Jayden Ruiz and Junior Jordan Turton have 91 combined saves. Ruiz saved 44 shots on goal and Turton saved 47 shots on goal. "Adrians performance has stood out the most this season. He is our best forward, scoring plenty of winning goals," Junior Cameron King said. Junior forward Adrian Cornejo got pulled up to varsity for the most recent games against Pioneer Valley, and has been playing his heart out, scoring a lot for the boys. "We have all gotten to know each other a lot better and play as more of a team," King said. The boys had a great season and are hoping to come out strong next winter.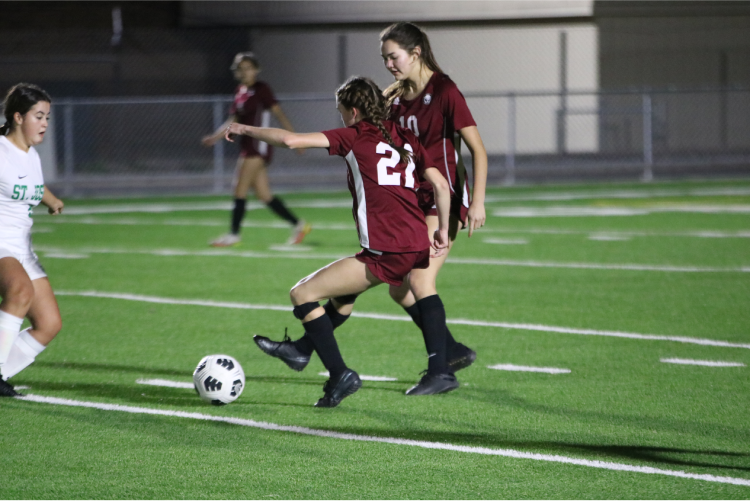 Off to Girls soccer. In overall games they are 5-9 with a league record of 0-5. At home they are 3-4, and 2-3 on the road. Hannah Bourgault and Jasmin Solorio are leading scorers for the Lady Bearcats with 4 goals. "My biggest highlight this season was the teamwork between Reese and myself, when she crossed the ball to me for a perfect header goal," Freshman Hannah Bourgault said. "It was overall a good game. We played as a team and worked hard for that win against Ridgeview." Locking down the goal, Seniors Roni Hinson and Jasmin Solorio have 101 total combined saves with 124 opposing team shots on goal, 77 saves tallied to Henson and 24 tallied to Solorio. They have a combined save percentage of 0.8%.In a 19 games season, every single player has had some form of injury, plaguing the team with very little amounts of subs each game. The Ladies have had a strong season and are looking forward to improving even more next season.