[cbtabs][cbtab title="NEWS"]
Administration will respect free speech—but insists on proper protest behavior
by Emmaline Voorheis, News Editor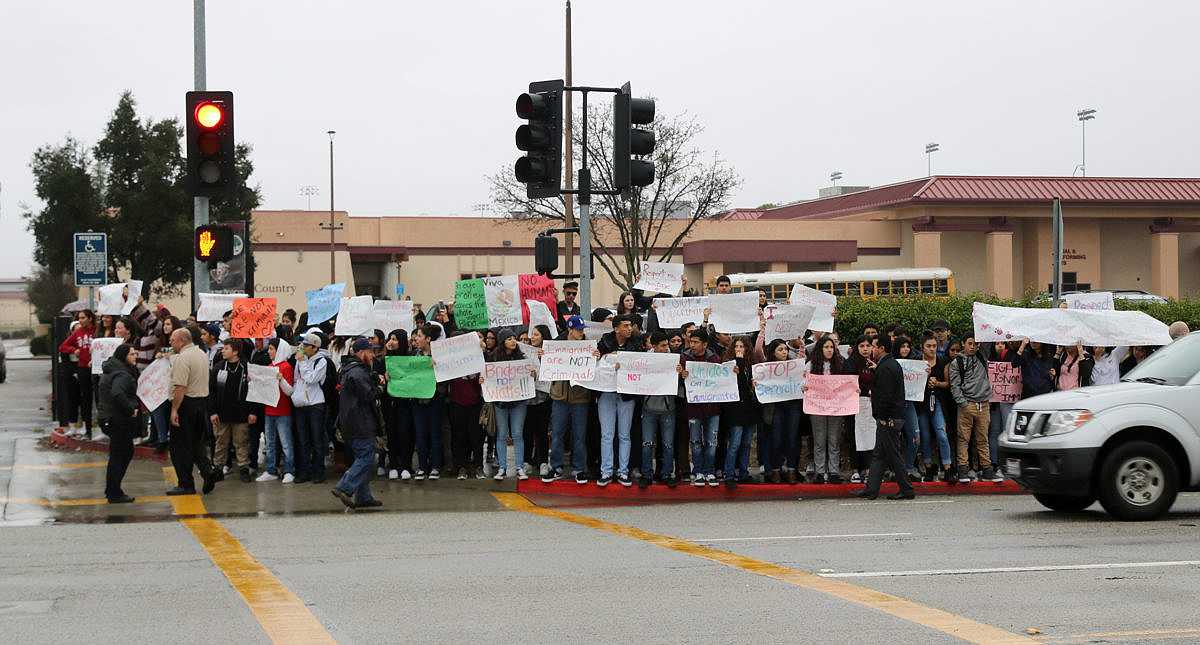 [dropcap size=small]I[/dropcap]n a time of heightened political disagreement, PRHS administration is keeping a caref
ul eye out for injustice, prejudice and backlash against student groups during school hours, with the ultimate goal of campus-wide security for as many Bearcats as possible. While the world around them delves into the practice of flag waving, demonstrations and shows of physical force, high schoolers look on to decide their political stance and act accordingly.
"Here at school we're very conscientious in making sure kids aren't bullied for any reason, whether it's a protest or just general high school interactions," PRHS principal Eric Martinez said.
In response to this reality, administration made student safety an increased priority, following a new plan of action to ensure the security of every Bearcat in the case of a demonstration. Each administrative officer, from security to the counseling office, has set guidelines for every instance and how to act accordingly, exclusive only to administrator's knowledge. One of these security measures includes the administrative mandate that, if protests dissolve into slanderous speech and/or violence, said protest will be moved to the Gil Asa gym, with the potential of being shut down altogether.
"If there's anything that happens that's going to put our kids at risk, whether it's a demonstration or what have you, those things events can't take place" Martinez said.
This plan of action corresponds to California Ed Code 48907, which states that "Pupils of the public schools … shall have the right to exercise freedom of speech and of the press", including the use of a demonstration to express those opinions, "except that expression shall be prohibited which is obscene, libelous, or slanderous."
Martinez echoed this in an interview, that while students have the Constitutional right to demonstrate on behalf of their beliefs, they cannot continue if they devolve into violence or slander. This rule is very careful not to infringe on students' Constitutional right to free speech within those guidelines, according to the Ed Code.
A recent example of strong political views escalated on Thursday, Feb. 16, when aro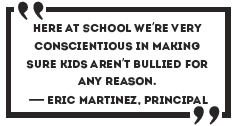 und 300 students of mixed nationalities swelled, chanted, and raised signs under the awning at lunch, led by a core group of five to six students who took part in a nationwide event deemed "A Day Without Immigrants." Immigrants across the U.S. stayed away from work as part of the protest; employees and employers gave up wages and profits in protest of the immigration policies of the Trump administration.The end goal was to show American consumers what an economy without immigrant labor would mean for the services and goods many rely on, according to The Atlantic.
PRHS students took part through their demonstration, protesting discrimination against immigrant groups and voicing their core values. As a group, they moved about the campus in a nonviolent manner and under administrative supervision.
"Due to the peaceful protest that my friends and I organized yesterday, I'd like to clear the air of any misleading information. I'd like to start by stating that I will not apologize for what I believe in." said demonstration leader Lupita Uribe in a Facebook post on Feb. 17. "This wasn't about Trump being president, it's about showing that America needs immigrants. My friends and I were and are supporting the immigrants that attend not only this school, but this nation as well."
In the end, administrative intervention was not exercised.  
"The students, right after their demonstration, went back to class, [and] there was no additional follow-up from that group of students, and as far as I know that's where they're going to stop at this point," Martinez said.

"No teachers or admin were involved or helped us organize this." Uribe echoed in her Facebook post. "This was organized by the students! Despite what many are saying, the police were not present, only school security."
Most importantly, Martinez stressed the importance of campus-wide cooperation and fellow human kindness, as it should be the driving cultural force on campus regardless of belief.
"We're all there together, we need to make sure that even though we have differences that we hang our hats, that we're all Bearcats, so it's important that we're all kind to each other and appreciate each other's differences" Martinez said.

More on Immigration Mythbusting
---
[/cbtab]
[cbtab title="OPINION"]
Parents wage digital war as debates about students' freedom of expression rise
by Emma Corippo, Art Director
National organizers of the pro-immigrant strike "Day Without Immigrants" urged immigrants Feb. 16, 2017 to stay home to show their immense impact in America. The movement made its way into schools, many of those in California, where immigrants account for 27 percent of the state's population, according to the Public Policy Institute of California.
In Paso Robles, nearly 300 PRHS students gathered during lunch and marched a loop around the school as they held their protest signs with pride.  Organized within a mere 55 minutes and a few felt pens, seniors Lupita Uribe, Daniela Lopez, Solanda Magnuson, Maricela Garcia Serrano, Cindy Barrera, Celso Ortiz, and Raul Morales and other students brought an astounding amount of spirit onto campus.  
When lunch ended, protesters shuffled into their 5th period class after a peaceful and empowering display of teen spirit.
After an article was published that same day by the student journalists of Crimson Newsmagazine, it reached over 11,000 views on Facebook. While some commenters remained positive, many readers, predominantly adults, fervently expressed their concerns through comments on the post about how school was no longer a "safe zone" for students and that the peaceful demonstration should not have happened. This powerful idea that prompted the protest was soon shot down by hundreds of people outside the school who wer not present to witness the inspirational event.
The voices of concern soon turned into arguments as parents clashed over how and when students should voice their opinions. Comments reached into the hundreds, and soon political opinions about students' naivety of the difference between legal and illegal immigrants abounded, with some readers even linking news stories from various political stances. Numerous adults were adamant that students should not voice their opinions publicly, mixed in with the concern of students facing oppression for not feeling comfortable stating their opinions because they did not feel safe. Adults expressing their right to freedom of speech attacked each other with bitter remarks, followed by their own political ideology. 
"These kids don't even in truth know the issues and they need to be in the classroom learning…Blows my mind how people can be such sheep, including our teenagers who do not think for themselves but just jump on the "we hate Trump" bandwagon. Sad and pathetic honestly….These kids are ignorant…this should've never happened…kids see the protesters on TV going into the streets so they think it's ok to do it themselves…" 
 This protest showed the better side of the youth.  It showed a unified, determined agenda.  Unfortunately, many adults failed to take the high road, instead shaming students and treating them like a child who did something wrong.  Students did nothing more than express their first amendment rights, as did parents about student's rights.  
But why are so many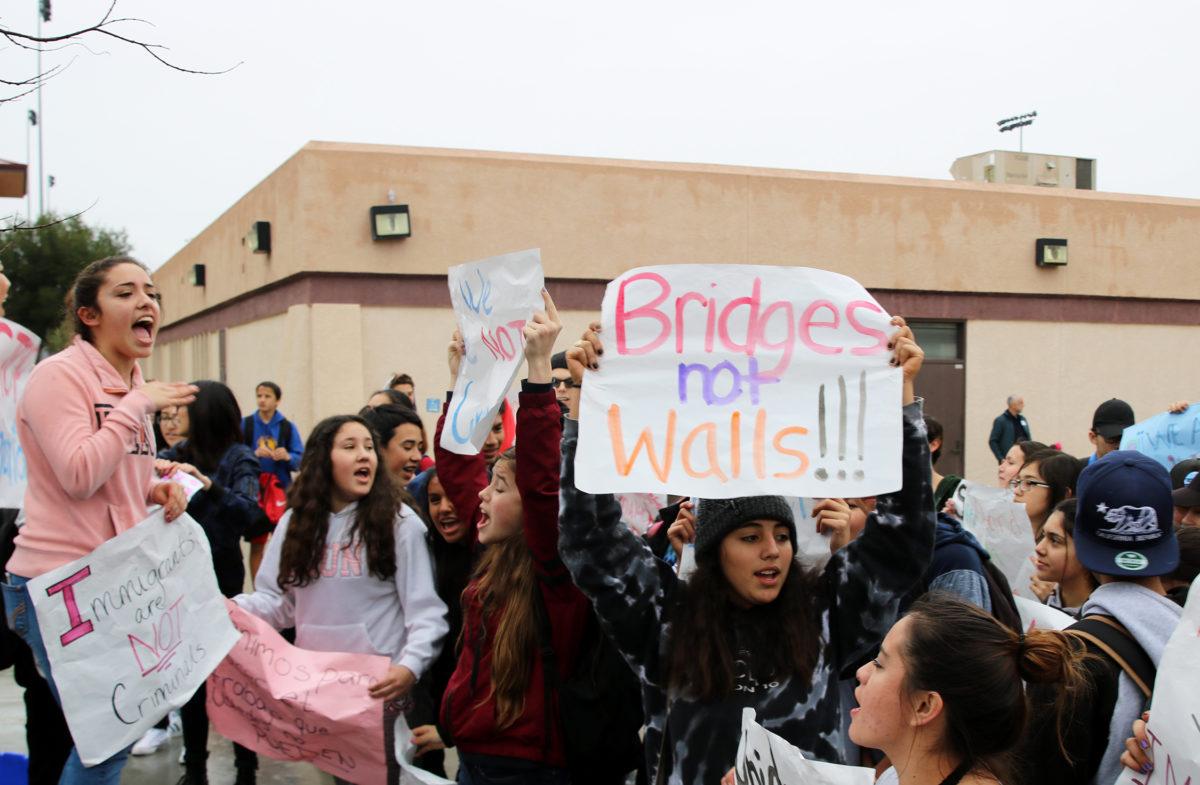 adults are concerned about a student's right to speak their mind?  Is it because they disagree with our opinions, or is it they do not like us thinking for ourselves?  In the end, it is a murky mixture of both, which is a fact that was around even before the generation of the millennial.
Many parents agreed that school is a learning environment, the protest took away valuable school time and politics should not be dragged into school. But the protest took place during lunch, where no precious learning time was lost.
In response to the protest, the administration sent out an email to parents later on Feb. 16 that assured the protest was safe and organized by students.
The email, written by principal Eric Martinez, stated:
"Students have the right to express their views about issues that are important to them.  Our role is to make sure that all students, regardless of their views, are safe and secure. Thus, school and district staff were on hand to help ensure the safety of the entire student body during the duration of the protest. We are committed to maintaining PRHS as a welcoming place for all of its students and families.  Please do not hesitate to contact me if you have any concerns."
Parents remained upset even after the school had reassured parents that the situation was handled appropriately, some audaciously calling for disciplinary leave of the principal for allowing the protest to happen, despite it being completely legal and justifiable. The students who protested remained peaceful and followed the rules. It is disappointing how parents do not like to see students have active voices, especially when students do things like organize a protest within the matter of 55 minutes instead of scrolling through instagram.  We cannot continue to put down our fellow human beings, especially the youth, who are the future.
More on Immigration Mythbusting
[/cbtab][/cbtabs]