but students fail at changing their behavior
I would assume that all students who have an acronym fetish will likely carry P.R.I.D.E. to their graves. After all, it truly is the Holy Grail of school-derived acronyms. It deserves a Pulitzer Prize. It is the Yogi Bear of abbreviations.
I'm just being facetious. I hope you caught onto that. I'm not a slogan regurgitating disciple of "The Man." I'm convinced that teens are the real issue here, even though PRIDE is not smarter than the average bear.
I do not disagree with the principles of PRIDE. A school should try to inspire students to think and act ethically. And I applaud PBIS, Positive Behavioral Intervention and Support, for implementing this exceedingly necessary program.
But the ignorance in the belief that it will actually help this campus become a better place is beyond me. I disagree with the technique being used to make us "model students" because it's an utterly incomprehensible idea. Teenagers can't become little angels.
Here's the plan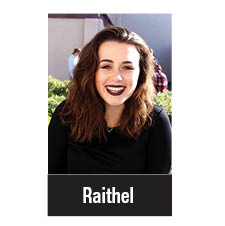 : overseen at PRHS by Michael Ledesma, who declared PBIS "an expectation of how people should behave," PBIS has distributed the PRIDE acronym to everyday student-life, trying to help both obedient and troubled kids—or, I believe the term used in Scooby-Doo is 'meddling kids.'
At PRHS there are three intervention specialists. Ledesma has an intense caseload of four to five students per semester; the other two have a caseload of 25 students each. Students end up in these offices when they have been referred by the counselors and teachers following disruption, crime, and problems we see in teen behavior.
However, PBIS and PRIDE are "not disciplinary. They are here to say 'Hey, this is what we've noticed you doing, and this is what we can do to help you,'" Ledesma said. The plan wants to help students who have strayed from the straight and narrow.
The meaning and purpose behind the plan is swell and all. I mean, if every student came ready for class, never badmouthed a teacher or student, had sturdy morals, was driven for success, and paid attention, I probably wouldn't want to croak every time I thought of going to my next period.
However, teenagers suck.
Being one, I am fully prepared to share my findings and observations on my age group. As Ben from "Parks and Rec" said, "Here's the thing about 18 year olds, though. They're idiots."
In early December tutorial teachers asked students to robotically pair-share their familiarity with the meaning of the PRIDE program, like it was another California State Learning Standard. The activity made me feel like I was being brainwashed. Most students did not enjoy the activity.
The correct answer was the brilliant, witty "Prepared, Respectful, Integrity, Determined, and Engaged"– if you couldn't remember the posters in every single classroom, otherwise known as indoctrination.
Most students and teachers I've spoken to feel indifferent towards PRIDE because it is just another venture in uniformity.
One time, I was at a party—only once because my experience made me never want to return to a high school party again. Since it was my friend's house, I stayed the night. I expected there would be hours worth of cleanup to do when the morning came, like the clean-up montages in movies, but times a thousand.
What I did not expect was every drunken, rideless person would also spend the night.
Furthermore, I did not expect to wake up at 5 a.m. to the sound of water hitting the carpet. But it wasn't water. I opened my eyes. To my utmost horror, a girl squatted over the carpet, pants down and all. Very much in shock, I asked her what the heck she was doing. "Peeing," she said.
The other day a kid in my history class said that he missed Question #8 on the test because he "couldn't remember what suffrage is." Suffrage. I propose a new law that if you don't know what suffrage means, you don't get to vote.
Case in point, teenagers suck.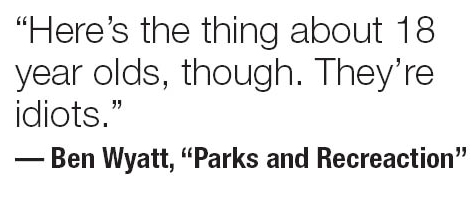 Of course not every aspect of teenagers is awful. Just the aspects where they think they are better than everyone else—which they hypocritically hate in adults. Or that they disregard other's feelings to make a joke such as, "You can't sit with us." Or that they are so sucked into their phones and social med
ia that they are incapable of focusing on a subject that actually matters. Perhaps the worst is the complete lack of civility for themselves, others, and this precious Earth.
Otherwise, teens are pretty okay. Mainly because if they aren't partaking in those activities, they are sleeping.
At times, I plead guilty on all these offences, too.
It is in these terms of teenage attitude that makes the idea and simplicity of PRIDE so ridiculous. How can administration expect us to be these precious little flowers when we are the weeds of humanity? This isn't an outcry against administration; I'm not suggesting some proletariat, "Communist Manifesto" revolution.
But I'm also not going to preach what they try to enforce because that would be lying. And lying doesn't demonstrate "integrity." On the contrary, I'm taking a different route mainly because if I blamed administration a
nd ranted about them I would get in trouble.
PRIDE is just like everything else the school has tried to inscribe on our brains: Bearcat Bullies, Red Ribbon Week, Spirit Week. The minute any newfangled idea is released, the masses turn it into some joke. Remember in eighth grade when we learned the P.E.M.D.A.S. acronym to help us in algebra and within a span of two days we had figured out a new meaning?
I just wish that we didn't have to be reminded of how we are supposed to act. I wish everyone would just grow up and act responsibly instead of peeing on carpets, knowing only 20 words, and acting like we're the cat's meow. There would be no need for nuisances like PRIDE. But for now, PRIDE is a necessary evil.