Junior Peyton Bedrosian is on her way to making PRHS history with her incredible pole-vaulting career.
Waiting in anticipation for her jump, junior Peyton Bedrosian recited her corrections and instilled confidence and trust in herself knowing she could break her personal record and tie the PRHS school record. As the pole bent , launching her into the air up and over the high bar, Bedrosian went through the motions she knows so well and cleared the bar, tying the record of 12'4″.
Since starting track and field only freshman year, Bedrosian began pole-vaulting and has racked up some distinguishing athletic accomplishments in her career.
"I did competitive gymnastics for seven years. Then during COVID, I tried pole vaulting because a lot of ex-gymnasts become pole vaulters, and it was an easier transition for me."
Peyton Bedrosian

Similar to many athletes, Bedrosian spends five days a week practicing during the season, and about three days a week during the off-season conditioning and weightlifting to stay in shape. Along with her athletic commitment, Bedrosian is involved at PRHS through ASB as junior class treasurer, director of events in Advanced Leadership, Advanced Dance, as well as being an AP and honors student.
During her freshman season, Bedrosian placed second in the Mountain League, vaulting 11'6", and qualifying for CIF and CIF masters. Continuing to improve, she took first in the Mountain League league her sophomore year vaulting 12', making it to CIF Masters once again placing second, and moving on to State. At state she vaulted 11'9", but unfortunately didn't make it past qualifying rounds. Bedrosian is one of only a handful of elite Bearcat athletes competing in state-level sports.

"She is one of the most dedicated and determined athletes I know, which are both incredible traits to have to be a successful athlete. You can clearly see her drive and love for the sport at every practice and meet, and she is so much fun to work with. She takes corrections very well and even more importantly she makes those corrections."
Codie Wilshusen
For the 2023 season, pole vault coach, Codie Wilshusen hopes to see her officially break her record, qualify to compete in the Arcadia Invitational, one of the most prestigious high school track meets in the country, and qualify to compete in the California State Meet.
Through it all, Bedrosian is the most thankful for her parents and their unwavering support.
"They are good at helping me stay motivated and stay focused even in the offseason. They get into it without being too into it and they've been able to take me to meets in Texas and Nevada so that I can compete against people from all around the country and get more experienced and meet other coaches." Bedrosian said.
Looking into the future, Bedrosain hopes to continue her pole-vaulting career at the D1 level. While she doesn't currently have any college in mind, she has been reached out to by Cal Poly Slo, Cal State Fullerton, Pomona College, and a couple other smaller schools.
"I want to continue vaulting because it has become something I'm really passionate about. I like how you are constantly setting new goals for yourself and hope to continue reaching for these goals even after high school. I've also made so many fun memories with my teammates throughout the past couple of years and getting to be a part of a team and have that kind of support is something I would love to have." Bedrosian said.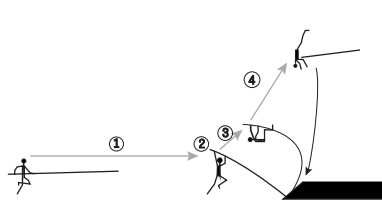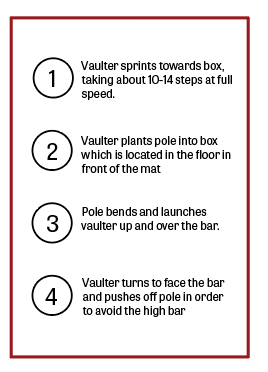 Photos By: Doug Bouma