The conflict between both eastern European countries continues to ravage, as questions about peace arise.
A Declaration of War
An address was made by Russian President Vladmir Putin on Feb. 24, 2022 stating that "Russia cannot feel safe, develop, and exist with the constant threat emanating from the territory of Ukraine." President Putin presented his plan as a "special military operation" that would make efforts to protect people in the city of Kyiv who he claimed to be experiencing the abuse of genocide for many years. "We will strive for the demilitarization and denazification of Ukraine, as well as bringing to justice those who committed numerous bloody crimes against civilians, including citizens of the Russian Federation," Putin said. Shortly after Putin's address, reports began to surface of explosions in eastern Ukrainian city Kharkiv, as well as the capital, Kyiv. Just that afternoon, Russia had entered Ukraine from the north, south, and east. Ukrainian President Volodymyr Zelenesky responded on the night of the invasion in a YouTube video, in an effort to address and enlighten the Russian people on the accusations made against Ukraine. "The Ukraine on your news and Ukraine in real life are two completely different countries, and the main difference between them is: Ours is real," Zelensky said. Putin made claims against Zelensky for being a Nazi, however the President has made his Jewish faith very well known.
"The fight is here; I need ammunition, not a ride."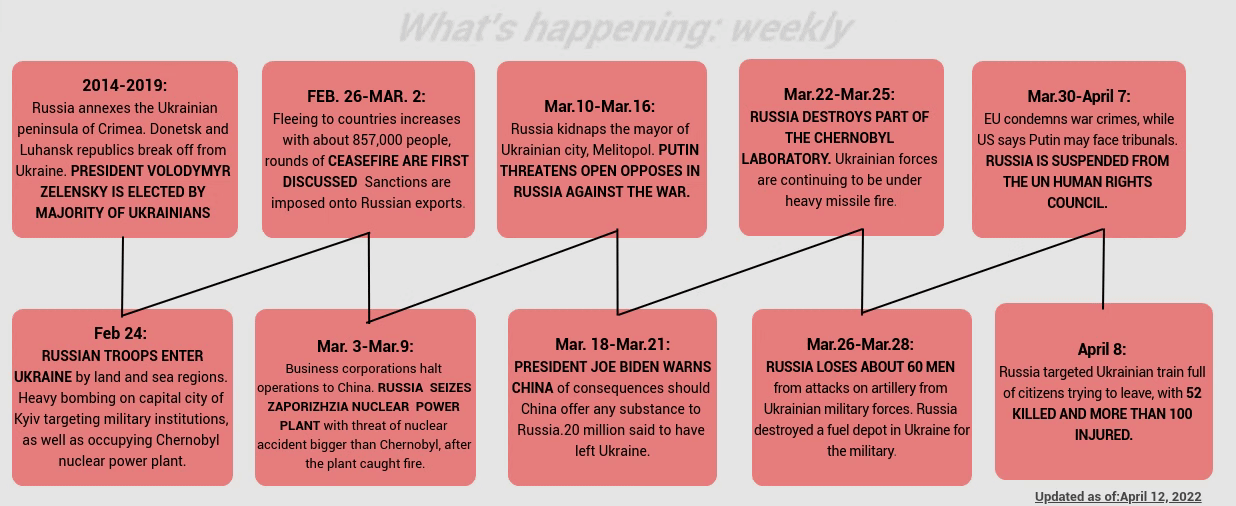 Humanitarian Hardship
The 4 million Ukrainian people uprooted by Russian invasions and advances has resulted in a severe humanitarian crisis, just over a month after Putin's first invasion. Refugees have walked, ridden, flown, and bussed to Poland, Romania, Moldova, Hungary, Russia, Slovakia, and Belarus. In the bordering countries, Ukrainians are being allowed to stay in reception centers where they receive medical care, food, and guidance regarding onward travel. The European Union (EU) has declared that those who have fled Ukraine have the right to remain in the EU and any of its 27 members for up to three years. For those with family members in the UK, a visa program allows family members of a Ukrainian refugee to act as their host for at least six months rent-free. The UN Refugee Agency (UNHCR) said in a tweet Mar. 30 that another 6.5 million people are displaced in Ukraine, with 13 million stranded and unable to leave. The host will receive £350 ($460 USD) per month. 22,800 family visas have been issued out of the 31,200 applications submitted (Mar. 29). So far, no limit has been set on the amount of people who will be allowed into the UK under this program.
Previous
Next

Hitting Home: Olya Bondarenko
Olya Bondarenko, a sophomore at PRHS, lived in Ukraine for the majority of her life. Her father, sister, and closest friends are still in Ukraine; Bondarenko lives with her mother who married a Californian. Her hometown, Dnipro in southeastern Ukraine, remains safe, and citizens continue to assist other parts of the country in need. Bondarenko lived in the US for just over a year when conflict began to arise in her home country. "War first started in Ukraine in 2014, but this year they're trying to take all of Ukraine," she said. Bondarenko learned of Russian advances on Feb. 24, the day of Putin's address. The current condition of the airports prevents anyone from leaving or entering the country. Bondarenko has kept in touch with her loved ones back home. "My friends are scared because every day they hear sirens. It's very loud and our airports have been bombed so people can't leave. Planes don't fly to us because they know they can be bombed," she said. A friend of her sister's, Valeria, experienced the invasion of Russian soldiers firsthand. "My sister has a friend, she's pregnant, she lives where it is bad. Russian soldiers came to her house and took all the food." Despite the heartbreak of the invasion, Bondarenko recognizes that there are two perspectives of the people in Russia. "You don't have to hate all Russians. It's 50/50: one type is good, and one type wants to take Ukraine." Bondarenko feels supported by those around her, and shares pride for the Ukrainian people. "I feel really big support. My teachers support me, the people here support Ukraine. I am really happy about it. I'm really proud of Ukrainians, because they're fighting and they don't give up."
"I feel really big support. My teachers support me, the people here support Ukraine. I am really happy about it. I'm really proud of Ukrainians, because they're fighting and they don't give up."

Featured Image:
"Ukraine army cuts off main road to Sloviansk" by snamess is marked with CC BY-NC 2.0. To view terms and conditions visit: https://creativecommons.org/licenses/by-nc-sa/2.0/?ref=openverse