Alfredo Duque leads in his passions for music and science
[dropcap size=small]T[/dropcap]he ground vibrates with the crowd in the stadium as Alfredo Duque suits up with his shining trumpet. He feels a sensation of energy as there is nothing else he would rather be doing. After practicing for weeks, he feels an adrenaline rush to finally show everyone what he has been practicing for. Duque has been the trumpet leader for 4 years in the marching band, powered by his passion to excel.
"Once I got into band I created so many more memories and friendships that I wouldn't have if I wasn't in it," said Duque.
Duque has brought a new atmosphere to the marching band by advocating for new teaching techniques and, most importantly, making it enjoyable for everyone. With the pressure of trying to do well, Duque balances it all while helping others. Being the only senior in band, he has taken an overarching leader role which has taught him to be more confident and independent. His leadership has helped him explore the science field in-depth, both in and out of school. 
"Because he is the only other senior in band at the moment he tends to help and lead us when our drum major isn't present or if we have questions in general," said first clarinet player Mars Gunderson.
As a student in class, he has always been able to get to the heart of what is being studied. Duque goes above and beyond to ask meaningful questions that go beyond what we learn.   He has completed many AP science classes at PRHS including AP Biology, AP Chemistry, AP Physics, and AP Environmental.
"Often coming across as quiet and soft-spoken at first, Alfredo becomes a super strong leader with peers once he's comfortable with his understanding and I could always count on him to more than hold his own when working," said science teacher Evan Johnston.
One of Duque's greatest high school memories includes participating in the University Research Experience FSC. Although Duque was not expected to excel due to his lack of background knowledge, Duque spent extra time doing extra research ahead of time to prepare. The aim of the Cal Poly FSC was to increase the rate at which certain compounds can be produced, so that these reactions can be brought as learning experiences in introductory college classes. He ended up becoming a core member of the team, and after doing so well in the environment has since been welcomed back by the college professor to do further research.
Duque not only had to balance school, he also balanced having a work and personal life. "I only work two days during the week so then I have time to do the rest of my schoolwork and so it's not as difficult to catch up on things, and then I work on the weekends," said Duque. Through this crazy year it has been incredibly difficult to stay stable with the immense amount of pressure and work weighing him down.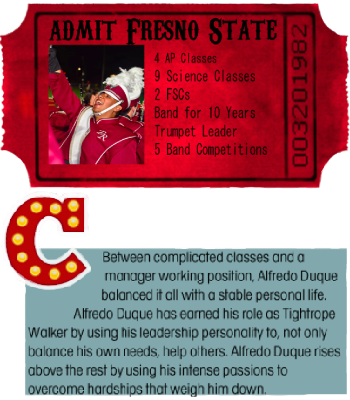 Unlike most people, Duque does not work just to receive a paycheck. He works at Panda Express as a manager of the kitchen and uses this job to grow to have more experience in the workplace. He finds that working brings him outside of his comfort zone to gain more communication skills even if he doesn't enjoy the people there. His favorite part of working is the cooking experience. It moves him to try his best and put out the best food he can.
Ever since Duque was little, his sister has been involved in the music scene. She introduced Duque to the vast music world when she was performing at the Sierra Cup. "I just saw all the instrumentation and all the forms that people would move. Especially the trumpets, they just intrigued me so much that I wanted to pursue music as a hobby," said Duque.
After Duque graduates, he will be following his sister's footsteps on the tightrope through life by heading to Fresno State University. He will be attending band camp this summer to continue his passion for marching band. The trumpet has been an important part of his life that he is thrilled to be given the chance to keep pursuing through college.
Furthermore, he is majoring in biochemical engineering after his found love for science from the PRHS science courses. "Ever since I was a little kid I wanted to, whatever I do end up making my career as, I wanted to… This is going to sound kind of cliche, but I want to help people with the knowledge I've gained." said Duque.
[button color="red" size="normal" alignment="center" rel="follow" openin="newwindow" url="https://www.crimsonnewsmagazine.org/"]Back to Crimson[/button]
[button color="yellow" size="normal" alignment="center" rel="follow" openin="samewindow" url="https://www.crimsonnewsmagazine.org/2021/06/03/super-seniors-2021/"]Back to Super Seniors 2021[/button]