Junior describes her challenge of finding motivation and finding who she is during distance learning
[dropcap size=small]A[/dropcap]s student Janice Solis entered Junior year in distance learning, she lost track of how important school is to her. Passionate about her actions in life , the lack of motivation has affected her on many things. Solis has struggled to stay motivated during distance learning and has made school feel like an option. 
¨Without the teachers it's very hard because if we were in person they can see our faces to see if we do get a lesson or not. I feel no motivation to do work and often find myself stuck in
a hole once I have plenty of tabs [on her computer] open that need to get done with work." Solis said.
To top the challenge of school she also has to deal with taking care of her 2 sisters who are 3 and 1 year old.
¨When school just started it was hard because trying to find a babysitter with all this COVID was hard, so I took care of them for a while.I just told myself that struggles don't last forever,¨ Solis said.
HOME COMES FIRST
When taking care of her sisters and doing school, her day starts with changing and feeding her sisters while she attends her first class. Her attention span was 50% on class and 50% on her sisters at the same time. Solis also takes them outside during her break to avoid them being inside all day. During class she also provides them with snacks to keep them entertained.
However, for her to get back on top, she has found a way to better herself and be more motivated. Solis finds herself constantly distracted by being on her phone, so to remedy that she decided to give her phone to her mom to limit her distractions so she can fully focus on school. ¨If I have my phone with me that just makes me go on social media and I get very distracted. This has helped so much because I get plenty of work done and my sleep schedule doesn't get as ruined,¨ Solis said.
EVOLVING WITH TIME
From this experience Solis has realized many aspects of her life that she needs and also does not need. She has learned how to self discipline herself and be independent to do better on the things she cares and enjoys. Including school, walks, nature, and family bonds. 
Solis has also learned new meanings to her life. "I now enjoy the little things because at the end that's what matters," Solis said. "I feel happy that I learned from my problem,  because if I practice with them,  they won't be a problem anymore, they will be lessons… I have so much to learn still."
[perfectpullquote align="left" bordertop="false" cite="" link="" color="" class="" size=""][/perfectpullquote]
This will help me in the future to set limits and boundaries for myself in the future.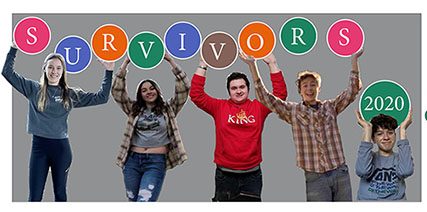 [button color="white" size="normal" alignment="center" rel="follow" openin="samewindow" url="https://www.crimsonnewsmagazine.org/2020/12/23/survivors-2020/"]Back to Survivors 2020[/button]