Sophomore uses her affinity for realism to illustrate and preserve
Framed by downtown and perched upon a park bench, sophomore Kaila Jones candidly chatted about her less-than-ideal quarantine experience.
"I'm an open book. Completely. I've told [my quarantine] story like a million times to people who ask me, 'Oh, how's your 2020?' I'm like where do I start?" Jones said, laughing a bit towards the end. 
Grandparents, Alzheimers, coping
Like many since March, Jones' life has changed tremendously with family members coming home and friend visits occurring few and far between. At one point during quarantine, her household consisted of nine people.
At the beginning of quarantine, Jones' grandparents moved in with her immediate family so that they could be together during lockdown.
It would become her grandmother's final months as she lost her battle with Alzheimers.
"Watching [my nana] progressively pass away [in addition to] COVID and having to stay inside was really difficult because I couldn't go out and get like a breath of fresh air," Jones said.
Jones lost her grandmother to Alzheimer's during quarantine. Additionally, two of her dogs passed away from old age and a severe case of hip dysplasia respectively.
However, Jones' penchant for realism is not exclusive to what she says aloud. 
She witnessed first-hand the slow deterioration of a loved one with very little outside activity to take her mind off of it.
Future in science
Hoping to one day be a chiropractor, Jones is heavily interested in the sciences.
Jones blends her interests in the biological sciences – of which she some day hopes to follow to the medical profession – and art through realistic renditions of the people and things that matter most to her. In the isolation-laden present, illustrating for the sake of intimacy and preservation of memories has become a coping mechanism for her.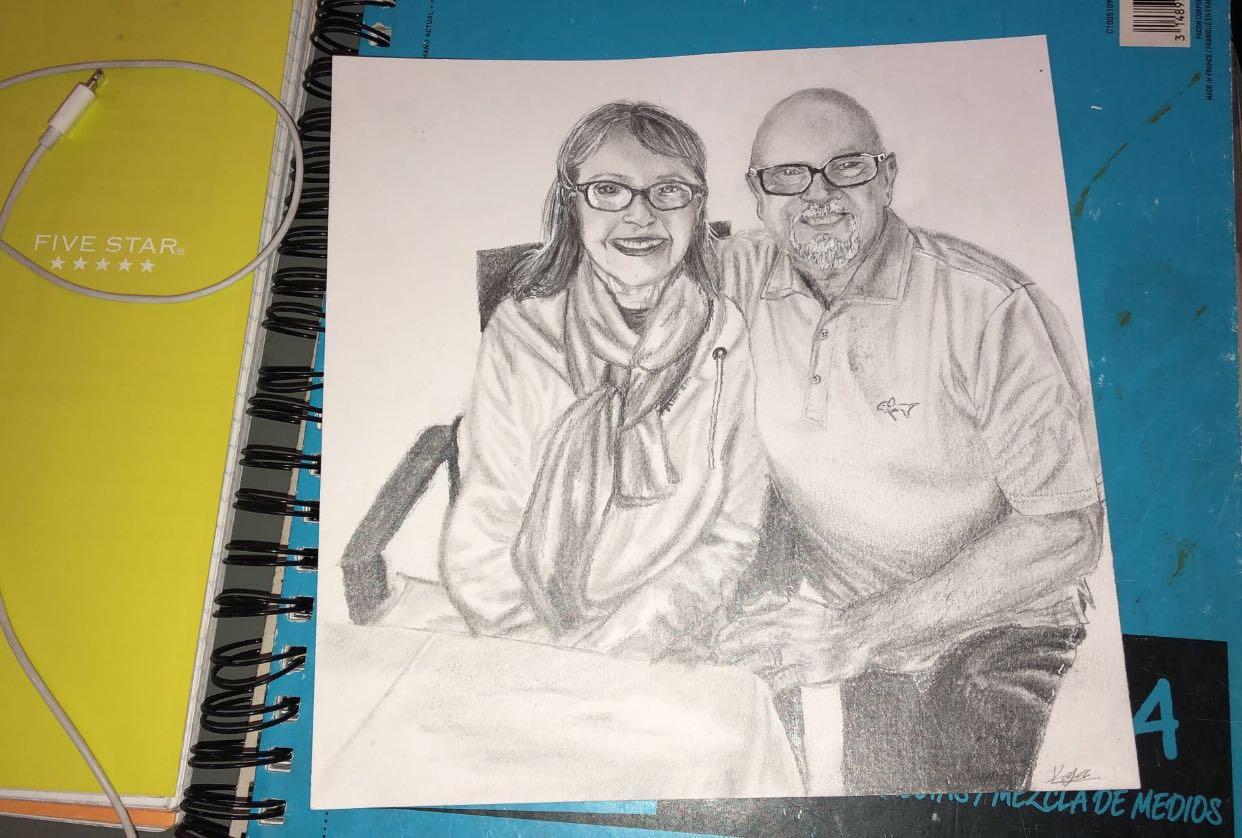 Illustrations of love
While coping with her grandmother's decline, Jones drew a portrait of her grandparents to immortalize her positive memories of them.
[perfectpullquote align="full" bordertop="false" cite="" link="" color="" class="" size=""]"While I was working on the piece of my Nana I feel like that made me feel more connected to her and that [there] was still a good memory of her around," Jones added.[/perfectpullquote]
[button color="white" size="normal" alignment="center" rel="follow" openin="samewindow" url="https://www.crimsonnewsmagazine.org/2020/12/23/survivors-2020/"]Back to Survivors 2020[/button]