Fall fanatics search for love at the pumpkin patch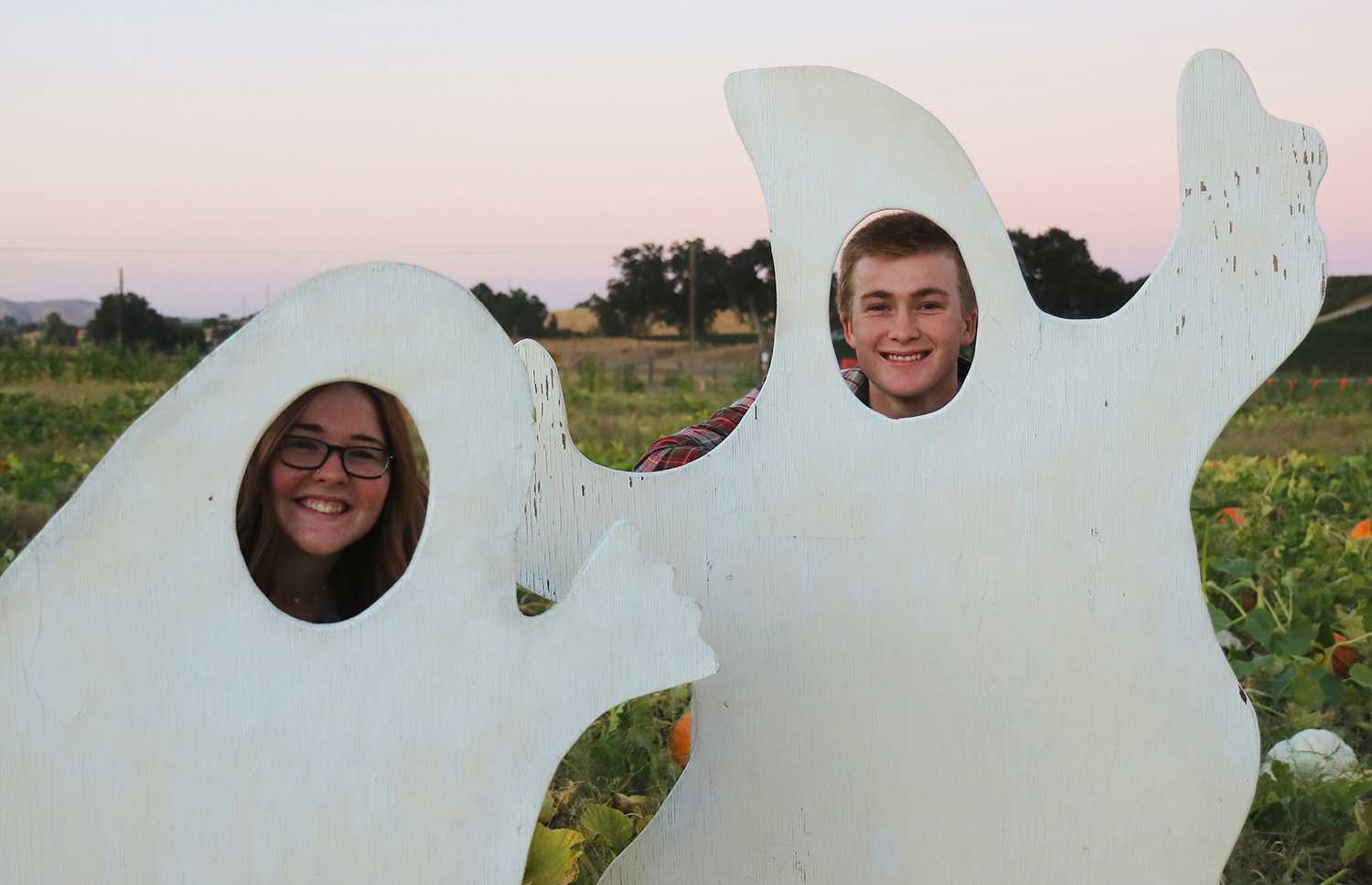 On October 8th, seniors Justine Phillips and Shane McGuffin started off the season right on a fun, fall themed date. Phillips arrived early, excited and full of anticipation. As she waited to enter the corn maze, she spotted a familiar car pulling into the parking lot of River K Pumpkin Patch and immediately knew who it was. She rushed into the maze ahead of McGuffin, in order to hide from him as they sent texts to get to know eachother better. After changing her contact in his phone to further the mystery, McGuffin was sent into the maze after Phillips with the task of finding her as they texted. He asked her questions in order to get to know his mystery date. Immediately after entering the maze Phillips had to stifle her laugh.
"[My laugh is] gonna give it away!" Phillips said. It became apparent that she would have to change some habits so McGuffin wouldn't guess who she was right away. This continued throughout his questioning as she wondered if she should change things like her favorite color and spirit animal in order to keep him guessing.
As she wound through the maze, she could hear his voice and tried her best to stay quiet.
"I think it's so funny that I know who he is and he has literally no idea," Phillips said.
On the other side of the cell phone, McGuffin was clueless to the fact that he already knew his date.
"I have no idea who it would be," McGuffin said.
Phillips continued to work her way through the maze until she heard McGuffin. She rounded the corner and McGuffin laughed in surprise. Soon both were sent into a fit of giggles as Phillips explained she already knew who he was when she saw his car arrive. They continued through the maze together before realizing they found each other close by the exit. After leaving the maze, they talked about how invested in fall they were.
"I am very fall; I am Pinterest fall," Phillips said before going on a rant about popular fall drinks.
"I am very fall; I like everything that happens in fall," McGuffin said, proving that the couple was perfect for this fall-themed date.
Following this, the eager fall enthusiasts learned their next challenge. Phillips and McGuffin had two minutes to find a bigger pumpkin than the other.
"I am so competitive, lets go," Phillips said as she began scanning the seemingly endless field of pumpkins.
With the timer set, they split off and worked to find the biggest pumpkin. Phillips made her decision quickly, with a minute to spare, while McGuffin scrambled until the last 30 seconds to find his pumpkin.
"This is large, tell me this isn't huge," Phillips said about her pumpkin.
Using McGuffin as a scale to figure out who won, it became apparent that Phillips' quick choice would be the winner. She laughed in triumph, and McGuffin humbly accepted his pumpkin-finding loss.
"I know [my pumpkin] was pretty big, but that one is also very large," McGuffin admitted.
After leaving their pumpkins they went towards the entrance to take some photos and noticed a group of wagons outside. Phillips climbed into one and McGuffin pulled her along, despite Phillips' initial worry of whether it was allowed.
"You're hard at work," Phillips said as she sat in the wagon.
"I'm always hard at work," McGuffin teased back.
Shortly after, staff at the patch told them the wagons were, in fact, only for pumpkins and not people. Phillips laughed and said that she knew it, and they returned the cart to where it belonged. They finished off the date with some more photos and then sat down for their final interviews on how they felt the date went.
What were your initial expectations when you were asked to go on a blind date?
Phillips: "I was really scared. My expectations, I was thinking, it's gonna be a cool experience you know, get to talk to someone like one-on-one… I thought it was gonna be someone that I don't know, but it is someone I know."
McGuffin: "I was nervous a little bit for sure. But mostly, I was excited because I love the pumpkin patch! So I thought that no matter who my date was, I was going to have a fun time, and that I did!"
What was your favorite part about tonight's blind date?
P: "I think my favorite part was finding each other because it was really hilarious because he didn't know that it was me. And it was a surprise."
M: "I think it was the very beginning of like the whole surprise, like I had a
bsolutely no idea who it was so I think I really like that 'wow' moment."
Would you go on another date?
P: "I think Shane and I go on dates all the time, just like in groups. So, sure!"
M: "Me and Justine, like we're pretty good friends and everything but I absolutely [would], this was a really fun time so I really enjoyed it."