Senior Gavin Hughes documents PRHS field studies collaborative trip to nature reserve
As students were enjoying the beauty of nature on PRHS' biannual trip to Santa Cruz island, some, along with teachers and Professional Videographer Brent Sumner were bearing cameras, ready to record their journey. "I was hoping [to be able to work with some] of that…quality…professional  footage," Senior Gavin Hughes said.
And work with it he did. Hughes edited a video that was shown to all PRHS students on the daily announcements, PRHS staff, and the Santa Cruz island foundation. "It was amazing," PRHS Physics and Science Academy 2 teacher Mark Fairbank said.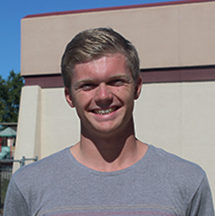 "There were a lot of emotions [in the video] that we felt on the trip…I really tried to channel exactly how I perceived the island in an emotional sense," Hughes said.
Hughes, who is president of the wilderness club, a varsity swimmer and an amateur videographer, has done many videos in the past. His next videos, he said, will likely be a promotional video for the drama production of The Sound of Music and a video wrapping up the season for the Bearcat aquatics team.
"If [viewers] could take away [from my video] any of the joy and any of the experience we have in wild places…and the appreciation that it can bring to your view of the world and your view with regards to protecting and cherishing it…that's my goal with this film," Hughes said.