PRHS accepts first male cheerleader Ethan Carmon
Ethan Carmon Lundrone found out that he will be PRHS's first male cheerleader on March 22. Cheer prefers flexible and athletic individuals that can do splits, catches and other stunts–tasks easier for females due to their lower muscles mass—making it unique that Carmon got in.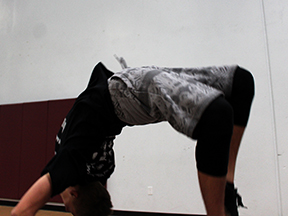 After giving up his lunches for a week to practice, Carmon felt his nerves  jumbling within him.  He was filled with excitement and worry, but he believed in himself.
"I had a lot of energy and was very nervous, but my friend was there to help," Carmon said.
Freshman Kassadie Noel waited with Carmon to cheer him on in his cheer audition. For his audition, Carmon did a sideline, a dance number, a cheer and a tumbling on March 22. He waited with Noel for the result.
Later that day, Carmon was working out in the weight room with Noel when Mrs. Loney, the Cheer Coach, winked at him.  He didn't know what was happening and the girls around him were "freaking out".
"I was clueless," Carmon said. "But she said that I had a really high score and that I had made varsity!"
Carmon immediately told his friend Brooklyn Pitts and then posted it on Snapchat.  Carmon got a lot of positive feedback from all his friends and peers that said that they were proud to see a guy do cheer.
[envira-gallery id="21026″]