Is our voting system actually democratic?
[button color="black" size="normal" alignment="center" rel="follow" openin="newwindow" url="https://www.crimsonnewsmagazine.org/2016/11/10/trump-wins-2016-election-2/"]NEWS: TRUMP WINS[/button]
[dropcap size=small]S[/dropcap]ince the late 18th century, America has practiced a representative democratic system: a republican democracy. However, the government was never entirely representative in the first place. In 1789, only white men who owned land were allowed to vote, accounting for 6 percent of the population,  today electors still do not have to pledge the vote of the people, and swing states allow candidates to ignore half of the nation
The representation between states is unbalanced.  Ironically, smaller states actually have more representation, and "residents of the three least-populated states — Wyoming, Vermont, and North Dakota — have one congressional representative for every 200,000 people, while those in the three states with the highest population — California, Texas, and New York — have only one congressional member for every 670,000 people" according to The Huffington Post.
In the presidential election, voters technically vote indirectly.  Residents of California vote for the 55 electors out of the 538 electors country wide, who then pick our president.  But here's the catch.
They don't have to vote for who we pick.
In fact, only 29 states require electors to vote as citizens have pledged, and in the remaining 21, electors can vote for whoever they want.
Since George Washington, there have been over 157 "faithless electors" that have gone against the popular vote, according to Fairvote.  In 1976, an elector named Mike Padden from Washington state voted against the popular vote for Republican Gerald Ford, instead he pledged his vote to Ronald Reagan.  This was originally meant to protect our government from citizens voting for the king of England or someone the elector doesn't feel is fit for the job.
OFFERING INSIGHT: Ryan Askew, AP Government teacher explains the barriers the electoral colleges have on independent votes (Photo credit: Brenna Collins)

"The electoral college was supposed to create a barrier." said Government teacher Ryan Askew.  
 Back then, most people were uneducated, and the electoral college provided the buffer between state and the people that many felt was necessary.
Originally, slave states wanted to count the slave population, increasing their chances at power.  But, they didn't want to give slaves the right to vote.
Gerrymandering is another issue that our voting system needs to see a change. Gerrymandering allows parties to redraw district lines to benefit their party based off the winning group.  This basically permits parties to increase their chances of winning.  In recent years, this has increasingly continued at an alarming rate.  
Despite winning the popular vote, a candidate can still lose the election.  This has happened four times in the history of the U.S.  
"We've seen discrepancies in the past between the electoral college outcome and the actual popular vote…just look at 2000."  says Junior Gavin Hughes.  
In the 2000 election, Al Gore won the popular vote with over 540,000 more votes than George W. Bush, but Bush still won the electoral college, 271 to 266.
Our two-party system excludes third-parties such as the green party or the Independent American Party.  According to Gallup, Trump's disapproval ratings were higher than any other candidates in the last 60 years.  But, due to the two-party system, Trump was still a primary candidate.  38% of PRHS students said they would vote third party if they could/can vote.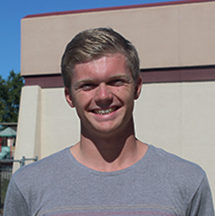 What's more, most states outcome is predicted before even voting; Since the 1940's Wyoming has voted Republican as has Nebraska has voted Democrat.  But, a collection of states like Ohio and Florida are what we call "swing states".  Swing states usually don't have a predictable outcome, which catches the attention of candidates.  These swing states allow candidates to ignore their "guaranteed" safe states.  "If you're a Republican in California, your vote's only going to be applicable on a local scale." says Hughes.
Despite countless attempts to have the electoral college abolished, we continue to use this inane system that allows parties to exclude others, unfairly increase their chances of winning, and makes it possible for a candidate to win the election without "winning" the popular vote.  Regardless of our advances in technological voting and easy access to news, we still ignore the weakness in our representative" democracy.