Choosing not to vaccinate your child poses risks for others
Speculation and controversy surrounds the Holy Grail of humanity's survival in the American household. The vaccine, first invented not long after the ratification of our Constitution, has been medical science's Excalibur against the vast multiverse of diseases which threaten humans all over the globe, now especially in less developed countries where deadly outbreaks are especially likely and fatal.
However, despite vaccine's platinum track record and near-infinite potential, the past 10 years have been marred with criticism of the proven trumper of smallpox, and the rising hero of malaria. To this day, baseless platforms wildly accuse simple vaccines of social and medical disasters, even though vaccines-cause-autism ringleaders Jenny McCarthy and Andrew Jeremy Wakefield ,the doctor who claimed a link between the two, have both gone back on their claims (now deemed a hoax) and the latter has since lost his practicing license. These claims, and those like them, play off of ignorance and fear and further perpetuate both. The end goal of these campaigns is your loyalty and then your wallet. Countless internet immunologists, with undisclosed credentials, use quackery and false claims to sell their tell-all books, with prices ranging from $25 to as much as $80.
Any valid, civil discussion about vaccines must include a proper understanding of simple biology. Generally, any vaccine introduces a dead or weakened pathogen so your body's immune system can naturally adapt to it and protect from it in the future. Nothing included in a vaccine can actually harm you, assuming you are in good health. Ingredients found in vaccines are harmless in the amounts present, and they are put there to ensure sterility and longevity of the pathogens inside. The Center for Disease Control and Prevention reports that most vaccines include food-grade preservativ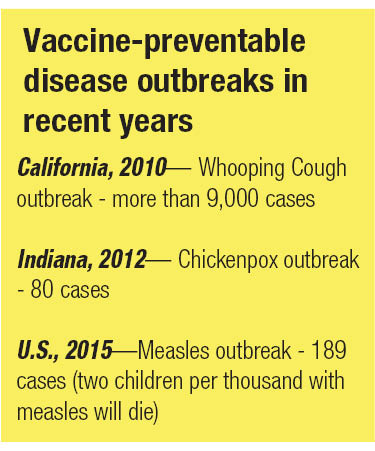 es, suspending fluid, (saline or water is most common) and adjuvants like aluminum. The myths you hear about vaccines containing harmful amounts of mercury stem from the inclusion of Thimerosal, a harmless mercury-containing preservative. Luckily, this mercury is so trace you will probably find more cyanide in an apple than you will mercury in a vaccine. Either way, both are beneficial to your health.
Even though vaccinating a portion of a given population is great, a vaccine can only properly protect its group when a vast majority have received it. This concept is known as herd immunity. Vaccines, of course, protect against a specific strain of pathogen. But pathogens morph and mutate once inside an infected host, changing the strain or creating brand new mutations.
The measles, a potentially harmful, fast-spreading disease that was declared free from the US in 2000, resurged across 24 states with nearly 200 cases due to unvaccinated individuals. This early 2015 case was linked to a perhaps-unknowing individual who visited Disneyland in California, and from there it spread across both vaccinated and unvaccinated individuals.Those who were vaccinated still were harmed because the measles virus was given opportunities to mutate and propagate. The CDC classifies 12 disease as "vaccine-preventable" and since 2008 the CDC has tracked outbreaks of mumps, polio, whooping cough, measles and more, all due to "anti-vax" movements. Infected individuals of these diseases can still harm vaccinated individuals. Larger outbreaks have reared their head all across the world. These outbreaks are especially devastating in developing countries because these regions often lack modern sanitation and healthcare.
It is important to stay educated in a world saturated with inaccurate information and to always make empirical choices to benefit your health and, ultimately, your community's health.