School board elections appeared to be over, but a special election is on the horizon this April
A special school board election will be held on April 18, following the petitioned challenge of appointed member and Combat Marine Veteran retiree Kenney Enney. Enney will run against Angela Hollander, retired intensive care nurse and now volunteer within the school district. The special election will cost nearly $500,000 that will come from district funds.
Angela Hollander
Hollander worked in pediatric neonatal intensive care for 25 years before moving to SLO County, where she found herself getting involved wherever she could.
"If you have leadership potential, you should serve others. In serving others, it's not about telling them what to do," Hollander said. "You find other people who have leadership and you enhance the diversity of opinion to see what will benefit the community."
Hollander expressed that her roots in the community are what motivate her to run for the position.
"I'm not so much running against the opponent. That's not where I'm at. I'm running for the position. I think I can bring something. While managing the Scholarship Program at the Community Foundation I met people, I've worked with every school district in the county. I know the people in the finance office. I know the superintendents, I know the principals. I know a lot of students. So I know this community."
Angela Hollander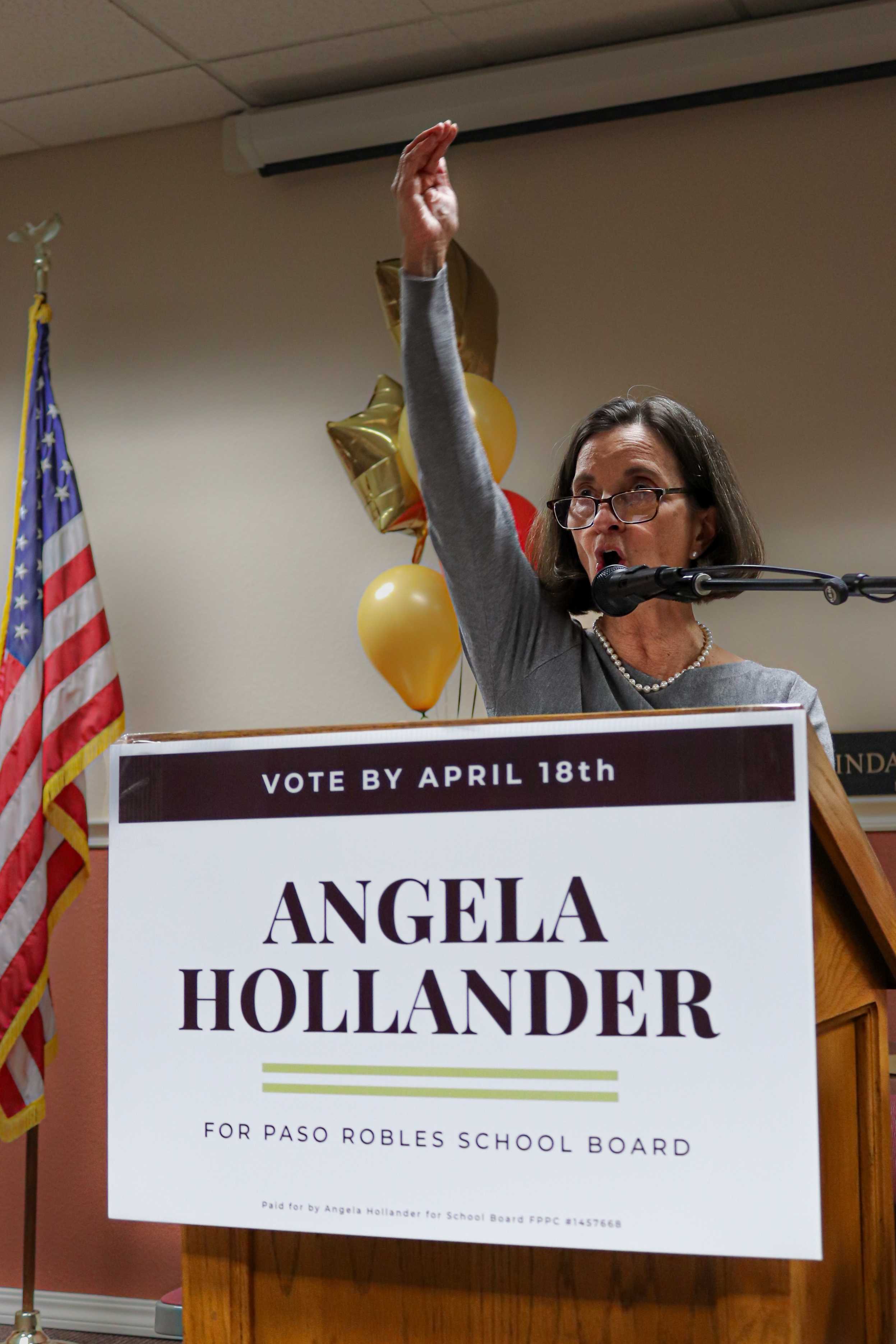 Challenged Appointment
In August 2022, 10-year board trustee Chris Bausch was appointed to the Paso Robles City Council, and thus resigned from the school board. The remaining members made the decision to fill Bausch's vacant seat by appointment rather than a costly election. Enney was appointed to the seat in a 4-2 vote, in which Nathan Williams and Tim Gearhart voted no.
Enney's appointment quickly saw challenges.
"I immediately had lots of concerns, and immediately ruffled lots of feathers," Enney said. "And I think probably within 72 hours of me being on the board, I had sufficiently upset the establishment and the steps were taken to get me removed."
Soon 512 signatures were verified from a petition in response to social media posts made by Enney about transgender youth. Enney stated on Facebook that he "rejects the T" in the LGBTQ+ acronym, calling it an "attempt to recruit and convert children."
Enney shared that his posts were in response to an issue brought forth by a community member during his first meeting regarding a link on the PRHS Student Services webpage.

"There was a link to go into the Trevor Project. And within the Trevor Project, there was a link to what was known as 'Trevor Chat'. And that was a chat room for 13 to 24 year olds to discuss sex.It was an issue of child safety, in my opinion. I didn't want any child to go and potentially be exposed to a predator."
Kenney Enney
The petition required 455 signatures to be deemed sufficient, and Enney's appointment ended on Dec 9.
Special Election
Both candidates have expressed their faith in the election system and have their own sets of goals if elected to the school board.
"There's good leadership, there's bad leadership, everything's a learning experience. If you really want something and you're dedicated to it, you're gonna get it and you'll go out and you'll find the person that's going to help you. Every student needs to understand they hold their future in their hands, and everybody around them is supposed to be supporting. That's where I think we've failed as a community."
Kenney Enney
"I don't want to talk about all these other things. I want to talk about having our children reach their full potential, having them feel safe in school, no matter who they are. Whether they're brown, black, gay, straight, athlete, theater kid, I want our kids to have the best athletic program, the best agriculture program, the best arts program, the best academic programs possible."
Angela Hollander
The election will be held on Apr 18. Ballots will be mailed to registered PRJUSD voters on Mar 20.
Legally, voters within the district have 30 days after a special appointment for any petition calling for a special election. California ED Code 5901 Section C-1 explains petitions are validated once they receive signatures of either 1 1/2% of registered voters at the time of the previous election, or 25 total registered voters, depending on which number is greater.