I have a dream that one day every valley shall be engulfed, every hill shall be exalted and every mountain shall be made low, the rough places will be made plains and the crooked places will be made straight and the glory of the Lord shall be revealed and all flesh shall see it together. This is our hope.

MARTIN LUTHER KING JR.
A crowd of Paso Robles community members celebrated the annual Paso Robles Martin Luther King Jr. celebration and march in Paso Robles downtown park this Monday, January 16, 2023, at 12 pm.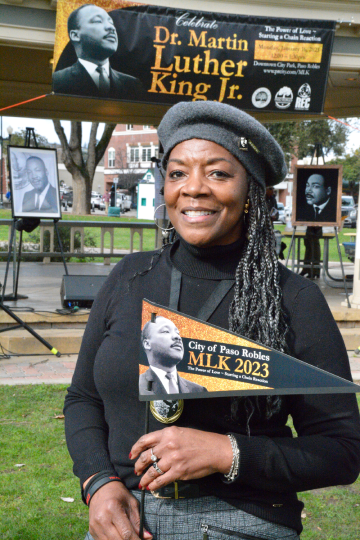 Click to read more about her and last year's MLK event.
The event was held at the gazebo, which was specially decorated with Martin Luther King Jr. quotes and photos, with MLK flags and wristbands provided for attendees.
The day opened to overcast skies, with an audio recording of Dr. King's 'I Have A Dream' speech starting the event. Event coordinator Lovella Walker then welcomed the crowd and explained this year's theme, "The Power of Love ~ Starting a Chain Reaction."
The theme is associated with Rachel's Challenge– an initiative hosted at PRHS earlier this year where students learned about the positivity and determination of 17-year-old Rachel Scott, whose life was cut short in the 1999 Columbine High School shooting that left 13 dead.
"We tied these individuals together because their desire was to make the world a better place, and to make it better with love and compassion," Walker said. "Martin fought for equality and freedom for all people. 55 years later, racism has grown. Poverty has grown. Hate is on the rise. And we are living in a culture infused with violence and division. "
Walker went on to acknowledge social progress America has made since King's time, but still asserted that "we have to change to a culture of love."
The third Monday of January has been acknowledged as a federal holiday celebrating Martin Luther King Jr.'s birthday- and his peaceful fight for civil rights and equality- since 1983. The Paso Robles event began in 1990. 
Following Walker's introduction, Kenneth Parish led the group in prayer. Then, PRHS advanced choir, Forte, performed the Black National Anthem,  "Lift Every Voice and Sing".
Previous
Next
"The event was a beautiful testament to what MLK represented," Lily Shroyer, junior and Forte Soprano section leader said. Denise Isom, Vice President of Diversity and Inclusion at Cal Poly and attendee, taught the choir the importance of the song. 
"(We learned) the significance of music and how it draws a community forward, to rise, and overcome the past's shadows," Shroyer stated. About 20 Forte members attended the event. 
After the performance, community members were given an opportunity to share their ideas on how the Paso community can start a 'chain reaction of kindness,' a concept Rachel Scott spoke of often before her death.
One speaker was Netta Perkins, PRHS girls varsity basketball assistant coach. 
"(We need) to see one another as human beings who suffer together, bleed the same blood, and, in the end, just want love and to be seen, heard, and cared for," Perkins said. "It takes one person to start a chain reaction and that can be all of us."
Walker then acknowledged those involved in the event, including MLK committee members and PRHS teachers Breanne Cerda and Aaron Cantrell, and recognized the 2023 winners of the MLK art contest, with Taylor Keep, junior and first place winner for 'Most Relevant', receiving a cash prize. Her winning artwork was featured on the provided brochure.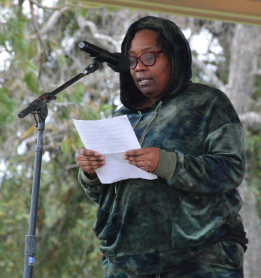 Other winners include Mars Gunderson (2nd place Most Relevant), Isabel Tanner (1st place Most Thought Provoking), Meiling Alverez (2nd place Most Thought Provoking), Faith Roissa Patterson (1st Most Creative), and Theron Chase (2nd Most Creative).
As the celebration came to a close at around 12:30 pm, the rain began to come down right as the walk portion of the event was supposed to start. 
Still, the group of attendees marched a shortened route around the city park to the steady beat of a drum.
"I think the event went well, especially given the weather," Jennifer Fuller, PRHS Spanish teacher and attendee, said. "(MLK) was an amazing person and important historical figure… We have a lot going on in this country right now and I think we really need to focus on kindness, compassion and peace. And that's something Martin Luther King really stood for."
A MLK tutorial event will be hosted at PRHS on Thursday, January 19 with student performances, games, and more. 

A local woman closes her eyes as Parish leads the group in prayer


The attendees begin the MLK celebration walk, umbrellas in hand and hoods flipped up


The crowd watches as Lovella Walker delivers her 'purpose' introduction speech


Parish readies himself to begin the prayer


Throughout the event, the golden banner of MLK hung across the top of the gazebo


Leading the walk around the perimeter of Downtown Park is the banner carriers and drummer


A community member speaks about what led her to the MLK event


Attendees wait for the event to start


Walker speaks, a visage of MLK looking on behind her


The march continues despite the rain and changed plans


Perkins delivers her speech, with the MLK decor around her and cheering her on