The stress gnawed on senior Reily Lowry's wide shoulders as the tensity began to arise on October 25th, 2021. With a powerful egg beat, he towered over his opponent, spun, and broke free for a millisecond. All that was left in between him and the goal was the goalie. Drawing the ball back in the palm of his hand, he surveyed his competition. He popped suddenly and took a shot. He sent the ball shooting across the water from five meters away and he watched with anticipation as it skipped across the chop. The crowd grew silent and watched intently as the ball fired past the goalie and hit the back of the net. The crowd roared and batted their hands, Lowry had just scored his 120th goal of the season. It was a momentous victory, writing him into the record book for the most goals scored in a single season for the Bearcats since 2017.
Lowry explained that he wanted people to admire him for his athletic capabilities and wanted everyone to understand the dedication he put into his sports.
"I think what inspires me is that I want to have a name for myself, I want to leave an impact. And over the summer, I just remember countless hours of swimming, water polo, weightlifting, and schoolwork, and I just wanted people to remember me for the hard work that I've put in," Lowry said.
It sure helped that he sprouted to a 6'2 height and filled out from lifting and battling in polo practice. He became one of the tallest and heaviest players on the team.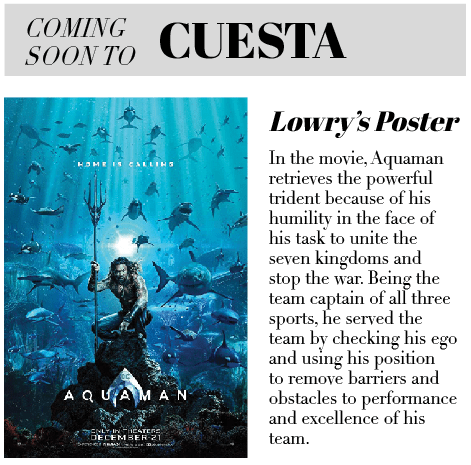 Lowry has played four sports throughout high school. Water polo and wrestling were his high achieving sports, as well as swimming and baseball.
"Water polo is definitely my top sport," Lowry said, "it's probably my peak of success."
He was on JV his freshman year and was a starter for Varsity for the next three years of high school. Lowry received an All-League Honorable Mention as a Sophomore on Varsity, 2nd team all-league as a Junior, and First Team all League as a Senior. He has been offensive player of the year for the team the past two seasons, and being an encouraging and well-respected teammate, he was then chosen to be captain his senior year.
"Reily is a dominant force in the pool and leads naturally by being a top scorer for the team," said Collin Moore, who has been Reily's coach for four years. "He has also been one of the more committed players putting in a lot of work with us in the pool and also putting in additional work on his own time to improve his own skill and heighten the performance of our team as a whole."
While executing each play with a high Waterpolo IQ he is not afraid to be assertive. "I'm not scared to shoot if I need to shoot. I'm not scared if I have to be aggressive. I am determined to help the team win. I don't give up and I give my best in every game or practice," Lowry said.
"Being his teammate is a blessing. He brings a sense of inspiration and a feeling of invincibility because when he is doing amazing you'll do amazing. The thought of having Reily on your side is where the invincibility comes in, because you know you'll be fine if Reily is there," Senior Waylon Abernathy said, who has been friends with Lowry since he was in seventh grade.
At the beginning of his senior season, his personal goal was to score 100 goals. By the end of the season, Lowry broke the school record for the most goals scored in a single season which was previously held by Zack Tucker in 2017 with a total of 109 goals. He concluded the season with 127 goals on October 26th. With all that stress building up, Lowry said, "it wasn't like a feeling of happiness. It was more of like, like just like relief. Because I was like 'finally, I beat it'."
Wrestling brought another set of achievements. In his freshman year, he was placed on varsity and competed in the 127 weight class, and during his senior year he competed in the 176 weight class.
"The sport that I have fun with most is wrestling, it helps me gain confidence and my competitive spirit emerges and all I think about is just winning and doing my best and showing no signs of fear or nervousness," Lowry said.
His confidence in wrestling was proven when he won CIF individually and his team won CIF. Lowry's unforgettable moment in all of his sports accomplishments was when he competed against an individual from Arroyo Grande on Senior Night. His nervousness was building up as he knew his competitor was going to be difficult to beat but he said that if he set his mind to it he could do anything. The crowd was packed and all eyes were on Lowry. When he stepped up to the mat, he surveyed his opponent and emerged victorious by slamming the AG boy to the mat.
When Lowry steps up to the block and dives into the water his explosiveness surfaces as he kicks and paddles as his life depends on it hoping to place first in his meet. In his senior year of playing, he was elected team captain.
"I don't really see myself as one of those guys that will just constantly be on you and uses their voice as a way of being your captain. To me I feel like leading by example, is the best kind of leadership you can give. I also think having a connection with your teammates makes everything better"
While being a tri-sport athlete he maintains a 4.7 GPA and is a jack of all trades. During the winter he snowboards and all months of the year he paddles out to catch waves. Lowry also plays the electric, and acoustic guitar, the bass, and the drums. Lowry has been in the Journalism class for two years at PRHS and has won Honorable Mention for Sports Package, 3rd Place News Publication Cover, 1st Place News Publication Sports Spread, and Honorable Mention for Feature Profile in the Journalism Education Association Competition.
"As someone who sees himself not as an open person, I feel like I express myself through performing in games or events or through my instruments," Lowry said.
Two CIF wins, one school record, and thousands of memories later Lowry plans to continue to play sports in college. In the fall of 2022, he will be attending Cuesta College for two years and then transferring to a four year to further his education.

Back to Bearcathletes