INTRO
"People ask me what I do in the winter when there's no baseball. I'll tell you what I do. I sit in the window and wait for spring," said Rogers Hornsby, MLB Hall-of-Famer. This past year, athletes across the world have been patiently waiting for their "spring," and the winter hasn't seemed to melt away. While in a typical off season, athletes might keep in shape and get ready for their next game, this season has been put off much longer than anticipated. So what are these athletes doing now with the absence of highschool sports?
We wanted to take a look into what some of these Bearcats have done with their extra time; the good, the bad, and the questionable. We surveyed 131 Bearcat athletes on Jan. 27, looking at their jobs, social lives, and the potential increase in the use of substances.
Forty nine athletes said that they had either gotten a job, or already had one since the COVID shutdown last March, with 32 of them saying they've taken more hours since they don't have after-school practices. 60% of these athletes work 10 or more hours a week, seven of them are working 25+ hours, on top of school. Additionally, 24 of them said the additional hours they are working have impacted their studies.
On the other side of it, some athletes have taken the lack of early weekend games and late night practice to expand their social circle. Fifteen percent of athletes said they have engaged in activities involving drugs and/or alcohol, but 28 percent said they saw an increase in the opportunity to do these things. 86 percent said if sports were still in session, they wouldn't engage in any of these activities as frequently.
At PRHS, 555 students are currently registered to participate in at least one sport this school year. However, many have not been able to practice to the full extent of previous years. 39 percent spent between 8-12 hours per week doing sports, and 17.2 percent reported they spent more than 12 hours per week playing sports in a normal school year.
All indoor sports have been pushed back to a spring season including volleyball, basketball and wrestling. For the outdoor sports,  including football, baseball, softball, cross country, track and field, golf, tennis, swim/dive, water polo, and cheerleading/stunt, they have been required to follow County Health Protocols, which allows athletes to practice outdoors during the "Purple Tier,"(information regarding tiers/county status) as long as they wear masks, maintain social distancing and have each student-athlete get their temperature taken prior to each practice.
The current CIFCS Sports Calendar indicates that fall sports, including, cross country, water polo, volleyball, football, and traditional competitive cheer, could begin Dec. 9, 2020, with the exception of football, being allowed to start official practices on Dec 7, 2020. The county of San Luis Obispo entered the "Red Tear" on March 3, 2021 which allowed competition for fall sports to commence. Winter and spring sports, [including, soccer, tennis, swim and dive, wrestling, basketball, golf, baseball, softball, track and field, and competitive sport cheer] begun mid February and early March.
Athletic Director and Cheer/Stunt Head Varsity Coach Tori Loney has concerns regarding the lack of sports practices and the impact that has on PRHS athletes.
[perfectpullquote align="left" bordertop="false" cite="Tori Loney" link="" color="#e52d2d" class="" size=""]"Without having an opportunity to engage in school and sports, those athletes are lost and without solid answers on what the future holds, it leaves us all with a feeling of uncertainty and uneasiness." [/perfectpullquote]
"Our athletes are missing a vital piece of their identity. Most athletes have been active in sports since a very early age and although they may have other interests, their lives this far have relied on the relationships that they are able to develop through their teams and their sport," Loney said. "Without having an opportunity to engage in school and sports, those athletes are lost and without solid answers on what the future holds, it leaves us all with a feeling of uncertainty and uneasiness." 
Below, we take a look into first-hand accounts of what some of these athletes have been doing in their spare time.
HARD AT WORK
It is well known that high school athletes dedicate much of their time to their sports. Even if their season is only two to three months long, high school athletes work year-round for that glory of playing on the field, or in the court, or on the mat. Athletes eat, drink, and sleep thinking about sports. Most athletes at PRHS would have practices five  days a week, and sometimes practice or workout on the weekends. Now, with the significant decrease in sports, many athletes have been able to spend their unusual amount of free time in the workforce.
Junior Jesus Ochoa, a 3-sport athlete (defensive line-men on varsity football, wrestles in the 180 lb-class, and runs mid-distance for track) explains how the decrease in sports has affected him personally.
"I miss the feeling of contributing to something larger, like a team. As well as the family-like atmosphere. Sports are such a big part of my life because it keeps me out of trouble," Ochoa said. 
Sports were and still are very important to Ochoa, because "it distracts [him] from the stresses of life and helps to build new bonds and skills," he said. "It sucks because I missed my whole junior year, part of my sophomore, and maybe even my senior year," he added.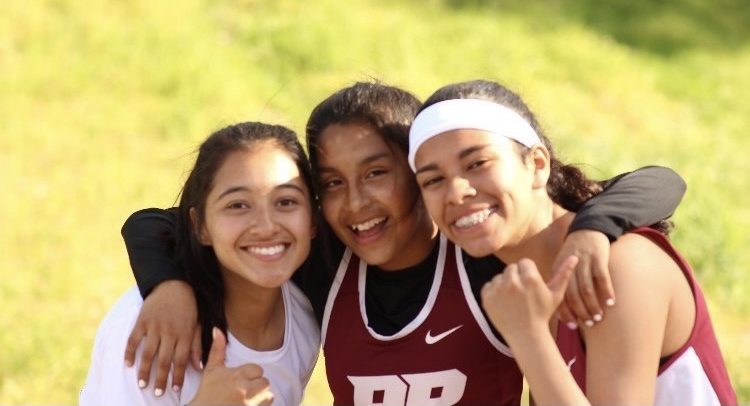 Senior Melissa Mendoza, who has been sprinting for track and field for six years feels a similar gravity. "Sports were an escape from reality, with issues going on at home, living with strangers and not living with my sisters. Sports also helped with the academic struggles I was going through."
Along with physical benefits, sports helped to motivate Mendoza, and maintain a stable mental health. "Sports definitely helped keep my sanity and keep me going," she said. "I enjoy the thrill of sports, running next to an opponent and either catching up to them or running past them because it makes you feel good about yourself."
As a senior, Mendoza is not optimistic she will have a good opportunity to do Track and Field by the end of her high school career. "At this point with school almost being over and me graduating, I don't see myself running track especially since I don't plan on doing this in college anyway," she said.
Although the decrease in sports has been a big disappointment for many, student athletes have become very resilient and have found other ways to spend their much increased hours of free time. 
Since sports have been suspended, or postponed, 29.8 percent of student-athletes have gotten a job, and 8.6 percent already had a job (in a survey of 128 student-athletes). 
Ochoa has a job working at Paradise Grill. He works 11 hours a week, and doesn't let work get in the way of his studies. He used to work 30 hours a week at Cold Stone in downtown Paso, which greatly affected his academic studies. "When I was working 30 hours a week my studies slumped, my GPA dropped by over a whole point, almost two," he said. 
Mendoza on the other hand appreciated a 30 hours work week. It helped her maintain a structured schedule and fill her time with the absence of sports practices. "I feel like the 30 plus hour week helped me schedule my days out based on which day I was working and what assignments I needed done," she said.
Forty two percent of working student-athletes picked up more hours at their job.  And 36 percent of athletes with jobs work five to ten hours per week.
FINDING NEW WINGS
It's time to draw the lines between red solo cups and track fields. Both of these classic coined high school milestones aid the average student in expanding their outer and inner perspectives when it comes to themselves and the world around them, particularly in the world that has clipped so many wings. 
PRHS junior Destiny Valenzuela- a dedicated high school and club volleyball player- realized how the current sports delayment has given her more opportunities to spread her wings in order to discover a new way to connect with herself and others, through attending parties.
Going from spending ten plus hours a week in the gym, on the field, or in the pool for three fourths of the year, to a large break for the first time in years, multiple athletes are presented with opportunities to expand their hobbies, social circles, and midsets.

[perfectpullquote align="right" bordertop="false" cite="Destiny Valenzuela, 11″ link="" color="#e52d2d" class="" size=""]"I feel like since sports aren't really happening, and that was my way of socializing with others, partying has been my way to keep my social life going because I stay meeting new people and having fun at the same time," Valenzuela said. [/perfectpullquote]
 A "normal" year for Valenzuela would consist of ten weekly hours of volleyball practice (along with the occasional games and tournaments during the school year), nine hours each week during her club season, and tournaments every two to three months. With both club and school seasons on hold, she began attending parties more frequently during the summer after her sophomore year. Looking for a new way to get social interaction, the call of parties with never-before-met people was answered.

"[Parties] have just opened up a side of me I never knew existed. At school, I felt like I had to stick with a certain group and certain types of people but outside of school I feel like I have freedom to talk to and be friends with whoever I want and it gives me an opportunity to meet new people," Valenzuela reflected.
With a newly widened scope, she was able to step out of past confining bubbles. Attending a varied amount of parties, most often for special occasions such as holidays, birthdays, or celebrations, she has been able to reconnect with old friends, meet new people, and even socialize with students from other high schools. Despite the setbacks of hangovers, fights, or other slight inconveniences that come with the package, parties have "opened [her] up a bit more."
After years of having one "focus point", athletes now have an array of options on how to spend their free time. At some point in the future when sports will return, the new challenge will be finding a happy medium between both "versions" of their lives outside of school.
"I feel like I will be able to balance it out. I feel like when school gets back in session and sports are rolling again my motivation will increase and I'll have a lot more to look forward to," Valenzuela proclaimed. While shedding the ashes, personal post-quarantine-transformation is the next phase of metamorphosis when looking to the future.
ON BREAK
Another anonymous athlete shared their testimony of filling the social void after by team sports were ripped from their schedule. Typically spending over 16 hours a week practicing their sport, this player explained that the absence has opened  other things– not necessarily positive.
"[The lack of sports] gives me more time to attend parties. Before quarantine, I almost never went to gatherings because I had sports most weekends," the anonymous student-athlete said, who attends a few parties a month. 
Agreeing with Valenzuela, this athlete talked about how partying took place of weekend tournaments and late night games in the social aspect. Going from spending most of their time with teammates and friends throughout the week, they needed a replacement.
"I think I am just as social as when sports were current. I am definitely less social with my friends that I play with, but more social with random groups of people."
However, they also dove into the negative side of going out every weekend.
"I don't keep a normal schedule when I stay out late because it makes me sleep all day the next day. Then, I will get nothing done and be unproductive," he said.
Although being around new people and creating new friendships has been a good substitution for this athlete, they also long for that familiar routine they've been following for the majority of their life.
"I enjoy hanging with my friends and being with them [at parties]. But I miss my team and sport so much. I'd much rather be in shape and playing the sport I love. It keeps me active and productive," s/he said.
[perfectpullquote align="right" bordertop="false" cite="Tori Loney" link="" color="#e52d2d" class="" size=""]"My biggest concern as a teacher, coach and mother of teenagers, is that our athletes lose hope"[/perfectpullquote]
Along with a consistent schedule and productivity, Loney's biggest concern is that PRHS athletes will lose hope, which some athletes already have. 
"I know how hard parents, coaches and administrators are working to ensure things are done safely and to bring back sports to our high school campuses. I want our athletes to believe that and hopefully find a glimmer of hope," Loney said. "I hate to think that our athletes fail to see the value in the modified practices that are currently happening. I know I too sometimes get frustrated holding practices where we really can't perform all the skills or activities that we would like. But, in the end, I got to spend two hours of my day with an amazing group of young women and get some physical activity while we were enjoying each other's company."