Suiting up and preparing for deployment, senior and varsity wrestler

Joey Dominguez

sets off to join the Marines and make his family proud.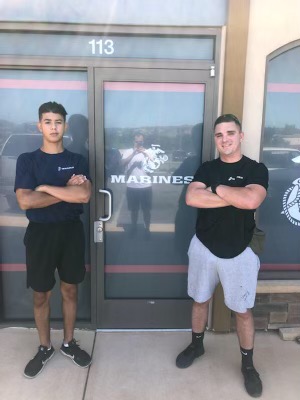 With the Covid-19 restrictions preventing spring sport athletes from partaking in their seasons, seniors like Joey Dominguez, are putting in the hard work now so that they will be prepared for their future careers. After having his goals of winning CIF and competing in State for wrestling stripped away from his senior agenda, Dominguez took matters into his own hands by focusing on his upcoming years after graduation.
Unable to attend CIF last year due to an unforeseen sickness, Dominguez wished to make up for this loss in his 2021 season. "I've grown a lot more over the past six months. I was looking forward to wrestling this year and competing in CIF and possibly making it to state, but it seems like any of that isn't going to work out in the end because of Covid-19," Dominguez said.
While 65 percent of public high-school seniors plan their education in college, Dominguez has a five-year contract ahead of him. After he has completed boot camp in July at the Marine Corp Recruit Depot in San Diego, he will continue training as an infantry rifleman to become a Marine Embassy Guard and serve his country.
"In my younger years of high school I had my fun. I feel like people just go to college to get the experience of having fun and being away from their parents," Dominguez said,  "I went to one of the Marine Corp training exercises for the first time and whenever I start something I always finish it; I'm not a quitter. I just stuck to it and fell in love with it, and now that's all I want to do."
"In my culinary class there was a guy who did Marine training and he later invited me to go work out with them, but  didn't go because I was always thinking, 'No I can't. I have wrestling'," Dominguez said. However, after wrestling ended during the beginning of March 2020, the senior found himself with a lot more free time. 
 "I went and tried it out and then kept on going and it's been a whole year now of going to these Marine training exercises," he said.
Marine training mainly consists of upper body and lower body endurance. The marines and law enforcement indoctrination programs use calisthenics of exercises like push-ups, sit-ups, pull-ups, squats, lunges and many more to not only train hundreds of people at a time, but to build muscular endurance.
Judgment Day
Before Dominguez was able to achieve his dream of becoming a Marine, he had to overcome the Armed Services Vocational Aptitude Battery (ASVAB Test), the first major challenge that stood in the way of his goals. The ASVAB Test is a multiple-choice test with ten different subjects that each consisted of 15 different questions per subject. The purpose of this test is to help identify which Marine jobs (Military, Occupational, or Specialties) best suit the recruit.
"I had to take a shuttle from San Luis Obispo down to Los Angeles and stay in a hotel room. When I got there it was kind of like a shocker because I've never been alone, especially in a big city and have my own hotel room. I was really nervous but I felt I was prepared for it." Dominguez said.
Each branch in the Marine Corp has minimum scores of eligibility for various military jobs. If someone doesn't perform well enough on the ASVAB to get the positions they desire, then they can retake the test. For Dominguez's occupational interest in being an Embassy Guard, he would have to score a 32 or higher on the test. 
On October 5, he took the test and got a 24. Dominguez was unable to get the score he needed and had to head back home.
"When I woke up at 3 a.m. and went to the MEPs to take my ASVAB I got really nervous because it was really loud… I had to wait around with a bunch of grown men doing the same thing as me, and my computer kept shutting down,"  Dominguez said, "I sat down and there was like 50 other kids on different computers and we were all getting timed for the test. I've always been a slow test taker, so I took even longer than I did and ended up not even getting a passing score."
 Dominguez returned to Los Angeles again for redemption 3 months later on January 2nd and retook the test. He passed with a 41. After long months of hard work and dedication, he was able to swear into the Oath of Enlistment. By making this solemn promise, Dominguez vowed to defend the United States Constitution and obey the Uniform Code of Military Justice (UCMJ).
"I failed the test my first time but the next month I studied everyday for hours because I wanted it so badly. I even had a tutor come to my house three times a week to help me with my math," he said. " The second time I retook the test at Camp SLO and was able to pass it with a really good score. Then I swore into the Marine Corp, which basically means I'm doing this, I can't leave, and I'm putting my life on the line for other people."
Locked and Loaded
 As he awaits his shipment on July 9 to the MCRDSD (Marine Corp Recruit Depot San Diego), Dominguez continues to train with the Marines in order to prepare himself for boot camp as well as the Initial Strength Test (IST), which he is required to take. Every Saturday he has to run one and a half miles in under ten minutes and thirty seconds. He then must do as many push-ups, sit-ups, and pull-ups as he can in two minutes for each exercise. 
According to Dominguez, Covid-19 can't restrict his intense work ethic, yet free time for him is limited as he is constantly training. Wednesdays and Saturday mornings are reserved for his Marine Training from 7 to 8 a.m. When he's not in school he's lifting weights from 1 to 2:30 and wrestling from 3:15 to 6 p.m.
Working out with the Marines taps Dominguez's constant push for improvement and drive for success.
 "There's always someone out there working harder than you. Even though I am working as hard as I can right now, there's always going to be someone better. I've always wanted to be the best-of-the best. The harder I work and the harder I push myself gets me closer and closer to achieving that someday." 
Success Doesn't Come Easily
Although Dominguez has accomplished many milestones throughout his recruitment phase, he still has many years ahead of him. Boot camp, then MOS school for his infantry training battalion, and many more militarized tests and drills he must pass as a Marine before he becomes an Embassy Guard. Marine Embassy Guards are primarily responsible for interior security at embassies, usually in the lobby or main entrance, according to the U.S. Marines. Guards are trained to react to terrorist acts as well as a host of emergencies such as fires, riots, demonstrations, and evacuations.
With the additional support from his father and best friend, Wyatt Tevis, Dominguez is motivated to continue club wrestling and finish his senior year with the satisfaction and accomplishment he believes that he deserves.
"I think it's very sad for the senior athletes this year. Young adults need to stay active and they're really missing out on the experience of having fun and being a senior, but I'm very proud of Joey and excited for his success," said Mike Dominguez, Joey's father.
After he leaves to pursue further recruit training in the summer, Dominguez won't be able to see his family and friends for six to eight months. Though he will miss his loved ones, Dominguez is looking forward to the future ahead of him.
Joey Dominguez celebrates his 17th birthday at a restaurant in Pacific Beach with his long friend, Wyatt Tevis.

"Joey is the hardest working person I know. He always wants more for him and the people he chooses to surround himself with. He's never satisfied and constantly pushes himself to be a better person each and every day," Wyatt Tevis, a senior and longtime friend, said. "His hard work and determination has carried over to me, as he has always taught me respect and to constantly strive for more. He is my brother and the person I trust the most."
As he prepares to ship out on July 9th to the Marine Corp Recruit Depot in San Diego, Dominguez is honored to have the opportunity to serve his country and chase his dream of becoming a marine. With grit and the determination to succeed pushing him forward, he is proud to be a marine in the making.