Teen drivers are becoming aware of their surroundings for the safety of themselves and others.
As teens pass their driver's test and their license is placed in their hands, their freedom of driving soon becomes as unending as the roads before them. Yet the 13.8 percent decline in teens getting their licenses from 1996 to 2015, from a study conducted by the University of Michigan, can be due to a number of factors. Those factors include the cost that comes with the cars and the percentage of teens getting in accidents from phone distraction. With those factors, teenagers are becoming aware of who their driving really is starting to affect.
         "One day after school I went to my car and realized there was a huge dent on my side of my bumper with white paint all over. I never found out who hit my car, which would be considered a hit and run," senior Kirra Vargas said regarding her accident last school year.
               Citations are 1.8 times more likely given to sixteen year olds than any other age group in drivers as the California DMV reported in their article, Teenage Driver Crash Statistics. The citation is an indication to the driver that something is wrong yet the Center for Disease Control and Prevention explained in their article, Teen Drivers: Get the Facts, "In fact, per mile driven, teen drivers ages 16 to 19 are nearly three times more likely than drivers aged 20 and older to be in a fatal crash."
              Accidents involving teenagers are frequent considering that nine percent of teens involved in accidents are distracted at the time as Teen Driver Accidents: Facts and Statistics reported. With collisions comes the causes for it which can often be cellular devices as the same article stated that texting and driving are the cause of eleven teenagers dying everyday.
 "There are certainly distractions if they're [students in the parking lot] texting or talking on the phone. Just inexperience in understanding speed and distance and how quickly you may close on somebody. We certainly have a lot of people and a lot of cars here at the high school so it's kind of a nice experience for students to get used to not just their car and themselves but the things that are going on around their car,"  assistant principal Tom Harrington stated.

             There is a price that comes with driving with buying a car, paying for gas, and covering car insurance. "Insurance costs are higher for a teen driver," Vargas explained The truth about driving for teens is that it is more expensive, especially in the insurance factor. The average monthly cost of car insurance in California is $132 according to ValuePenguin in their article Average Cost of Insurance: Car, Home, Renters, Health, and Pet (2018).  The InCharge website reported that adding a teen driver can increase the insurance cost by forty-four percent in their article Adding a Teen to Your Auto Insurance Policy.
However, the responsibility of driving a car isn't all negative. In fact, independence from getting a driver's license is one of the positives: " I don't have to depend on my parents to drive me around and I get to be mature," senior Chelcy Salvador explained.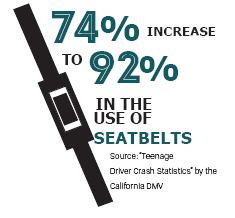 This new generation of drivers is making a change as an article called Some Positive Surprises In Teen Driving Behavior reported, "According to the 2011 National Youth Risk Behavior Survey, teenagers are driving more safely than they did just 10 years ago." Drunk driving reports decreased from seventeen percent to eight percent. The use of seat belts among teenage drivers  increased from seventy-four percent to ninety-two percent. With the younger drivers making a change on the road, the hope for safer
teenage driving is left into the hands of this generation as Salvador hopes drivers could " be safe."
*Photo by Camden Tucker and infographics by Victoria Escamilla