A new aquatics complex for PRHS and renovations to four Paso Robles Joint Unified School District (PRJUSD) elementary school and pre-school campuses were approved as part of the first phase of Measure M bond-funded projects at an Oct. 10 meeting of the PRJUSD Board of Trustees by a 5-to-1 vote. Marie Bauer preschool, Glen Speck Academy of the Arts, and Pat Butler Elementary School have extensive remodels planned between 2019 and 2022, and Georgia Brown's drop-off area is scheduled to be renovated over the summer.
The renovations are part of the extensive district Facilities Master Plan (FMP), approved in April 2016, and are the first use of funds from bond Measure M, which passed in the 2016 general election with 57 percent of the vote.  The measure increased property taxes in order to fund new construction for the schools of PRJUSD.
The motion passed by the school board does not secure the exact funding amounts for each project, but it identifies which campuses and projects have priority for use of measure M bonds. "We're identifying what phase 1 is…[The motion passed is] not numbers, [it's a] list," PRJUSD Board of Trustees President Field Gibson said.
The new PRHS aquatics complex is eventually planned to include an Olympic-sized competition pool, a smaller warm-up pool, and a changing room and restroom. The changing room was not approved as part of measure M phase 1, but is planned to be part of phase 2.
The renovations of Marie Bauer will include 10 new classrooms, new support rooms, new parking and drop-off areas and a playground area, with construction expected to begin in June 2019 and end June 2020. Glen Speck's renovations will include 20 classroom replacements, new support rooms and a new computer lab, modernization and renovation of classroom wings, library, and fields, and a new parking and drop-off area, with construction planned to occur between Nov. 2019 and May 2021. Pat Butler elementary is slated to get four new classrooms, have existing playing fields leveled to get one new larger field, and a new pickup and dropoff area, expected to be built between Sept. 2019 and July 2020.
A temporary campus located in Flamson Middle School's Lions field will be used for displaced elementary school students while each campus is being worked on. The temporary campus will use many portable classrooms from schools around the district, according to PRJUSD's Chief Business Officer Duane Wolgamott. The phase 1 plan also includes renovations to Lion's field, which are expected to be completed in Dec. 2017.
The Board is expecting to vote on the projects that will constitute Phase 2 "in a year or a year and a half from now," Gibson said. Phase 2 is expected to encompass complete renovations of Georgia Brown and Virginia Peterson elementary schools, as well as other projects.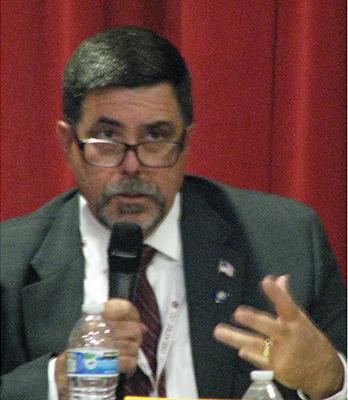 Board Trustee Chris Bausch voted against the measure, citing concerns about the legality of using elementary school and middle school bond funds for the PRHS aquatics complex and concerns that the district might not be able to raise the almost $2.5 million in donations needed for the project. Bausch said that since the PRHS has feeder districts in San Miguel and Pleasant Valley School Districts, any bond measure including funds for PRHS would have to include these feeder district schools.  Chris Williams has assured the board that PRJUSD's legal counsel has no concerns with using the bond funds for the Aquatics Complex.
Board clerk Joan Summers said that "the Board has been assured multiple times we are legally compliant in using elementary school and middle school bond funds for the community aquatics complex. Unfortunately, Mr. Bausch disagrees with the opinion of our legal counsel."