The youngest Chamberlain runs her way to success 
Seven Bearcats dressed in crimson uniforms, anxious to take off, stand awaiting the pop of the gun. With a "go" the runners start the race and amidst the pack is the PRHS cross country team. 
Coach Ivan Huff passionately speaks of driven athletes: "Driven athletes are the ones who make their sport a lifestyle. It is not just about the two to three hours of practice each day during the season. You plan your day and weeks around practice and competition so you are prepared to perform at your best day in and day out. The majority of our boys varsity team are driven athletes."
Huff chose freshman, Grace Chamberlain from the Varsity Girls Cross Country team as the most dedicated athlete. 
"We have a new freshman: Grace Chamberlain. She just likes to try to push herself in practice everyday. It makes her an aggressive racer. She's passionate about running. Her whole family is involved in running and so it carries over to her wanting to be a better athlete and better runner. All the other people on the team see it and it brings everyone up." Huff said.
She inspires the team to dedicate themselves to cross country. They see her doing all the workouts and runs without complaining convincing the rest of the team to do the work as well, according to Huff.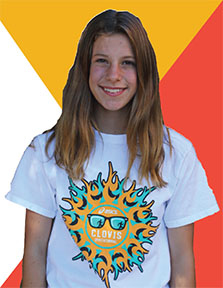 Chamberlain started running for the high school over the summer. However, running runs through her blood. She started to run after seeing her two older brothers, Gannon Chamberlain and Zachary Chamberlain, enjoy running through high school. Her brothers are her leaders.
"My role model would be my two older brothers because they mean so much to me and have been running for so many years. They both drive me to do my best and to always work hard," Chamberlain said.
Chamberlain dedicates about 12 hours a week and runs an average of 40 miles every week. To fuel herself, she attempts to push harder and improve every day. She is passionate and motivated about running, helping her to lead her team.  
"I lead my team by always being positive and encouraging to all of my teammates so we can be successful during practices, at  races, and as a team," Chamberlain said.
Her first year on varsity and in high school has introduced her to the family feel of her team that she has fell in love with. She wants everyone to triumph.
"My goal with the team would be to always put forth 100% effort and work together to do well. We are family and always want to work together and strive to do well not only for ourselves but for the team," Chamberlain said.
She still has a long high school career ahead of her but does hope to continue in college. She is also sure to fit school into her busy schedule by managing her time wisely.