How We Can Help Our Community
[dropcap size=small]T[/dropcap]he wind crashes against a house ripping it to shreads. The rain storms take down the power lines leaving the town in a complete blackout.
People rush into grocery stores hoping to find and food possible. A storm can destroy a person's life in a matter of minutes, and we can help these victims in a matter of a few
clicks. As donations flow into charities and victims get the help they need, more and more disasters arise creating a bigger demand on basic needs.
Hurricane Harvey hit Texas, soon after came Hurricane Irma, that destroyed Florida. The list continues as Hurricane Jose hit Mexico's coastline and Hurricane Maria knocked out 90 percent of Puerto Rico's power. The amount of damage these natural disasters have created we now have been given the chance to support our country.
"Yeah [helping victims is important], people help us when we are in need and we should help them. We can't expect to get help if you don't help first. [Some ways to give back are] doing research online to find websites to donate or giving canned food to donation stations, anything helps," sophomore Savannah Putman said.
A small way to give is by donating to the Red Cross or any other charity supporting hurricane victims. Donations can be sent in through mail, text, or completed online. Another simple way to give back is making care packages filled with basic necessities such as, deodorant, toothbrush, toothpaste, shampoo, and soap.
Rather than creating your own care package, you can donate 25 dollars to charities such as Simply the Basics that build and send out packages for us. Other options include, donating canned food to the Food Bank. Websites such as, Charitynavigator, help with researching the best charities for each cause. Using a charity watchdog group can help see if the charities are doing as they advertise, according to Nonprofitissues.       
The Red Cross has spent 50 million dollars to support Hurricane Harvey victims, according to npr.org. Walmart has pledged 2 million dollars to the Hurricane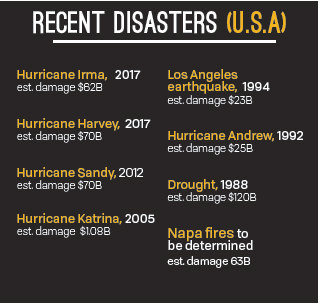 Harvey victims and 10 million dollars to the Red Cross, according to inc.org.
A big effort is being made to inform people about the disasters, celebrities such as, Blake Lively, Lily Aldridge, and Rowan Blanchard have posted pictures on their Instagram pages asking for support and donations to help the victims. Pretty Little Liars actress Troian Belissario posted a video explaining Mexico's state after the earthquake and linked a Go Fund Me page in her Instagram bio.
As horrible these tragedies have been, they have brought forth opportunities to contribute and shed some light on the situation. These natural disasters have showed us how quickly our lives can be flipped upside down.