Brian Kragh begins first steps of attempting to shift PRHS's closed campus
An open campus attempt seems to resurface every year, but some students believe this year may offer a different outcome.This school year, Brian Kragh, 12, is taking charge and spreading an open campus petition that aims to satisfy both students and administration.

This year Kragh's petition has captured bright-eyed students' attention as it rapidly spread around PRHS via Instagram and other social media. He started it because he "was talking with many [students] and noticed they wanted to see a big change in our school, which was an open campus."
Kragh is still in the beginning of his process to attempt to shift to an open campus. He plans to get two thirds of the school involved and he has reached 1,010 students as of September 21, 2017. He has plans to reach more as well through speaking to students and getting them involved.
"I am going to say this is not an easy thing to do. This is why I want to get two-thirds of the school involved so we can have more momentum going with our petition," said Kragh, who, as Senior Class President, must do the petition after hours.
He, as well as many students, know that an open campus can prepare for the freedoms and responsibilities of adulthood. Yet administration and board members say they are unlikely to support the petition, citing Bearcats' safety and best interests.
18-year assistant Principal Tom Harrington believes opening the campus emits low odds with "just too much probability of someone getting seriously injured."
Last year an attempt at an open campus reached over 1,000 students ‒the farthest it ever has in 18 years‒ but it eventually faded out, according to social studies teacher Geof Land.
Atascadero High School has an open lunch campus.
"There are two sides to every pancake. There may be some student benefit, some downtown business benefit and maybe even some family benefit, but those benefits may come with some disadvantages as well. I'm sure there is some impact on traffic, neighborhoods, loss of time for eating due to travel, and maybe even a more frenzied pace for students," AHS principal Bill Neely said.
Hunter Walden, a senior at AHS, likes having an open campus and said it is "just [a] part of high school."
His peer, Ian Marshall, 12, said, "[it builds] trust with the campus, school administration, and [school] board." Marshall goes to restaurants and visits home during his lunchtime.
However, PRHS administration is not convinced the benefits of an open campus outweigh the risks.
"The primary factors [of PRHS having a closed campus] are student safety, student health, and student attendance—all of which impact student achievement and success. A closed campus promotes student safety, healthy food choices, and punctual attendance to the period following lunch," Assistant Principal Sharon said.

 
Yet, Kragh's petition regulations help counteract some of the administrations' disquietude. He has added new provisions in hopes of "having a good conversation with administration."
His provisions require students to be a Junior or Senior earning a 2.5 GPA with no D's or F's in their previous semester, to have no serious disciplinary or attendance issues, and to have a parental permission in order to be eligible to leave campus.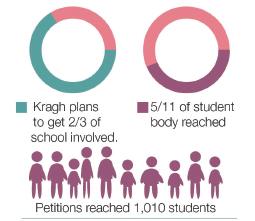 The decision on opening the PRHS campus is made by the board of trustees, and the Board is aware of students wanting to open the PRHS campus. Yet, board President Field Gibson does not support an open campus at this time. His concerns are similar to those of administration.
"[My concerns are] safety of the students and additional staffing that probably would be needed, as well as the impact on our neighbors, city roads, businesses, and local law enforcement.  We already have these issues just with the time periods when school opens and school ends," Gibson said.
Gibson explained PRHS would need additional staff to monitor that only privileged students are leaving campus; of those who are privileged are leaving by themselves with parents consent. Also, current administrative staff's workload would be increased,diverting them from already present tasks.
"All in all, the concept of opening campus creates as many or more potential problems as it might solve," Gibson stated.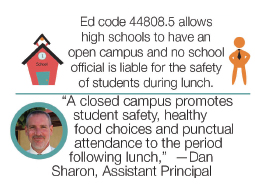 Chris Bausch an additional board member, who was responding as a parent of five graduated Bearcats, said if deemed appropriate he would support an Open Campus for PRHS during lunch.
"An open campus policy (for lunch) could benefit PRHS students. Food options would be much larger, the opportunity for personal growth in managing one's affairs and demonstrating personal responsibility would all be beneficial," said Bausch, but he declared that 35 minutes of lunch time is not enough to depart, eat, return, and make the period 5 tardy bell.
Lunch departures would also be challenging to monitor.
"We would have a very difficult time putting constraints on certain people leaving campus and certain people not leaving campus. We just can't maintain the safety of our 2,000 students when they are all over town at lunchtime. We don't have the resources," Harrington said.

Tom Harrington, Vice Principal
However, Kragh believes the plan is feasible.
"California Education Code 44808.5 permits high schools to have the privilege of an open campus and states that no person in the school district or any officer or employee is liable for the safety of the student during lunch if the school is open campus" Kragh explained.
In the 2015-2016 school year attempt "one of the problems was that there was no one group or one person really in charge. This might have been the weakness," Land said.
The difference with this year is there is a leader: Brain Kragh. He is pursuing his petition and campaign with confidence.
Students agree with his movement.
"An open campus allows students to have more meal options and more time to be independent and do their own thing before they have to get back to the classroom and face all the stress and responsibility that comes with school. It will give students the opportunity to go home and get homework assignments and food without having to lug those things around all day," an anonymous leadership student said.
But convincing students is only the first hurdle. "The real challenge lies in convincing parents, staff, community members, and board members an open campus policy promotes student safety, health, achievement, and success at PRHS" Sharon stated.  
As of right now, Kragh just plans on involving the school. He then wants to speak with the community after receiving momentum and backing of students. He wants to present administration with well-thought out plans and help them make the best decision for PRHS.
"Let's get this done," Kragh declared.

---