Matt Olsen leads through Boy Scouts and a goal of becoming an Air Force Academy pilot
[dropcap size=small]A[/dropcap]s one of the co-presidents of Adventure Club, senior Matt Olsen embraces the spirit of adventure and leadership through planning the group activities. Past excursions include rock climbing, hiking, beach days, riverbed days and barbecues. He does this all while balancing strenuous AP classes, preparing to enter the Air Force Academy and achieving the rank of Eagle Scout.
Olsen's introduction to adventure all began when he became a Cub Scout in first grade. For the past twelve years, he has progressed through the ranks of Bobcat, Tiger Cub, Wolf, Bear, and Webelos One and Two, and then graduated from the Boy Scouts program in fifth grade in a bridging ceremony after earning the "Arrow of Light" award. This rite of passage graduates Cub Scouts who earn at least eight out of 20 pins; Olsen received all 20.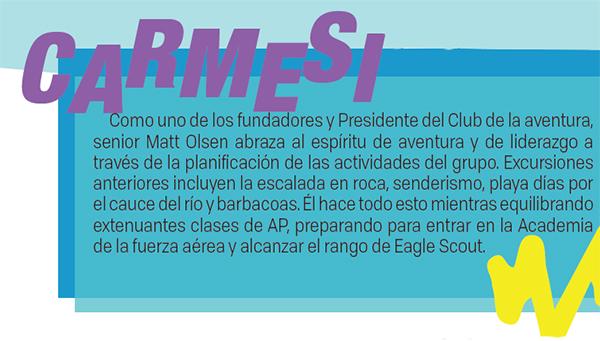 Olsen, along with 11 other Scouts he has known since Cub Scouts, became Eagle Scouts March 2017 after holding previous ranks of Boy Scout, Tenderfoot, 2nd Class, 1st Class, Star, and Life. Olsen

had to conduct a project in order to become an Eagle Scout, and he chose to renovate a 12×24 ft courtyard at the Adult Learning Center in St. Rose Church. It was deemed unstable and Olsen was approached by the Priest in 2014 to fix it as part of his future project; the planning was approved Oct. 2015 and the ten-month long project started in Jan. 2016. Olsen organized a troop of younger Boy Scouts to help remove old plumbing, dead rose bushes and dirt, replace draining, and place in weed cloth, decomposed granite, a fountain and two stone benches for aesthetic effect.
"The big idea behind the project is to have to organize Boy's [Scouts] and be the leader to organize this project. The goal of it is to not do it by yourself, the idea of it is to give you an idea of what it's really like to direct a group of kids in something you have put together," said Olsen, who aged out of Boy Scouts on Feb. 1, 2017.
Olsen has taken eight Advanced Placement classes during his high school career in addition to pursuing courses geared towards his engineering passion. He took AP Chemistry, arguably one of the hardest AP classes on campus, his sophomore year, took AP Language and AP Biology, in tandem with Anatomy and Physiology, his junior year, and completed his senior year with AP Government, AP Economics, AP Physics, AP Calculus AB, and AP Literature. Olsen joined the engineering class his freshman year, only taking a break his junior year to take Anatomy and Physiology, and now takes Engineering Design and is a Teacher's Assistant to science teacher Alisa Bredensteiner.
In addition to leading Adventure Club, Olsen has participated in International and Wilderness Club, the California Scholarship Federation, Link Crew, and worked with the Tech Crew his sophomore year on The Christmas Carol and Music Man.
In the athletic field, Olsen has participated in cross country and track for the past four years. He competes in the 800, with his PR set at League Prelims the week of April 24 at a 2:01:05 and earned his varsity letter in this event. His other race is the 4×4, with his split at 52:03. Olsen previously ran the mile with a PR of 4:44, but became more of a sprinter at the encouragement of coach Ivan Huff his senior year.
"During the past four years, Matt and I were friends from the beginning of cross country and… I've learned what an amazing guy he is. The best part I love about him is how helpful he'll always be in any situation and I can count on him no matter what," said close friend and senior Oscar Jimenez, who cites that participating in the cross country together started their friendship. Olsen and Jimenez have traveled to China Peak together through Young Life, one of their favorite high school memories together.
During his high school summers, Olsen held three jobs. The summer between his sophomore and junior year, he visited the high school job fair and started work at the engineering firm CAD-Scan Connection in downtown Paso Robles taking hard copies of city blueprints and digitally storing and compiling them.
"I loved it, I had so much fun. It was a really good experience for me because I got to work a lot with these engineering drawings and I got to see the city development plans since the 80s- it was awesome. Using flatbed scanners and everything and storing them on flash drives for the city and converting documents into CAD format," said Olsen, who planned to continue work at the company until it dissolved in June 2016 when the owner retired.
Other jobs Olsen has held include working on a family friend's ranch growing produce and currently works during the summer and winter break at Margarita Adventures, which is a zip lining company based in Santa Margarita.
Olsen's plans after high school are to head off to the Air Force Academy on June 29 for six weeks of basic training. He will start his freshman year of college after Labor Day.
"It's going to be a lot of hard work, but it's definitely going to be worth it," said Olsen, who cites that cross country and track have helped in preparing for basic training, but he continues working on his upper body strength.
Olsen plans to receive his degree in Astronautical Engineering and go to Pilot School after four years at the Academy. The pilot training is three years long and then will commit to seven years in the Air Force. Olsen's long term plan is to retire from the Air Force after 20 years of service and then get a job with NASA as an engineer or astronaut.