The high life of high notes
As the polished pads of senior Linnea Schaefer's flute are pushed gently, a festoon of high notes titillated the ears of the audience that went to see Honor Band 2017.  'Practice makes progress' they say, and Schaefer's practice paid off.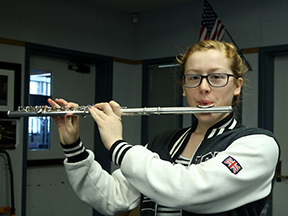 From having first started playing at the age of nine, Schaefer marks eight years of playing flute.  Eight years of four and a half hours of practice a week.
"I don't know what made me decide to choose flute," said Schaefer, who also plays piccolo and piano.  "I just really like flute."
Schaefer had originally tried out for honor band in sixth grade, but she didn't make it.  Determined to make it in, Schaefer put in extra work and tried out the next year.  Schaefer was filled with elation to find out she would be in Honor Band 2012.
Schaefer has been in honor band every year since her seventh grade, and although she doesn't know exactly what made her decide to join, she's glad did.  Band brought Schaefer friends, a convivial atmosphere, and the gratifying constant of staying in band all through out high school.
"(Honor band) has been a ton of fun every year that I've done it.  I love performing in the Cal Poly PAC.  It's really neat venue and it's really cool because your with a lot of people that really care and dedicated a lot of time to their instrument.  I love it," Schaefer said.
Schaefer doesn't visualize herself in a career in band, but she does plan to continue on with band into college.