What an honor it is to be in Honor Band
Senior Shadi Frank, flute player in the PRHS band, auditioned and made it in to Honor Band 2017. Frank practiced for about six hours a week for eight years to obtain her mastery in flute.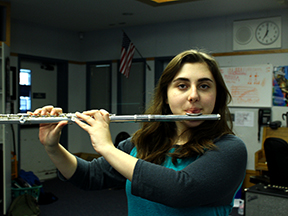 "(Flute) felt natural to me," Frank said, then recalled how she choose the flute.  Frank walked into one of the music classrooms in her middle school to try out some instruments.  "Mrs. Nimick had a bunch of instruments out and had us play them."  Frank examined instruments; hearing what sounds she could make out of them, feeling their coolness against her skin.  Then she picked up the shiny, long wind instrument.  As she placed her lips against the cool metal of the head of the flute, she found it fit naturally against her mouth.  She blew air against the tops and impressed her teacher when she made a sound.  "It (playing the flute) kinda worked out for me."
Frank has played on honor band in past years and had found the whole experience to be fun each time. "It's always really fun to perform with a guest conductor and to play in the PAC," Frank said with a small smile. "And I got to learn a lot in the whole experience."
Band has transformed the high school scene from one of just education to one that resembles a family.  Frank has made many long-term friends that came from band.  Although Frank does not see herself with a career in band, she definitely sees herself continuing on with it into college.