PRJUSD Board of trustees bylaws changed to allow Gibson 3rd consecutive one year term
The Paso Robles Joint Unified School District Board of Trustees changed a long-standing bylaw to allow current and newly re elected Board President Field Gibson to continue as Board President for a third one-year term at a Dec. 13 meeting.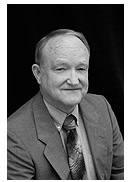 The bylaw, which had been place since 1979, limited board clerk and president terms to two consecutive one-year terms. The bylaw was changed to instead allow three consecutive terms in a 5-2 decision, with newly re elected board members Chris Bausch and Joel Peterson voting against the change.
"Field Gibson has put in a whole lot of hours, and what has happened this year is going to demand a whole lot of hours…Consistency in the Board during these times of great improvements is very important." said 6-year school board member Tim Gearhart.
Once the bylaw was changed, Field Gibson was re elected as Board President in a 5-2 vote, with Bausch and Peterson voting against the re-election.
"I'm surprised by the Board's decision to change our bylaws to extend the term of board President from two to three years. We have a very capable board with several members who could serve as Board President. Though I didn't vote for the change, I will support the decision and our district," Peterson said.
Gibson, who has served 6 years on the board since his election in 2010 and was most recently re elected in 2014, says he was surprised by the board's decision.
"I did not seek this or ask for this…this is as much a surprise to me as to [anyone else]," Gibson said.

Gibson thanked board members for their "confidence" also said that he is "both humbled and honored to be asked to lead the Board for another year…I am excited about our opportunities this upcoming year to continue to change our School District towards being one that offers a world class education to our students."
Newly re elected school board member Dave Lambert, who is currently serving as board clerk, was unanimously re
elected to the position.
The board members re-elected in the November 8th general election, Chris Bausch, Joel Peterson, Dave Lambert, and newly re-elected school board member Joan Summers were also sworn into office at the meeting. All four were originally elected in 2012 and will serve for another 4 year term.