All the info you need on the art classes offered at PRHS
Beginning drama is a no previous experience or knowledge required course and explores all the skills you'll need to better yourself as a performer, such as creating believable characters for the stage from
many means, like improvisation, script analysis, character development, and taking direction.
You'll be expected to put in at least five hours of extra drama activities outside of class per semester.
To be accepted into Advanced Drama, you must take Beginning and pass an audition,consisting of an improv scene and a memorized monologue, a quiz, and then an interview.
And if you are accepted, you'll have the opportunity to perform at a local theatre festival and go on numerous field trips to PCPA (Pacific Conservatory Theater) in Santa Maria where you'll get a first hand look at professional actors.
Advanced students must also audition and perform in the fall play.
In Beginning Dance you'll learn basic techniques, like turns and jumps, and
begin conditioning for stronger stage performance. No previous experience is required.
Intermediate requires a passing grade at Beginning Dance and gives students the chance and skills needed to create their own choreography.
Advanced is audition only, and requires at least a bit of prior studio experience or previous dance classes at PRHS, and makes up the school's dance companies, Jazz 'n' Company and Apprentice Company.
The class workload is rather light, based on class participation, unit history, and vocabulary tests, according to Jennifer Bedrosian, the teacher of the dance classes .
The other branch of the Visual Arts do
main is Ceramics. Students start out in Ceramics 1 with Joshua Gwiazda, with no prior experience needed.
In Semester 1, the class will learn the fundamentals of working with clay, and in Semester 2, students will begin creative projects with guidance.
After completing Ceramics 1, juniors and seniors are offered a place in Advanced Ceramics, where class members will focus on creating more difficult ceramic ware such as "teacups, mugs, bowls, vases, and bottles" while adding creative flare and abstract design.
Of all the fine arts classes at Paso High, the ones that fill up the fastest are the visual arts classes; These include General Art and Ceramics.
General Art, taught by Kiley
Wilson, focuses on the basics of drawing and painting and trying to expose students to "right brain" techniques.
After completing General Art, students qualify for Advanced Art with Kelly Clark. This class will "increase understanding of advanced art concepts", and painting and drawings are less prompted, and there is more artistic freedom.
Studio Art is the n
ext level up. In this class, students will develop a portfolio of all of their work, and more and more projects are completed with more and more skill involved.
And when they just get too good for Studio Art, Kelly Clark will place students into AP Studio Art.
Led by Sonny Galvan, the band classes available at Paso High include
Marching Band/Symphonic, Marching Band/Percussion, and Band/Jazz Ensemble.
To join the Marching Band classes, students must have already taken band at the middle school level. The Marching Bands perform on game days at nutrition and at football games to pump up the school spirit.
Jazz Band, a zero period class, is for band students currently enrolled in Marching Band and who have had a successful audition. This class focuses on "a variety to jazz music," spanning from the early 1930's to today. Musicians will also learn soloing and improvisation techniques and will perform multiple times throughout the year.
Beginning Floral r
equires no previous experience. Workload wise, students should expect some memorization, as learning flower names is a considerably large part of the course.
You'll be exposed to the basic principles of art, as well a heavy focus on design. You'll get real life applications, such as self promotion and business experience.
For Advanced, Theresa Clark, the floral teacher, admits that she'd like students to take the Beginning beforehand, but the application process is relatively less rigorous than the other arts classes. "More or less, I want to see you go through that introductory course." She clarified. Advanced students can also participate in compe
tition, such as The Showcase that floral students have been participating in for about 8 or 9 years.
Concert Choir (Beginning/Intermediate) is a class for singers of all levels and ranges where students can learn the basic techniques of singing and practice performing for an audience.

Advanced Choir is split into two groups: Bella Voce is the all-girls section, and Men's Vocal Ensemble is the allboys choir. Often, the two groups combine, and sing pieces together. Advanced Choir is for students who audition and is a seventh period only class.
Teacher Aimee Ware holds auditions for Advanced Choir at the end of each school year. Both Beginning/Intermediate and Advanced Choirs perform at multiple concerts, and Advanced Choir attends a competition called Festival where choirs from all over the county vie for the highest scores.
"It's a behind the scenes look on everything it takes to produce a theatrical show," said Marcy Goodnow, Drama and Tech Th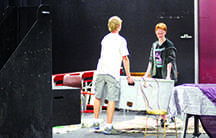 eater teacher.
Students will learn the basics of producing a theatrical production, such as  se construction and design, lighting, costume design and set rendering. This is a hands on class, so expect some heavy lifting and
moving, ladder work at heights, and the use of power tools.
This class, like Beginning Drama, requires five "extra" hours of work outside class per semester.
All students have the opportunity to help out backstage and during production for plays.