At the end of every school year comes the yearbook, a 300 page collection of memories from sports games to spirit days and every school activity in-between. For seniors in particular, the yearbook is representative of a closed chapter, and each student gets the opportunity to showcase the activities they chose in their time at PRHS.
Upon looking through his own yearbook year after year, Superintendent Dr. Curt Dubost noticed a concerning trend among seniors: many did not provide a senior photo or did not list any activities they were part of throughout their four years of high school.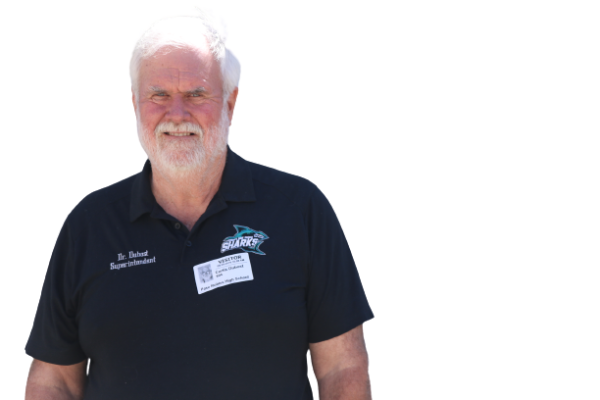 I also see that in clubs that are going on. I see the stronger female involvement with the clubs. You can be part of a whole different program like SkillsUSA, CTE program and not feel the need to have to get involved with anything else because you're already active.
— Dr. Curt Dubost
Dubost's and the concern of other administrators and teachers on campus sparked the "Senior Exit Interview" project executed by AP Language teacher Aaron Cantrell in May 2023 in which students from Cantrell's class conducted the exit interviews with 42 seniors. The seniors interviewed did not provide a senior photo, a list of activities they were involved in, or were missing both items from the upcoming yearbook.
"The worst thing we could do in the face of our disenfranchisement and the lack of involvement would be nothing. So we have to do something," Cantrell said.
The interviewees were pulled from Sophia Anderson's, Carrie Baldovin's, Kevin LeClair's, Haley Talbert's, and Zoe Valadez's English classes. To begin with, each senior was asked to answer "yes or no" to 40 questions known as the 40 Developmental Assets in a Google Form. Each of the questions covered strengths and weaknesses relating to school, home, and community life.
Following the interviews, Cantrell's juniors were asked to write an essay to summarize their findings.
Results of the survey were analyzed by Lori Jordan, Calculus and Algebra II teacher, and Theodore Wagner, PreCalc, Geometry, and AVID teacher. Jordan recorded several areas of concern, whereas Wagner made a record of each Developmental Asset question that 50% or more of seniors lacked.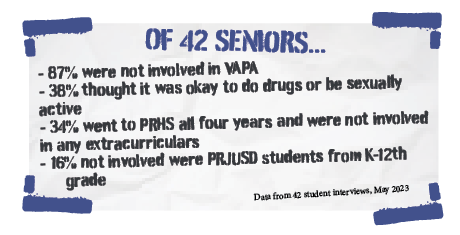 The survey showed trends among the non-participants. 38% of students expressed that they didn't see an issue with concerning behaviors, including use of drugs and /or alcohol, and sexual activity. This leads to a question about how the percentage aligns to that of the 34% who attended PRHS for all four years of high school and were not involved in any school activities. Students said that they weren't involved for one of four reasons: they had a job (some to support their families), were busy with "other activities", none of their friends were involved, or they had no interest in anything on campus.
You can see that there's 38% of kids saying this is okay, and there's 34% who aren't involved. But what are they involved in then? The numbers really stick out. Are these maybe in the same category?
— Rebecca Justice
Dubost and Justice both suggested that an effective way to get to the root of some concerns is to have PRHS counselors actively reach out to the students, rather than waiting for the students to speak up. Most of the time they'll stay silent about their indifference to school.
"We have one counselor per grade and lots of counselors with specific areas of responsibility, so it disappoints me that we still have so many students who aren't being all that they could be. It's going to take a team approach and we're going to have to go into a lot of different angles. We're not talking about a handful of kids; we're talking about hundreds," Dubost said.
Jennifer Bedrosian, leadership and dance teacher found it interesting that the participation in school academics within the boys and girls is skewed, and has seen this occurring in many areas.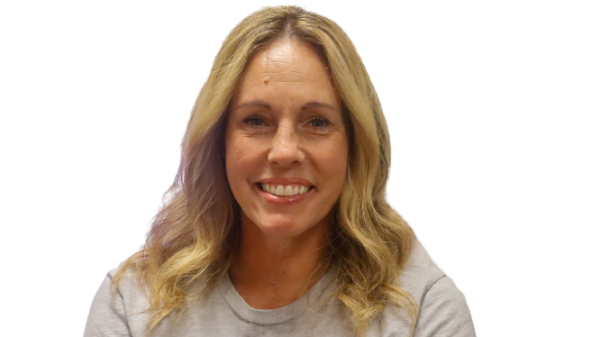 I also see that in clubs that are going on. I see the stronger female involvement with the clubs. You can be part of a whole different program like SkillsUSA, CTE program and not feel the need to have to get involved with anything else because you're already active.
— Jennifer Bedrosian
Leadership Director Jennifer Martinez also believes students' experiences with cell phones has also caused a decrease in school involvement.
"I think it's much easier for them to dive into their cell phone and get lost in Instagram stories and posts and forget that you could actually be doing that one-on-one with people," Martinez said.
Still, Martinez hopes for regular usage of the app Minga. She stated students resist the app, but Minga can provide alerts for new activities.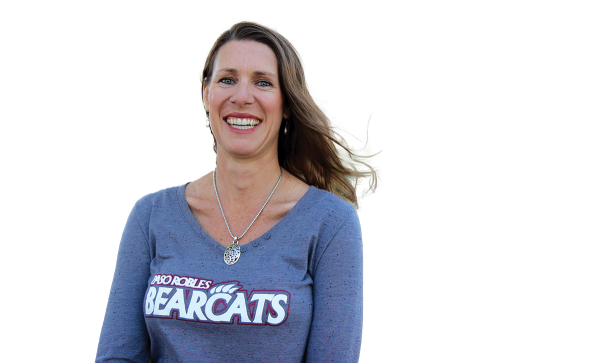 With Minga they can see posts for activities and get points and earn prizes. Hopefully people start attending more events like games and dances and stuff like that.
— Jennifer Martinez
Rather than students reaching out to administrators or administrators reaching out to students, Martinez proposes students reaching out to students would be most effective.
"So I think the biggest bang for our buck would be students reaching out to students to get them involved versus adults telling students 'hey, you should join the soccer team' or 'hey, come to this event' because we're old, and I really think they're more influenced by their peers," Martinez said.
Megan Fletcher, new principal at PRHS, provides a fresh perspective on the subject of our school's participation. Fletcher has new ideas to provide stronger voices to our student body, and to help represent the various factors students have in their lives that impact their education.
Fletcher also feels that there is a general sense of apathy going on between adults and young people. She said the culture of the school will need to be changed so that PRHS students from now until the future feel at home while at school, as well as wanting to be involved.
I really love that a lot of clubs meet during tutorial so if students work or they're already playing a sport, they have other things going on, maybe they have to babysit their younger brothers and sisters, we're offering opportunities during the day to get involved and so I'd like to see that expanded as well.
— Megan Fletcher
Fletcher also explained that PRHS staff and administration don't give enough credit to the young adults attending this school that have other tasks unrelated to PRHS.
"I think we don't give kids enough credit for what they're doing outside of school that has nothing to do with what we offer on campus," Fletcher said.
Offering surveys is Fletcher's first form of reaching out to students, but she also encouraged club meetings during tutorial.
"I think that one of the main things is to ensure that we are surveying the entire student body and getting their feedback to what they would like to see happen," said Fletcher. "Typically you see those with the loudest voice kind of speaking up for themselves, those who might be shy or have anxiety are typically not represented on our campus, might have more difficulty speaking up."