The trial and innocence of Juan Catalan and how a comedic show saved his life
Can be watched/streamed on Netflix
[dropcap size=small]L[/dropcap]ong Shot begins with the soothing, clear, and easy going voice of former Dodgers broadcaster Vin Scully, welcoming the fans and mentioning the current attendance for the Mother's Day game about to take place against the Atlanta Braves.  Juan Catalan, accompanied by his 6-year-old daughter and some friends, is among the crowd, cheering for his hometown team. Fortunately for Juan, he came to a good one. Tied in extra innings, the Braves rally on to beat the Dodgers by a huge margin. The decision to go to this game, would go on to change his life forever.
That very night, 16-year-old Martha Puebla is shot in the head outside her home in Los Angeles. Puebla had just days before testified in a gang-related murder trial. During the trial, however, she admits to nothing. The majority of the questions is answered by the teen saying "I can't remember." That being said, There should be no reason for this seemingly innocent girl to lose her life.
These may seem as though they are two different situations, but they connect to a much, much larger story. The morning after, to his surprise, Mr. Catalan had been arrested at gunpoint just outside his workplace. It was reported that he had allegedly carried out a hit for his gangster brother and had killed a young girl by the name of–that's right–Martha Puebla.
Seeing as though Long Shot offers an immense story that has gone under the radar due to its short runtime and lack of marketing, is truly saddening. This simple, yet complex film, about the determination of the innocence of Juan Catalan, is nothing short of captivating. Its plus side is that of the runtime. The shortness paves the way to having the central idea being the only focus. Forcing you to see the plot as it is, and not being caught up in the little details. That being said, the lack of lengthiness that could provide more insight into the whole story, really makes you feel as though there is something missing within. Don't get me wrong, seemingly unknown director Jacob LaMendola and his counterparts at Netflix have done a good job with Catalan and his story, but what was upsetting was the feeling that there is more to this that is could be said.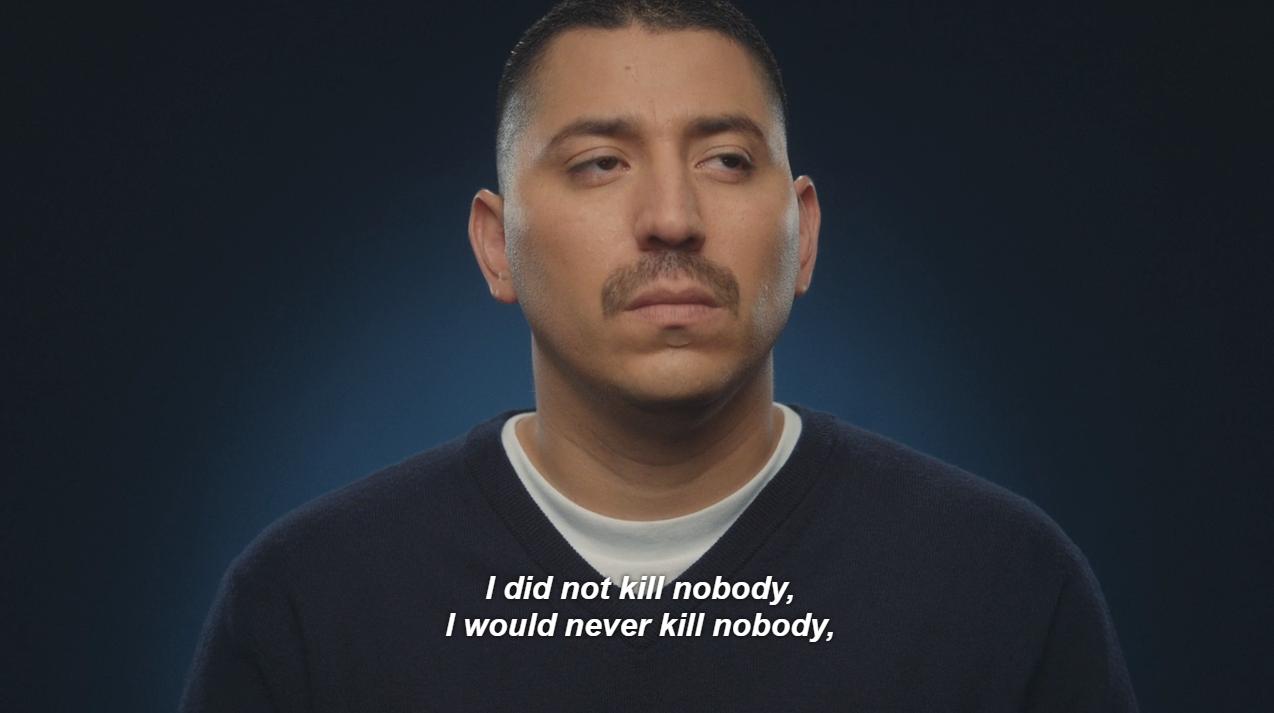 Mr. Catalan's emotional breakdown was more than enough to feel the severity of the situation. The interrogators had refused to believe in his innocence because of his short theft stint with his brother. They had felt that his 'alibi' which said he was at a baseball game and just so happened to have a crowd of over 54,000, was pathetic. It was very hard to believe because of the lack of video quality and ability to tell if he was there in the first place. With all odds against him in this situation, Juan Catalan had begun to lose hope that he was going to stay alive and away from the death penalty attempting to be charged by the prosecuting lawyer, who had 1, been undefeated, and 2, was known for having those whom he prosecutes, face the death penalty.
To his luck, and to his lawyer's relief, it had just so happened that Seinfeld Creator, Larry David, had been at the game filming an episode of his HBO show Curb Your Enthusiasm called "The Car Pool Lane". The episode sees Larry pick up a prostitute to be able to go into the carpool lane to beat traffic and get to the game on time. During the episode, it can be seen that David and Catalan had passed each other on the stairs, and had even brushed shoulders. Not just that scene, but a couple more because the two men had been sitting remotely close to each other. This was enough evidence to prove the innocence of Catalan, and would now be able to escape death row and be released from his maximum security prison after 6 months.
The compelling story was very deserving of a documentary. It impressively goes deep into detail about the events that take place in this 40 minute Netflix Documentary. The situation is certainly something Larry David will never forget, for the celebrity saved a man's life. Certainly an underrated Netflix property, Long Shot is a tale of drastic events that took place in this baseball enthusiasts life, just a day after cheering for his team.