Psychology students explore mental realities empathy and understanding
Deep in the lower level of the 100 Building, Psychology students of Rm. 107 are cracking the code of the most complex and mysterious subject of all: themselves.
As the second semester begins, senior Nadeene Al Azzam attests that her time in teacher Jennifer Martinez' Psychology class has taught her about the physical and mental ways humans react to their environment. She has realized that while the endocrine system may secrete hormones and influence moods, the adolescent experiences within the mind runs deeper than a sheen of
sweat on the skin.
"We're constantly developing mentally and teenagers go through certain phases that we don't understand. So psychology [is learning] how to respond to the problems that you have—and you can't avoid them," Al Azzam said. She plans to major in psychology with an emphasis in psychiatry.
Psychology student and junior Kat Dickinson encourages her peers to take back the negative stereotype proclaiming the insignificance of the young generation and their ideas. She explained the easily influenced nature of the mind can also be detrimental to some youth. Media influence portraying young minds as fickle and incapable of making intelligent decisions can deter the power these adolescent minds hold.
"What we need right now is support, so that there's room for growth in this image of what teenagers are and who they can be," said Dickinson. "How can you overcome these boundaries without starting to understand your own mind? Take that image of the stereotype and say, 'I want to be more than this.' So learn more about yourself and overcome that. Meet your potential."
Martinez, ever creative, is ready for that challenge. She asks students to shoot balls of paper into the trash to determine their gambling temperament. She coaxes them to sleep to illustrate sleep patterns and how the mind influences them. She assigns a dream journal. She assigns dice games to test openness to risk-taking. Martinez uses these methods to better connect her students to the material they are learning.
"We scrape the surface of all types of psychology. We do some reading, but we also do a lot of experiments and watch videos about things—a lot of hands on stuff. It's kind of more about the students and them talking and discussing and questioning and clarifying what goes on in their life," said Martinez, who teaches the Intro to Psychology, AP Psychology, and Early Childhood Development classes.
"There's more room for socializing and discussing and talking to each other, and opening up. In psychology, a lot of it is about learning about other students and their life experiences," she said. "It's different in the sense that kids are going off of their experiences, which is really valuable." Martinez explained that students interacting with peers is key to adolescent brain development. Learning how to understand and show concern for the trials of another's life are valuable skills. They mold teenagers' abilities to cope mentally with life.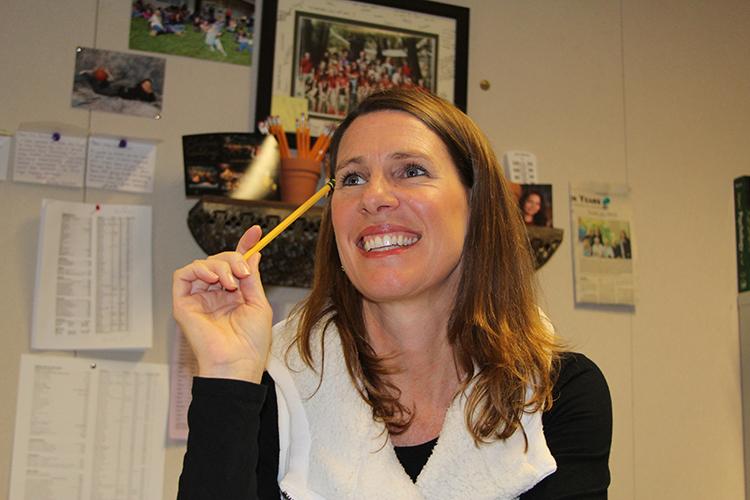 "These are very critical years [students'] lives… the teen mind needs to remember to relax, understand life is going to go on. Everybody goes through bad days, and hopefully there's light at the end of the tunnel," Martinez said. "[It's important] for everyone to have empathy for everyone else [and] to understand we all have different stories."
The flexible nature of the class promotes discussion between peers, something that Dickinson credits as a vital skill for understanding Psychology and its material.
"You have to be willing to consider the information from different perspectives… all lot of things that have shaped my perspective on the different things we've learned has come from my peers who had different opinions than me," Dickinson said.
She plans to use the human analysis skills she has learned from the class to aid her training for a career in Translation.
"I think [discussion] is so effective because that's the basis of psychology. You're taking the material you've been presented with, an idea, and you're tearing it apart and putting it back together. There's room for interpretation."
Martinez said that these practices of evaluation and solution requires respect and empathy to connect with other teenagers can help untangle the confusing and sometimes distressing hurdles of adolescent maturity.
Martinez wants her students to recognize her classroom as a safe place where they can comfortably open up about their struggles and have the confidence to ask questions in order to learn more about why they react the way they do to various situations.
Collectively, Martinez and her students declare that the young generation should never be hesitant to seek out help as they continue their journey through the early unfolding of life. The proverbial hands of the mind can extend not only to receive, but to reach out in a display of shared emotional support and empathy.
"[Adolescents] don't realize that there are people out there that are willing to help," said Al Azzam. "There's someone out there that cares about your mental health, that wants to reassure you. There's no need to be alone in that."