James and the Giant peach is set to take the stage with an all intermediate cast
New to PRHS this year, the drama department has introduced an intermediate class to help more students bridge the gap between advanced and beginning drama. They will be putting on a production of their own: James and the Giant Peach.
Intermediate drama has been implemented in order to better prepare drama students for the fast pace of advanced drama class. Before, beginning and intermediate students alike, were in the same class and worked at a much slower pace than the new class, according to sophomore Trevor Murray, one of the 38 students that will be in the
intermediate show.
Their play, James and the Giant Peach, will be performed once a week during fourth period. Over the span of four weeks, 1500 kindergarten through eighth grade students will have the opportunity to come to PRHS and watch the show, according to Marcy Goodnow, Director of Theater Arts.
"I want students in our community to see live theater. Some are only able to see live theater if they are lucky enough to be able to afford it. All students should be able to see it, this class allows that experience," Goodnow said.
Auditions have already started for the February play, according to Murray.
"We want to make sure things are pretty solid," said Murray, who is auditioning for the role of Grasshopper.
In addition to intermediate drama's production, there will also be the usual fall and spring plays put on by the PRHS Theater Company. This fall will be a historical play called The Orphan Train, which covers the lives of nine orphans that left New York City and are in search of somewhere to call home. The spring musical will be The Little Mermaid, according to senior Maycee Ham, president of the drama club and five year drama veteran.
"I'm looking forward to all of them [the productions] for different reasons," said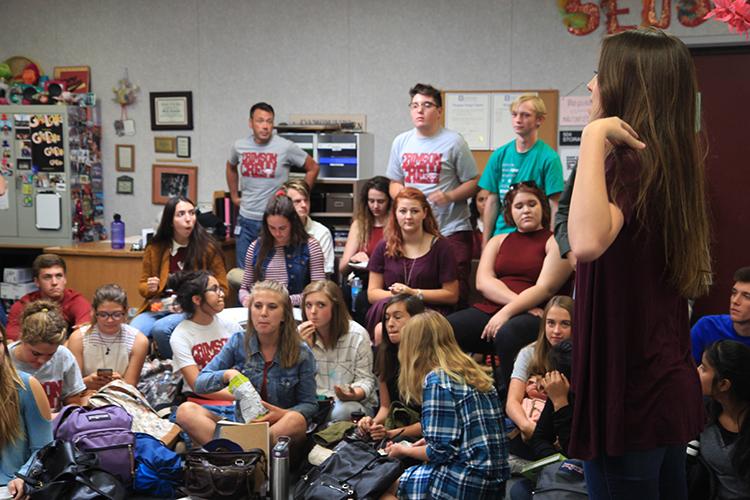 Ham, "The fall play is super dramatic and historical and instead of playing a character, I'm playing a real person." Despite this though, according to Ham, she is most excited about The Little Mermaid, "It's my favorite Disney princess."