Were you ready for it? Taylor Swift's Era tour had 51 shows, spanning the course of six months, for the first part of the US Leg with 38 international dates announced, which just started in Mexico City and three more US cities in 2024. California had a total of eight shows, with two being located in Santa Clara's Levi Stadium while the other six were played at SOFI stadium in Los Angeles. Junior Bearcat Gracie Domenghini, was surprised last Christmas with tickets to the Aug. 8 show in LA and was ecstatic for the chance to see her favorite artist in concert.
The stamina of Taylor and all the dancers [exceed my expectations] because it's a three and a half hour concert. All the costume changes and all the set changes were really cool,
— Domenghini
The Aug. 8 show was her second to last, with "I Know Places" off of 1989 and "King of my Heart" off of Reputation as the surprise songs. With Swift announcing the next day the rerecording of her 2014 album 1989, the Taylor's version of that album will be released on Oct. 27 exactly nine years after the original recording. From this announcement, over 671,000 copies have pre-sold. This is not the first rerecording that she announced while on tour with Speak Now Taylor's version was released in July, selling just under 507,000 copies in the first week of its release totaling about 2.131 million worldwide. 
The tour is made up of 44 songs divided into nine of Taylors eras, with two of the songs in the set list being surprise piano and guitar acoustic versions of the songs off any album.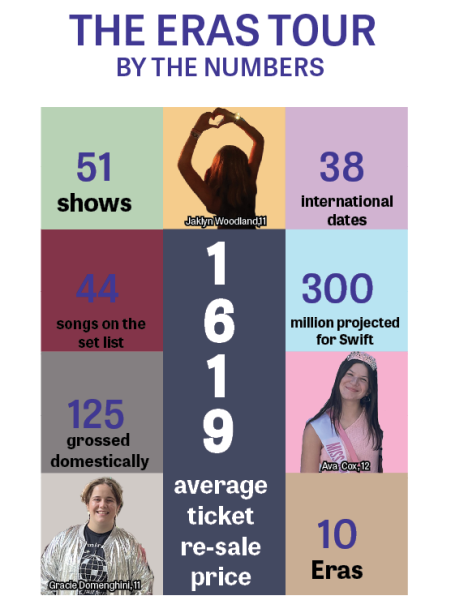 The Eras tour has made a project five billion dollars in consumer spending just in the US, with Swift expected to take away over 300 million. Swift announced that the tour would be hitting theaters as August slipped away, with the film having a projected domestic gross of $125 million opening weekend, Oct. 13, 2023.
Our tickets were $250 each, and we stayed in the hotel for one night, plus our costumes which were about $100 each, along with food and other stuff. We probably spent around $1200,
— Senior Swiftie Ava Cox
Cox went on Aug. 5 being one of the many people who bought tickets that were available for resale through other sellers, only securing tickets from a family friend who had bought extra. Original pricing of the tickets ranged from $49 to $499, but the reselling prices were much higher with most averaging $1,619 per ticket
12 items were available for purchase in the merchandise line with some Swifties waiting over 11 hours for the blue crew neck that became the most popular item. In total the merchandise grossed over $100 million domestically, with most of the items being available online and shipped to many different countries.
Cox bought merchandise from the traveling truck while Domenghini purchased merchandise from one of the other areas in the stadium. President of the new Taylor Swift club sophomore Jaklyn Woodland was able to attend night one of the Los Angeles dates.
" [The concert was] a 10 out of 10. It was amazing. I think my favorite part was trading bracelets and just seeing her the entire time, it was really good." Woodland said.
Woodland was one of few Bearcats who was able to purchase tickets during the Swift stated, "Ticketmaster Great War", when the website crashed due to too much activity. Each ticket was about $300 with six people in attendance, along with purchasing merchandise from the truck for an estimated $100 each.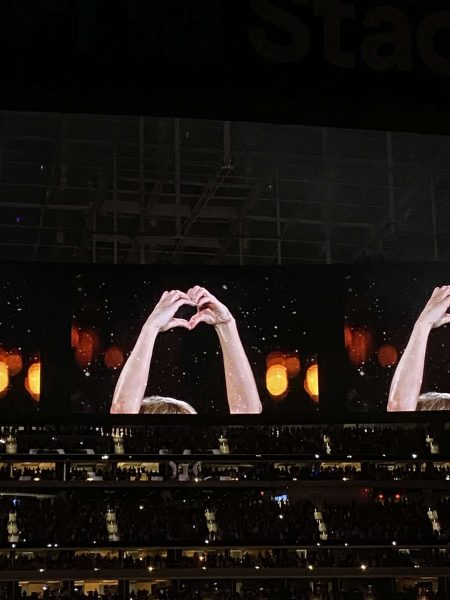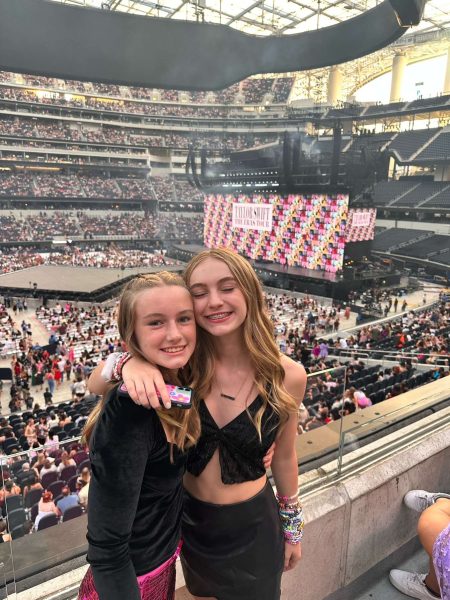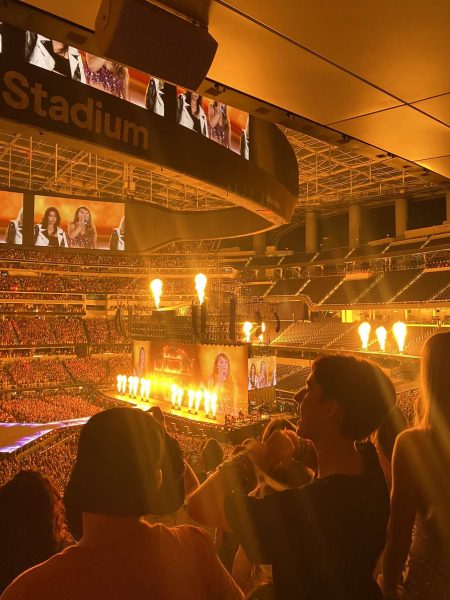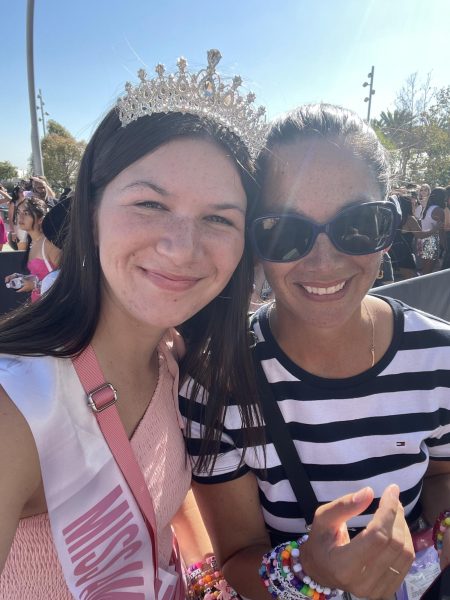 The Taylor Swift club was introduced for the 2023-2024 school year with meetings being held Wednesdays in Ms. Scoggins room, with 28 members the club is expecting more growth as the year continues.
Swift has made an impact on modern day popular culture with whatever she is doing, from football games to what lipstick she is wearing. She is certainly living out of her song Long Live, telling people her name.
Taylor Swift Era's tour knowledge
Loading...
There was an error. Please try again.