Senior towers as assertive role model for the youth of tomorrow on her road to Wellesley College
As Carlotta Abascal opened the classroom door of Gaby Clark, a teacher at Georgia Brown Elementary, she was greeted by a mob of first graders that clung to her legs in anticipation for the stor
y she would read to them that day. Abascal reads to the children through the Athletes as Readers and Leaders program (A.R.L.), put on by district librarian Stephanie Lowe. Although she enjoys reading in English, her seal of biliteracy earned her the opportunity to read in Spanish, which is her favorite way to read stories for the group of budding bilinguals.
Lowe commended Abascal on her participation in the program that was short on volunteers, and praised her for how engaged the children are when she reads to them.
 "Her participation was much needed ; I only had a few athletes participating last year. Lottie loved reading to the students and I know they really loved listening. Some of Lottie's favorite books to read were Maisy Plays Soccer and Randy Riley's Really Big Hit," Lowe remarked. 
As a member of the A.R.L program, Abascal's merit as an athlete is exemplified by her four years of varsity swim and three years of water polo. In water polo, she was on the junior varsity (JV) team freshman year, then JV co-captain sophomore year, and then on the varsity team her junior year. As a swimmer, her events are the 100 meter butterfly with a season-best time of 1:12, as well as a 1:20 in the 100 breaststroke, both of which qualify her for consideration to swim the event at CIF, and the 100 meter freestyle with a time of 1:03. 
Abascal is not only an accomplished athlete at PRHS, her pursuit of a greater education led to her four-point-six weighted grade point average and a total of eight advanced placement classes. 
One of her passions is nurturing self-confidence in younger kids, which she hopes to accomplish when she works at Camp Natoma, a summer camp 27 miles west of Paso Robles. She spends a lot of her time planning campfire activities, leading hikes, and making sure that everything is safe and going well for her pupils. This summer will be her tenth year attending the camp.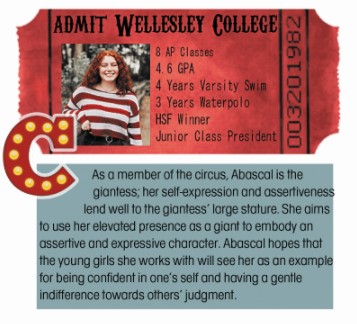 "I spent a lot of my time before high school appealing to what I wanted people to think of me, but now I've been focusing on presenting a version of myself that I'm comfortable with and staying true to that. I'm really excited about showing them an example of someone who is proud of who they are, as well as someone who is assertive and has the confidence to ask for what one wants," Abascal stated.
From the camp's arts-and-crafts table to the potter's wheel, Abascal loves to channel her self-expression into her artistic creations. As a student of advanced ceramics, Abascal is often found around the pottery wheel making her next sculpture. 
Abascal is committed to Wellesley College, a historically all women's school where she plans to major in neuroscience and minor in art.Through her studies, Abascal wants to find a niche career that incorporates her artistic talents. "I borrowed a wheel from [ceramics teacher Joshua] Gwiazda, and spent time making pots during distance learning. I have a lot of weird sculptures around my house that I've made. " Abascal stated. 
"There's a lot of research being done now about Alzheimers and understanding how art affects the brain. There's so much work in that field that still needs to be done and I'm excited to maybe be a part of that someday," Abascal concluded. 
[button color="red" size="normal" alignment="center" rel="follow" openin="samewindow" url="https://www.crimsonnewsmagazine.org/"]Back to Crimson[/button]
[button color="yellow" size="normal" alignment="center" rel="follow" openin="samewindow" url="https://www.crimsonnewsmagazine.org/2021/06/03/super-seniors-2021/"]Back to Super Seniors 2021[/button]