After years of hard work and dedication, Ewing takes home the prize
Jon-Paul Ewing, a PRHS science teacher of 13 years and 1999 alumni, won the Teacher of the Year award at the 2018 PRJUSD Employee of the Year reception held at Pear Valley Winery on May 1. The event was open to all who wanted to show support for employees from 5:30-7:30 p.m. The PRHS Jazz Band performed throughout the night and small hors d'oeuvres were served.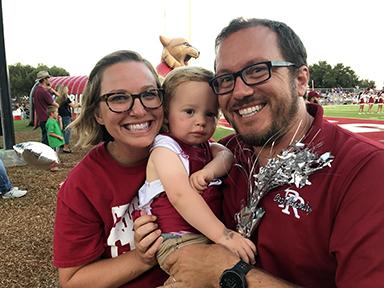 Ewing was nominated on Oct. 21, 2015 for his teachings in science and mathematics for the 2015 Presidential Awards.  Through creating the Science Honor Cord recognition, working closely with Cal Poly on his curriculum, and  bringing medical professionals into the classroom, Ewing won his nomination.
"

It is always an honor to be nominated," Ewing said.  Having been nominated every year for the past ten years, Ewing is happy to be recognized. "I'm surrounded by teachers who are all equally deserving.

"
Every year the district sends an email of those nominated for the awards, which is how Ewing found out that he was in the running for the Teacher of the Year award.  Gaylene Ewing, AP Biology teacher, was very proud to hear that her husband was nominated again and even more so when he won.
"[His winning] felt a long time coming," Gaylene Ewing said, "I see the day in and day out of all the hard work he puts into school and it's nice to see that get recognized."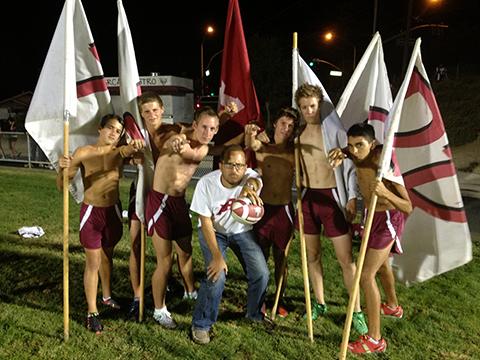 Cross country runners  senior Ian Young, juniors Pablo Cortez and Steven Scruggs, sophomores Damian Gavillan and Micheal Hernandez, and freshman Jason Scruggs and family hid in Ewing's classroom with PRHS flags and song to surprise him with the big reveal that he won. PRHS staff sang "Shiny" from Moana and mixed some of the lyrics with his name.
"They put my face on the Giant Crab body," added Ewing.  A presentation of a powerpoint with funny pictures of him were also shared.
From the start of his career in Atascadero Junior High  to now at PRHS, Ewing has held a stronghold over the science programs at PRJUSD.  He started cat dissections in 2008, taught Earth Science and Biology since 2005 and in 2006 he began teaching English language learners/bilingual Science at PRHS.  After completely taking over PRHS' anatomy program in 2008, he became assistant cross country and track coach with Ivan Huff for 12 years.
Ewing has also been a large part of the field studies collaborative programs.  Ewing is taking a group of 16 students on a week-log field botany study on Santa Cruz Island.  He has also gotten students to partake in Climate Change Field Biology Research at Joshua Tree and Marine Intertidal Research, collecting tidepool data for a large database with County researchers and universities like UCSC and UCSB, as well as the National Oceanic and Atmospheric Association (NOAA).
"[Ewing] had us memorize all the names of the snails," senior Geneva Putman, a student from the Intertidal Field Study, said.  "He let us go [work] and if we needed, we would ask for help."
Ewing teaches his students by giving them instruction and letting them go hands-on their projects.  In the cat dissections, Ewing assigns videos with mini quizzes at the end of them before the students work on that part of their cat.  This hands-on style of teaching helps all types of learners to memorize the muscles and dissect.