Senior Grace Jang expresses her creativity through stunning portraits and intricate guitar skills
[cbtabs][cbtab title="English"]
The small hand of senior Grace Jang dances around a piece of paper, fingers entwined with pencil as she adds the finishing touches to her latest creation. With deliberate flicks of her wrist, she can release the graphite held temporarily in a pencil into stunning portraits ready for frames and wall hanging. This year, she's penciled two memorable pieces in AP Studio Art: a remarkable self portrait and a sketch of a young cousin who lives in Korea. In the latter, the young girl pulls her eyelids down in a childish pose while a bright smile lights up her face. Certainly few students are able to draw like Jang.
Based on such work and her declared major — studio art — Jang is clearly the most dedicated artist of her senior class. She starts classes this August at San Francisco State University. She took the AP Studio Art Exam this May as well.
For Jang, her drawings are more than just doodles. They are moments in time immortalized through the magic of the person drawn and her own talented effort. Jang, who specializes in portraits, knows that the many works she has created while in high school depict people who have made an impact on her life. She likes to give away her finished work, humbly and respectfully. "I feel like I should give it to them because it's about them," Jang said.
Senior Sara Owens has been at Jang's side since middle school. "She is really shy at first but once you get to know her, you'll find she's super fun, quirky, and an excellent jokester," Owens said, reflecting on the personality of her friend of six years.
It's a paradox to consider Jang's personality and her craft. She is soft spoken and describes herself as quiet. Yet her work exudes a vibrancy: in her mixed media work, she has replaced a hoodie with a magazine cutout of flowers. In other pieces, she experiments with point of view, placing her subject behind an hourglass that bends and distorts the subject's face.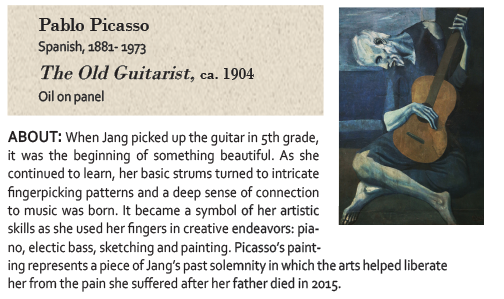 "[Jang] continues to amaze me with her level of details, creativity, and capture of emotions. She has taken many risks and every time she has seen rewards with her beautifully completed pieces," AP Studio Art teacher Clarissa Wilson claimed. Her teacher made note of Jang's progression as an artist, moving from simple portraits to much more complex projects.
While art is Jang's favorite pastime, it has also acted as a coping mechanism at points in her life. "[My] freshman year, my dad passed away, and I was really sad. But I think art helped me express myself and help me get over it over it more smoothly," she said. Her immediate family consists of her mother and two younger siblings, a brother and sister.
Jang has long been involved in the visual and performing arts programs. From fifth to seventh grade, she took private guitar lessons where she learned the basics; but now, with a greater understanding of music, she teaches herself new songs. Some of these songs are recorded and posted to her Instagram, which is full of covers of songs alongside her favorite artistic works. She also plays the bass guitar and the piano.
"Being an artist has taught me how to value original ideas because those are really hard to come by, and it's taught me how to work with different mediums and branch out," she said.
[/cbtab][cbtab title="Carmesi"]
Vida a su propio ritmo
Grace Jang es una dedicada estudiante de arte AP y una músico talentosa comprometida con una licenciatura en arte en la Universidad Estatal de San Francisco en el otoño.
Jang, que se especializa en retratos, sabe que las muchas obras que ha creado en la escuela secundaria representan a personas que han tenido un impacto en su vida. A ella le gusta regalar su trabajo terminado, con humildad y respeto. "Siento que debería dárselo a ellos porque se trata de ellos," dijo Jang.
Jang también ha participado durante mucho tiempo en los programas de artes visuales y escénicas. De quinto a séptimo grado, tomó clases privadas de guitarra donde aprendió lo básico; pero ahora, con una mayor comprensión de la música, ella puede enseñarse nuevas canciones.
"Ser artista me ha enseñado a valorar ideas originales porque son muy difíciles de conseguir, y me enseñó cómo trabajar con diferentes medios y diversificar," dijo.
[/cbtab][/cbtabs]