[cbtabs][cbtab title="English"]
ASB president Marshall Wiesner leads way through high school and into future at UC Berkeley
Lewis and Clark journeyed across America by river, not sure what the west had in store for them. Marshall Wiesner made a similar trip 200 years later, this time by plane, with his future undecided just like the explorers who had come before him. When Wiesner arrived in Paso Robles his freshman year of high school, he had the same anxieties about becoming a high school student, as other freshman — but added on top was the stress of moving from New Jersey to California over the summer.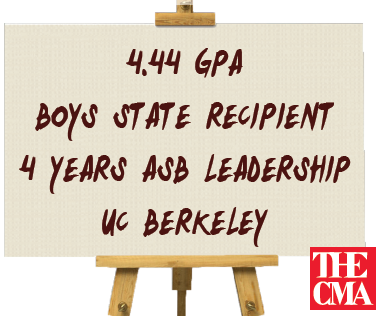 "There would be nights and weekends where I just sat alone in my room wanting to be back in school," said Wiesner when asked about the transition to California. "This led me into my true passion for leadership. No one should have to sit alone at school; in leadership we help create and provide things that help students find a place to belong like goofy lunchtime activities, dances, stack the stands student sections, and more."
Looking back at the Marshall Wiesner who was anxious about the future and cut off from his school, much has changed. In the period of four years Wiesner has grown to be, as many high schoolers are, extremely busy. For Wiesner, hard work paid off in the form of acceptance to UC Berkeley.
"I applied to 4 UCs and Berkeley was the 4th UC I heard from. The first three were UCSB, UCSD and UCLA, and I got waitlisted, so I was like, 'Shoot, what does that mean?' Then I finally heard Berkeley stuff was posted, so I went in with no expectations. I opened it and took a double take. I had to take a few seconds because I was just so excited, so hyped. Every five minutes or so for the rest of the day I would just think about it again in amazement like 'What? I'm going to Berkeley?'" Wiesner is one of the just 16% of students admitted to Berkeley out of a crowded 80,000 applicant field.
Wiesner has long been involved in leadership. Freshman year, he ran for class treasurer and has moved up the ranks until he arrived at ASB President.
"I think people often put leadership students up on a pedestal. We are normal students too. We aren't perfect; we have our ups and downs just like everyone else. A lot of us are involved in sports or a club or a program on campus, just like a majority of the students at the school — that's how I relate to other students."
Being the ASB president comes with a host of responsibilities.
"There are many different things that come with being ASB President, but I would say my biggest job is helping co-run the leadership class with Brooke Milder. This means I help facilitate the connections between groups. I help our class see big picture ideas. I bring leadership curriculum like workshops, articles, activities, fundraisers, and more to the class to help bring us to the next level."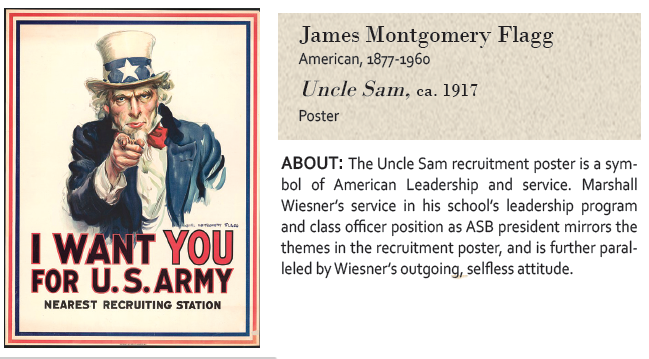 Jennifer Bedrosian has taught Wiesner for 4 years and played a large role in his academic life as the his leadership teacher.
"Marshall has a genuine passion for life; he works as hard as any student I know to stay well rounded and on top of his class academically. His motivation to continually be a better person is inspiring to me as a teacher, and it keeps me on top of my game," Bedrosian said.
"Without her, our program wouldn't be the same," Wiesner said when speaking about Bedrosian's influence. "Our leadership program is family. Throughout my years in high school, I've always had a place to call home — it's leadership. We work hard together to put on events towards the betterment of our school culture and climate. Our program has grown so much in the last four years and I'm proud to say I'm part of it."[/cbtab]
[cbtab title="Spanish"]
El presidente de ASB, Marshall Wiesner, lidera el camino hacia la escuela secundaria y hacia el futuro en UC Berkeley
Marshall Weisner, un estudiante de grado duodécimo, abandonó la costa este el verano del primer año y llegó a la escuela secundaria aislada por su educación en Nueva Jersey. En el momento en que el año llegó a pleno rendimiento, era jugador de fútbol y tesorero de su clase. Además, a medida que su carrera en la escuela secundaria continúa, él es el presidente de ASB, y espera con interés el siguiente obstáculo en su vida: UC Berkeley.
"Hice una solicitud a cuatro escuelas de UC y Berkeley fue la cuarta UC de la que escuché. Los tres primeros fueron UCSB, UCSD y UCLA, y me pusieron en lista de espera, así que pensé "¿qué significa eso?"
Luego, finalmente escuché que Berkley publicó los resultados, así que entré sin expectativas. Lo abrí y tomé una doble toma.
Tuve que tomarme unos segundos porque estaba tan emocionada, tan exagerada. Cada cinco minutos más o menos durante el resto del día, lo pensaría de nuevo con asombro cómo "¿Qué? Voy a Berkeley?"
Wiesner es uno de los apenas 16% de los solicitantes admitidos en Berkeley de un campo de 80,000 estudiantes.
[/cbtab][/cbtabs]