Roberts and Madrigal leading PRHS Football through positivity 
Friday night lights are a classic high school gathering filled with spirit, pride, and most importantly football. Without the players on the field there would be no game. Teenage boys have a reputation for being difficult to control, but these team leaders help to set their team on a path to success. Head Varsity Coach JR Reynold's recognized Cole Roberts and Julian Madrigal as driven chosen athletes.
[cbtabs][cbtab title="Roberts"]
Ever since he was a little boy, Roberts would watch his older brother play football and he always wanted to follow in his footsteps. As an athletic kid, he knew he would need to do something to keep himself occupied.  Now a senior, Roberts dedicates around 18 to 23 hours a week to football. As co-captain, Roberts has a duty to be an example. He has learned from previous players such as Mark Armstrong, Steven Schouten, and Nolan Binkele.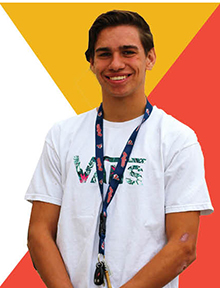 "I usually stick positive with everybody [but] it's kinda hard sometimes. People butt heads with you, but you just gotta keep a positive environment so everyone is working as a cohesive unit," Roberts said.
Loving the sport drives him the most: it's his release. He gets to take his mind off of any troubles and focus on the game with his friends. He does his homework late at night and is striving to receive the best grades.
Roberts, 2nd year varsity player, has a team goal to win.
"We want to win. We put in all of the work so that we are winning," said Roberts.
Teammate and friend, Reese Brumley stated, " if I want to slack off I can count on him to push me and make me go 100% even if I don't want to."
He explained Roberts is not a very vocal guy, but he leads through his play.
"He won't yell at me to go 100% but he'll embarrass me and it'll make me mad and want to go 100%, or he'll make a good play and it'll make me want to, too," Brumley said.
[/cbtab][cbtab title="Madrigal"]
Madrigal had the same fate as he began football. His brother and father played, which inspired him to play. Madrigal is not the most vocal leader, like Roberts. He prefers to lead by his example and have teammates follow.  As co-captain, Madrigal wants to "make sure everybody on the team will do what they need to do and just to lead them to victory." 
He has played ever since he was eight years old and hopes to continue in college. Madrigal plays his favorite position, running back. He has been on varsity for two years and aspires to better his team.
"Our goal is to get better everyday anyway that we can" Madrigal said.  
Teammate Brumley said Madrigal is one of the hardest workers on the team:
"He is just one of the kids you look up to because he is a very good example of what a football player is."
[/cbtab][/cbtabs]