Co-Captain, Stephanie Cashmore cheers up her teammates and the crowd
The captains from these sports all portray their leadership skills by encouraging and praising the team. The Varsity Cheer Co-Captain, junior Stephanie Cashmore does so by spreading her love and dedication of cheer to teammates. The Varsity Cheer Coach Tori Loney recognizes Cashmore for her leadership and attitude
"She is a leader on her team both in speech and in action, she sets a great example and works harder and harder every day to get better for herself and for her team," Varsity Cheer Coach Tori Loney said.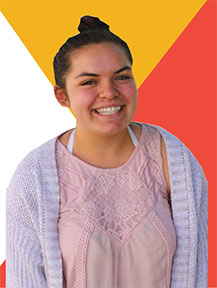 Every teammate puts in around 10 hours a week, making the halftime show and other performances look effortless. Cashmore works very hard to keep the team balanced with compliments, advice, entertainment, and control. She often recommends breaks, reminding girls that there is always a new day tomorrow where they can try again.
"When someone is down, you want to make them happy because you know how cheer makes you feel, you want to spread the love of what you feel about cheer," Cashmore said.
Using the love of the sport, Cashmore continues to improve the program, the team, and herself using positivity, comedy, and reflection. Junior Maddy Hanauer has witnessed this first hand. 
"If there is any drama she just moves past it and makes sure that we are all focused on what needs to be done and she helps us all have a positive attitude and no negativity on the team. She is a goal setter and she makes sure those goals get accomplished," Hanauer said.
The PRHS Cheer program supports and encourages players who are willing to go the extra mile. Cashmore will continue her high school career, cheering on the bearcats, as a captain and friend to her teammates.