Parents wage digital war as debates about students' freedom of expression rise
On Feb. 16, national organizers of the pro-immigrant strike "Day Without Immigrants" urged immigrants to stay home to show their immense impact in America. The movement made its way into schools, many of those in California, where immigrants account for 27 percent of the state's population, according to the Public Policy Institute of California. In Paso Robles, nearly 300 PRHS students gathered during lunch and marched a loop around the school as they held their protest signs with pride.  Organized within a mere 55 minutes and a few felt pens, seniors Lupita Uribe, Daniela Lopez, Solanda Magnuson, Maricela Garcia Serrano, Cindy Barrera, Celso Ortiz, and Raul Morales and other students brought an astounding amount of spirit onto campus.  
When lunch ended, protesters shuffled into their 5th-period class after a peaceful and empowering display of teen spirit.
After an article was published that same day by the student journalists of Crimson Newsmagazine, it reached over 11,000 views on Facebook. While some commenters remained positive, many readers, predominantly adults, fervently expressed their concerns through comments on the post about how school was no longer a "safe zone" for students and that the peaceful demonstration should not have happened. This powerful idea that prompted the protest was soon shot down by hundreds of people outside the school who were not present to witness the inspirational event.
The voices of concern soon turned into arguments as parents clashed over how and when students should voice their opinions. Comments reached into the hundreds, and soon political opinions about students' naivety of the difference between legal and illegal immigrants abounded, with some readers even linking news stories from various political stances. Numerous adults were adamant that students should not voice their opinions publicly, mixed in with the concern of students facing oppression for not feeling comfortable stating their opinions because they did not feel safe. Adults expressing their right to freedom of speech attacked each other with bitter remarks, followed by their own political ideology. 
"These kids don't even in truth know the issues and they need to be in the classroom learning…Blows my mind how people can be such sheep, including our teenagers who do not think for themselves but just jump on the "we hate Trump" bandwagon. Sad and pathetic honestly….These kids are ignorant…this should've never happened…kids see the protesters on TV going into the streets so they think it's ok to do it themselves…" 
 This protest showed the better side of the youth.  It showed a unified, determined agenda.  Unfortunately, many adults failed to take the high road, instead shaming students and treating them like a child who did something wrong.  Students did nothing more than express their first amendment rights, as did parents about student's rights.  
But why are so many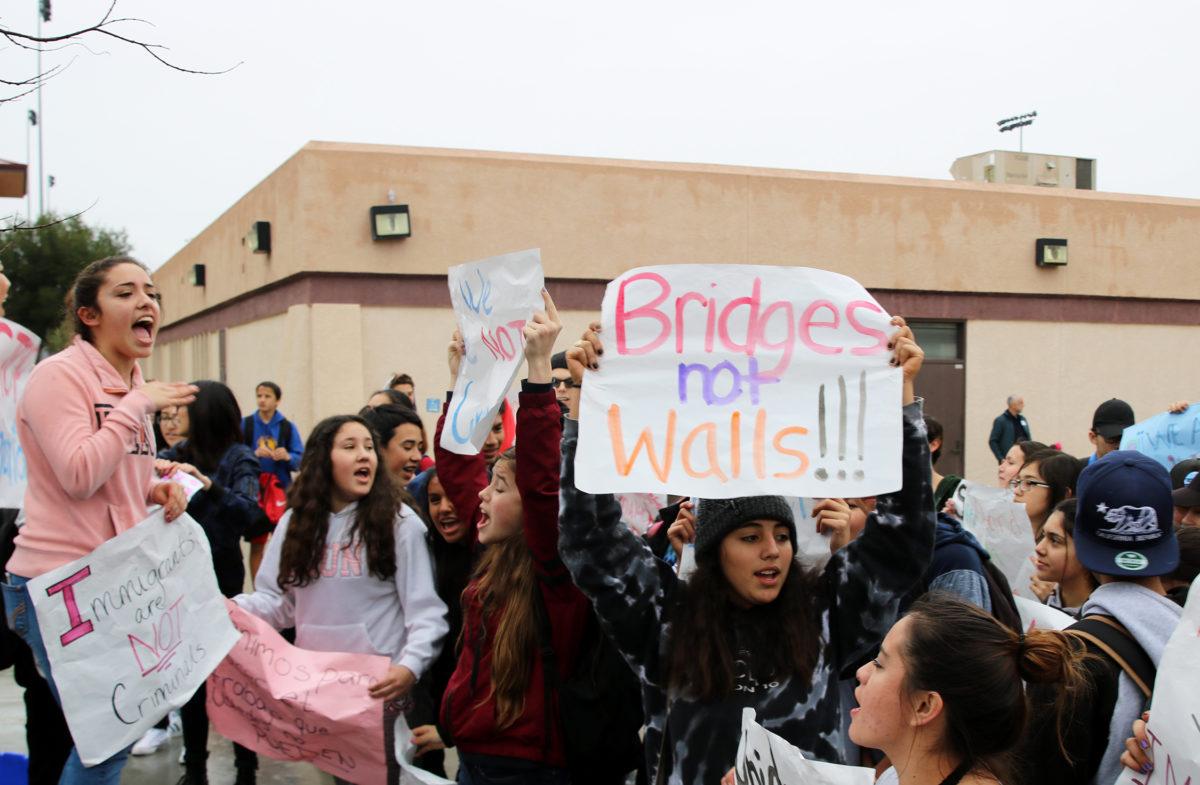 adults are concerned about a student's right to speak their mind?  Is it because they disagree with our opinions, or is it they do not like us thinking for ourselves?  In the end, it is a murky mixture of both, which is a fact that was around even before the generation of the millennial.
Many parents agreed that school is a learning environment, the protest took away valuable school time and politics should not be dragged into school. But the protest took place during lunch, where no precious learning time was lost.
In response to the protest, the administration sent out an email to parents later on Feb. 16 that assured the protest was safe and organized by students.
The email, written by principal Eric Martinez, stated:

"Students have the right to express their views about issues that are important to them.  Our role is to make sure that all students, regardless of their views, are safe and secure. Thus, school and district staff were on hand to help ensure the safety of the entire student body during the duration of the protest. We are committed to maintaining PRHS as a welcoming place for all of its students and families.  Please do not hesitate to contact me if you have any concerns."
Parents remained upset even after the school had reassured parents that the situation was handled appropriately, some audaciously calling for disciplinary leave of the principal for allowing the protest to happen, despite it being completely legal and justifiable. The students who protested remained peaceful and followed the rules. It is disappointing how parents do not like to see students have active voices, especially when students do things like organize a protest within a matter of 55 minutes instead of scrolling through Instagram.  We cannot continue to put down our fellow human beings, especially the youth, who are the future.